Sarah Huckabee Sanders Called 'Slightly Chunky Soccer Mom' By Writer, Backlash Ensues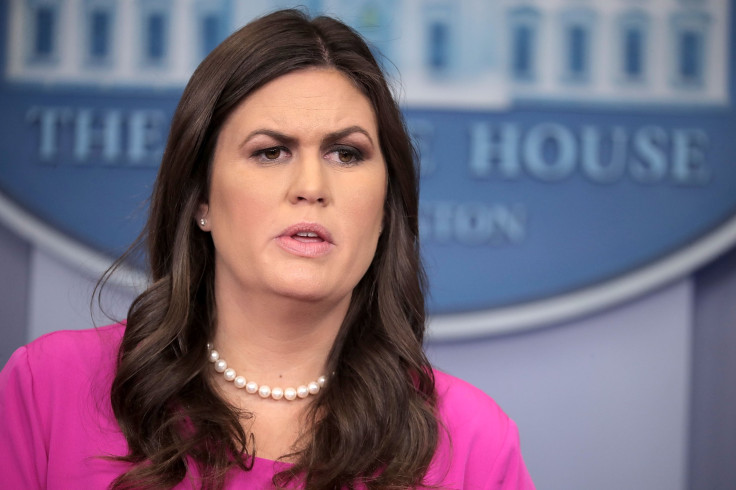 Los Angeles Times columnist David Horsey has apologized following a wave of backlash after he described White House press secretary Sarah Huckabee Sanders as "a slight chunky soccer mom" in a column about her role in President Donald Trump's administration. Some two paragraphs have since been removed from the piece, and an apology from the Pulitzer Prize winner is now printed above the article.
A note to readers dated Nov. 3 said that the description of Sanders "did not meet Times standards" and has since "been removed." In it the piece's lead, Horsey wrote that Sanders "does not look like the kind of woman Donald Trump would choose as his chief spokesperson," adding that Trump "generally exhibited a preference for sleek beauties with long legs and stiletto heels."
"Trump's daughter Ivanka and wife Melania are the apotheosis of this type," Horsey wrote in the column published Wednesday. "By comparison, Sanders looks more like a slightly chunky soccer mom who organizes snack for the kids' games. Rather than the fake eyelashes and formal dresses she puts on for news briefings, Sanders seems as if she'd be more comfortable in sweats and running shoes."
The piece was widely criticized on Twitter, with some users deeming it sexist.
Horsey issued an apology to both L.A. Times readers as well as to Sanders and called his comments "insensitive."
"I want to apologize to Times readers — and to Sarah Huckabee Sanders — for a description that was insensitive and failed to meet the standards of our newspaper," he said. "It also failed to meet the expectations I have for myself. It surely won't be my last mistake, but this particular error will be scrupulously avoided in my future commentaries. I've removed the offending description."
© Copyright IBTimes 2023. All rights reserved.