Sarah Palin, Former Alaska Governor, Sues The New York Times For Defamation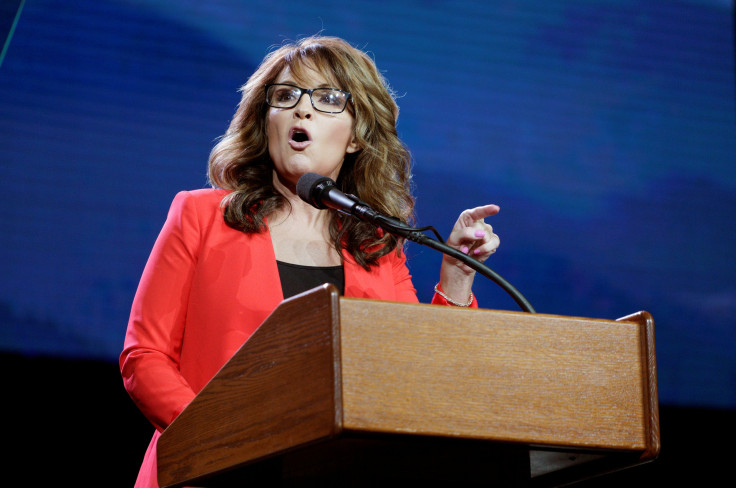 Former Alaska Gov. Sarah Palin filed a defamation suit against the New York Times on Tuesday after the media group published an editorial linking her political action group with the 2011 Gabby Giffords shooting, Newsline reported. The lawsuit was filed in the United States District Court for the Southern District of New York.
The report stated that Palin filed the lawsuit after the Times published an editorial this month after the shooting of House Majority Whip Steve Scalise at a baseball game in Virginia.
Read: Top US Republican Steve Scalise shot by Bernie Sanders supporter
The editorial titled "America's Lethal Politics" published online June 14, linked Palin's political action committee to a mass shooting in Arizona in 2011, which claimed six lives and injured many others, including Giffords, a Democratic representative from Arizona, the Huff Post reported.
"In 2011, Jared Lee Loughner opened fire in a supermarket parking lot, grievously wounding Representative Gabby Giffords and killing six people, including a 9-year-old girl," the editorial read.
"At the time, we and others were sharply critical of the heated political rhetoric on the right. Before the shooting, Sarah Palin's political action committee circulated a map that showed the targeted electoral districts of Ms. Giffords and 19 other Democrats under stylized cross hairs," it added.
Following the edit piece, Palin filed a defamation suit against the media giant. "Mrs. Palin brings this action to hold The Times accountable for falsely stating to millions of people that she, a devoted wife, mother and grandmother, who committed a substantial portion of her adult life to public service, is part of a pattern of 'lethal' politics and responsible for inciting an attack that seriously injured numerous people and killed six, including a nine-year-old girl who, at that time, was the same age as Mrs. Palin's youngest daughter," the lawsuit read, the Newsline report stated. The lawsuit claimed that the Times group "violated the law and its own policies"
Palin called the media group's actions 'sickening' and said the "media is doing exactly what I said ... should not be done."
Read: What is the Congressional Baseball Game Steve Scalise was training for?
However, the New York Times was quick enough to accept their mistake and tender an apology. The media group admitted that they got the important facts wrong and that no link was ever established.
Moreover, in another tweet, the Times said that they have corrected the editorial.
Palin, however, said the Times' response to the lawsuit "did not approach the degree of the retraction and apology necessary and warranted by The Times's false assertion that Mrs. Palin incited murder," the New York Times reported.
A spokesperson for the Times group in a statement said: "We have not reviewed the claim yet but will defend against any claim vigorously."
© Copyright IBTimes 2023. All rights reserved.