'Scandal' Star Kerry Washington Follows 'Confirmation' With Overall Deal At ABC Studios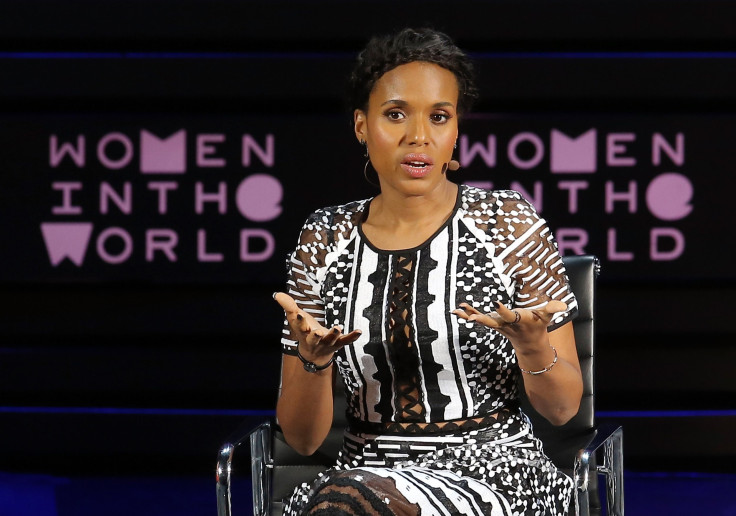 As an actress, Kerry Washington is bona fide star, but the HBO film "Confirmation," which premiered April 16, proved she has power as a producer as well.
Washington signed an exclusive overall deal Tuesday with ABC Studios to develop broadcast, cable and digital projects through her production company, Simpson Street, according to Deadline Hollywood. The deal comes on the heels of "Confirmation," produced by Simpson Street, which starred Washington as lawyer Anita Hill during the controversial Clarence Thomas Supreme Court confirmation hearings. "Confirmation" received overwhelmingly positive reviews from critics, and ABC is betting on more hits from the "Scandal" star.
"Kerry Washington is not only a great actress but a smart, creative producer, and we're thrilled to have her new production company Simpson Street as part of ABC Studios," said Patrick Moran, executive vice president of ABC Studios, in a statement to the press. "We're looking forward to making great television with Kerry both in front of and behind the camera."
The massive deal, which grants ABC exclusive rights to all projects produced by Simpson Street, would be monumental for any actor, let alone a black actress. But Washington is no stranger to breaking down racial barriers. She became the first black woman in decades to anchor a network TV drama when she was cast as the lead in Shonda Rhimes' ABC series "Scandal," which premiered in 2012.
While this move may be one that plays out primarily behind the camera, it is just as significant. In the wake of the #OscarsSoWhite controversy surrounding the 2016 Academy Awards, many industry insiders, including high profile names like Oscar-winner Morgan Freeman, stressed the importance of not just casting black actors in more movies and TV shows, but green-lighting projects written, produced and directed by black filmmakers. The ABC Studios deal puts Washington in the driver's seat, allowing her to spearhead many more diverse projects, like "Confirmation." The deal's monetary worth was not immediately available.
"I believe strongly in the importance of having a seat at the table, which makes starting this production company thrilling for me," Washington said told the press. "It's an honor to be at a point in my career when I can help generate projects that that are exciting, necessary and truly reflect the world around us. I'm grateful to be on this journey with ABC, a network that remains unparalleled in its commitment to inclusive storytelling."
© Copyright IBTimes 2023. All rights reserved.
FOLLOW MORE IBT NEWS ON THE BELOW CHANNELS