Schools Closed By Blizzard 2017: New York, Massachusetts Districts Cancel Classes For Winter Storm Stella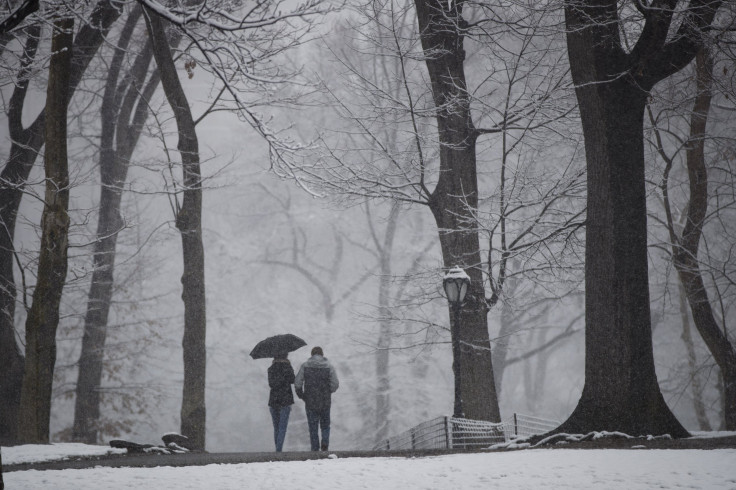 As Winter Storm Stella prepared to blanket the Northeast with more than a foot of snow this week, education officials were getting ready, too, by canceling school. Districts and schools in New York, New Jersey and other states called off classes Tuesday in advance of the impending blizzard.
New York City's public school system was one of the first to announce it was shutting down for the snow. In addition to all schools closing, after-school programs, adult education programs and other extracurricular activities were canceled, according to the city's education department.
Read: What To Do With Kids On A Snow Day
Everyone — not just parents and students — was being urged to avoid going out during the storm, which was set to be accompanied by gusts of up to 50 mph.
"New Yorkers should also prepare for snow and dangerous road conditions," PIX11 reported Mayor Bill de Blasio told reporters. "Besides the snow, it will be cold. We urge you to avoid unnecessary travel and help keep roads clear for sanitation crews and first responders."
Here's a list of school closings in the Northeast ahead of Winter Storm Stella:
In Massachusetts, Amherst Public Schools, Easthampton Public Schools, Northampton Public Schools and Weston Public Schools were set to be closed Tuesday, according to MassLive.com. Boston Public Schools were also closing, with school bus service also suspended for the day.
In New Jersey, St. Paul's Christian School and Little Lamb Preschool were closed Tuesday, as were the Edgewater School District, Newark Public Schools, Jersey City Public Schools, Trenton Public Schools, Milltown Borough Public Schools, Farmingdale Public Schools, Little Silver Public Schools, Marlboro Public Schools, Jackson Public Schools, Somerset Hills School District and others, according to NJ101.5.
In New York, all public schools were scheduled to be closed Tuesday. Hawthorne Country Day School, Hope Academy Charter School, Miraj Islamic School, Soaring Heights Charter School, St. George Academy and the Anne Brower School also canceled classes, according to NBC New York. The Amangansett School District, East Islip Union Free School District, Elmont Union Free School District, Greenburgh Eleven Union Free School District, Greenburgh-Graham Union Free School District, Harrison School District, Hicksville Union Free School District, Island Trees School District, Manhasset Public Schools, Mount Vernon City School District, New Hyde Park-Garden City Park Union Free School District, Oceanside School District, Rockville Centre Union Free School District and others were closed, as well, according to CBS New York.
In Virginia, Prince William County Public Schools canceled all after-school and nighttime activities after 6:30 p.m. EDT Monday. Northern Virginia Community College was set to close at 3:30 p.m. EDT Monday and all of Tuesday. Virginia International University and Towson University also canceled classes and campus activities.
© Copyright IBTimes 2023. All rights reserved.