Blizzard Warning Map: New York, Massachusetts And Other States Forecast To Get 12 Inches Of Snow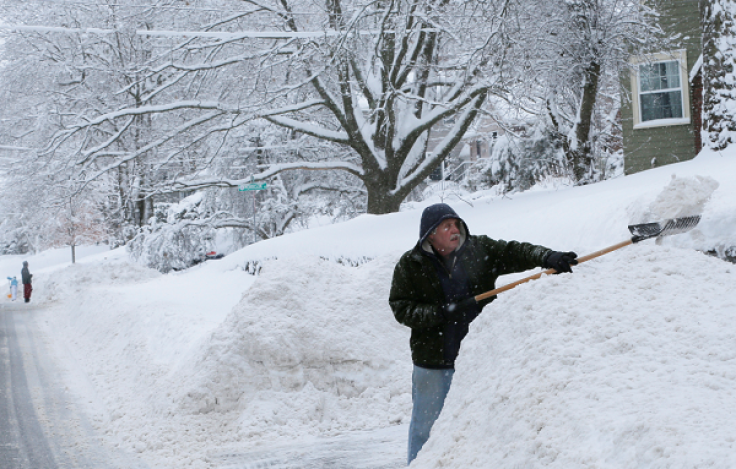 Blizzard conditions are expected to arrive in New York, Massachusetts and various other Northeast states Tuesday morning, according to reports. The National Weather Service issued a blizzard warning Monday, which is expected to remain in effect from 7 p.m. Monday night to 2 p.m. Tuesday afternoon.
The snow storm, which is slated to dump snow on areas of the Midwest including Michigan, Illinois, Indiana and Wisconsin Monday morning, will make its way east Monday evening, according to The Weather Channel. As the weather system travels east it will combine with another low-pressure system rising along the east coast, which could result in some areas of New England receiving 12 to 20 inches of snowfall Tuesday.
Read: Winter Storm Stella Creates Blizzard Conditions
The National Weather service said snowfall rates for New York City, Boston and areas of New Jersey and Connecticut could see snow buildup two to four inches per hour throughout Tuesday morning into the afternoon.
The snow bomb could drop the heaviest amount of snow New York has seen so far this season. The highest record snowfall in 2017 in New York was February's 10.9 inches.
Areas surrounding Washington D.C., could also see snowfall with a mix of rain, according to reports, while northern areas of North Carolina could see about an inch of snow. Pennsylvania is expected to get at least a foot of snow.
Heavy winds are expected to accompany the massive snowfall, with wind gusts in the Northeast reaching 25 to 35 miles per hour Monday night and possibly reaching 40 to 55 miles per hour by Tuesday. Coastal areas of the Northeast are expected to receive the most severe winds.
Temperatures will continue to drop across the North East, with temperatures dropping below 30 degrees Monday night to as low as 15 degrees Tuesday.
The bitter conditions have already resulted in the cancellation of more than 725 flights out of and into Northeast regions, according to USA Today. Along with flight cancellations, travelers can expect road closures and delays on interstate highways.
In New York City, the Department of Sanitation has already issued snow alerts starting at 11 p.m. Monday, which could result in MTA and city street closures.
© Copyright IBTimes 2023. All rights reserved.