'Scorpion' Season 3 Spoilers: Elyes Gabel, Katharine McPhee Talk Walter, Paige Becoming A Couple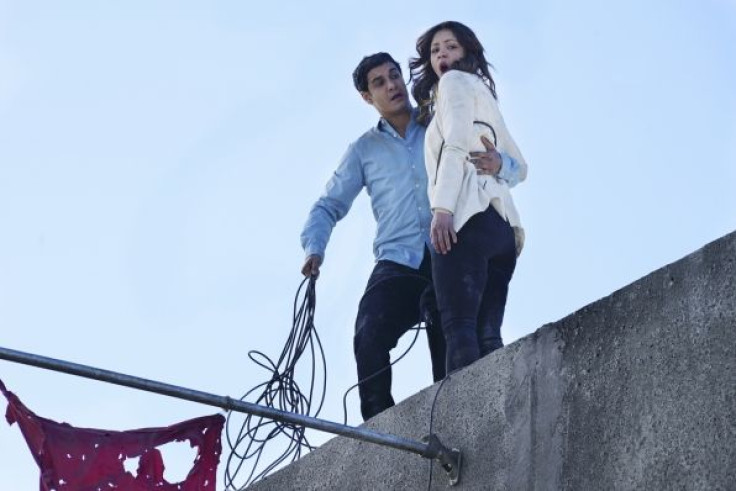 "Scorpion" Season 3, episode 23 recently saw Walter (Elyes Gabel) and Paige (Katharine McPhee) finally becoming a couple after years and years of waiting.
The momentous scene took place at Happy (Jadyn Wong) and Toby's (Eddie Kaye Thomas) wedding. Walter professed his love for Paige, and the latter reciprocated. The two even ended up making out in the closet until their friends busted them. Happy and Toby also planned to sneak into the same closet for some alone time, but Walter and Paige already had it occupied.
Read: Walter finally professes his love for Paige in "Scorpion"
Following the release of "Something Burrowed, Something Blew," Gabel and McPhee spoke with Entertainment Weekly to share their thoughts on Walter and Paige's reunion. Gabel, who watched "The Theory of Everything" to prepare for the scene, expressed his happiness over Walter and Paige's decision. "It feels like the circle is finally a circle, in a way. Not to become totally spiritual about it, but it feels like this was the place that we wanted to go. It's the conclusion of one part of the story, and it definitely opens up the opportunity for another story to be born as well," he said.
Meanwhile, "Scorpion" has already been renewed by CBS for Season 4. This means that the upcoming episodes will feature an entirely different dynamic, not only in terms of Walter and Paige's relationship, but the impact of their union on Team Scorpion. McPhee believes that Walter and Paige's relationship will make the storylines for next season more interesting.
"I think that this is a unique love story. They already have so many challenges as it is with the little boy and working environment and also just the fact that he's a genius and she's a non-genius, and their personalities are in so many ways so different," she said.
In other news, the finale episode for "Scorpion" Season 3 will air next Monday night. Episode 24 will see Walter and Paige stranded on an island. But since the couple is now official, the former will think of ways to make the most out of their alone time in the deserted place. According to Gabel, Walter does some small things for her such as picking a flower for Paige and saying sweet things to her. However, Paige thinks that Walter's sweet gestures are odd because he does them almost always at a wrong time.
When asked if Walter and Paige will finally have sex, McPhee said that such a storyline won't happen in the current season. "Paige is still trying to think in terms of work and getting off the island. So, there's less physical stuff going on, which adds to their frustration of wanting to get off the island because they do want to express their feelings for each other," she said.
Walter, on the other hand, is starting to feel all sorts of emotions that he never felt before. "He's like a kid in a candy store with his new emotions, and he really wants to experience them," he said.
"Scorpion" Season 3, episode 24 will air on CBS on May 8 at 10 p.m. EST.
© Copyright IBTimes 2023. All rights reserved.