Scottish Independence Vote A Win For Brands? British Airways, Irn-Bru Could Benefit If Scotland Separates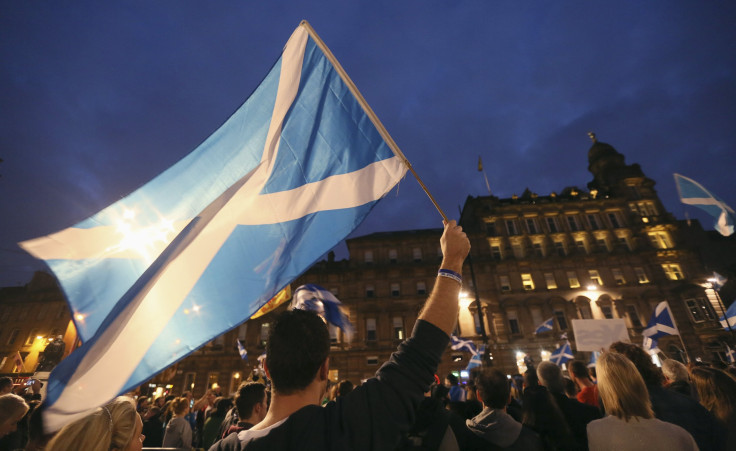 With Scotland's independence vote one day away, the relatively tiny country has been thrust into the global spotlight as its residents decide whether it should sever ties with the United Kingdom.
Recent polls for the Scottish referendum indicate it will be a tight race on Thursday. A survey conducted by the Telegraph on Sept. 17 shows the No votes with just a four-point lead. Three polls on Sept. 13 were considered too close to call.
While oil and currency remain key issues in the debate over whether Scotland should separate, independence has other implications for the country of 5.2 million people. For Scottish brands, the renewed interest in the country that is known for its kilts, haggis and whisky can offer new growth opportunities.
"You can't go wrong if you're a Scottish brand and you are the number one story on CNN," MarketingWeek's Mark Ritson wrote.
And some industries and brands could benefit more than others:
Scottish newspapers and magazines
While most of Scotland's papers do not support secession, the Glasgow-based Sunday Herald has experienced a spike in sales since it encouraged readers to vote for independence. The paper has seen "monthly rises of up to 25″ percent in its sales, according to Britain's HoldtheFrontPage.
Iain Macwhirter, a columnist for the Herald and Sunday Herald, cites the Scottish press's many challenges – declining circulations and ad revenue, and competition from London papers. For instance, The Scotsman, one of Scotland's largest newspapers, has a circulation of 27,000, about one-third of what it sold a decade ago.
Scottish independence and its aftermath could give the industry an added boost, Macwhirter says. "There would be so much to report, apart from anything else, as Scotland sets up its own currency, negotiates entry to Europe and so on," Macwhirter said. "There would likely be an economic boomlet as international companies set up local offices in an independent Scotland."
Travel Industry
British Airways and EasyJet – both British airlines – may benefit from an independent Scotland since the Scottish National Party pledges to cut the Air Passenger Duty (APD), an excise duty charged to airline passengers departing from Britain, which carriers say eats into their profits.
Willie Walsh, chief executive officer of British Airways, told the BBC that should Scotland become independent and the SNP follow through with its promise, it could be positive for the airline. British Airways offers as many as 55 flights to Scotland per day out of about 800 worldwide, Bloomberg reports. EasyJet, Scotland's largest airline, has also come out opposing the APD. The company signed a joint statement in 2013 along with other British carriers that oppose the levels of the APD.
The U.K. has the highest aviation tax in the world. For instance, a family of four flying economy class to Australia would pay 376 pounds ($613) in tax, compared to 160 pounds ($261) if originating in Germany, 15 pounds ($25) in France and nothing in 25 other EU countries, London-based International Airlines Group said in its annual report.
If Scotland becomes independent and the APD is cut, the savings could affect how families in northern England decide to travel. For instance, some may opt to travel from Scotland airports rather than ones in Newcastle, Manchester or Leeds-Bradford, the Telegraph reports.
"Customers are very mobile," Graeme Mason, planning director at Newcastle Airport, told the BBC. "They'll shop around for the cheapest flight and they'll travel quite long distances to get those flights."
Scottish Food and Beverage Brands
Scotland food minister Richard Lochhead argues that the country's food and drink industry can benefit from a Yes vote. "Independence is the perfect platform to promote Scottish brands across the globe," he told The Grocer. "In terms of overseas promotion, Scottish food and drink will be elevated and we will target key markets in partnership with the industry," he said.
Scotland's food and drink industry is booming. "Since the SNP came to office in 2007, the food and drink industry has rocketed and is now approaching 14 billion pounds in terms of turnover. Exports are up by over 50 percent," Lochhead said, adding that the momentum exists for Scottish brands to grow.
"The global focus on Scotland as a result of the referendum, and right through to independence day and beyond, provides another fantastic opportunity to keep our produce in the global spotlight, increasing sales and exports as a result," he said in a separate statement.
Brand experts say that companies that make the most of their Scottish heritage – Walker Shortbread and cashmere company Pringle of Scotland, for example – will benefit from the heightened exposure the referendum has brought.
The debate over Scotland's future has given the country an opportunity to "capitalize on greater global profile than has been the case in the last few decades," Hugh Baillie, CEO of FullSix London, an independent marketing communications group, said in an article for The Drum. "The whole debate and exposure gives brands with any sense of 'Scottishness' the opportunity to stand out from the generic U.K. crowd."
The idea of severing a 300-year-old union can also lead brands to take advantage of the "'rebelliousness' associated with a more proudly separate Scotland," Baillie said, referring to Scotch whisky brands like Cutty Sark and J&B, which could possibly adopt this message in their future marketing.
Irn-Bru, the Scottish soda, has also benefited from some extra visibility, due to its popularity among young people who tend to be politically active and active on social media. While the company has not stated its position on the referendum, retailers might have to make an extra effort to stock local brands like the popular soda if Scotland separates.
"Retailers would have to embrace an even more patriotic Scotland, supporting local brands if they don't want to be alienated," Ian Humphris, joint managing director at marketing firm, LIFE, said. "There's no doubt that U.K. retailers have a good track record for embracing local products, from bakery (eg. the bap, the barm cake and the cobb) to ethnic ingredients, but sourcing new local brands could raise a different conundrum," he said.
© Copyright IBTimes 2023. All rights reserved.