'Scream Queens' Season 1 Spoilers: Episode 10 Sneak-Peek Video Teases Chanel's Ridiculous Thanksgiving With The Radwell Family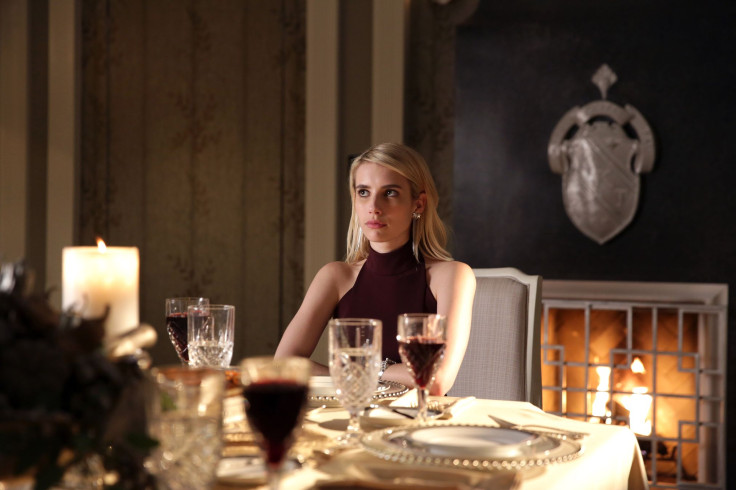 Thanksgiving is a time to show gratitude for all the wonderful things in your life. And so, with that said, on this upcoming Turkey Day we're going to raise our glasses and give thanks to our new, favorite TV show: "Scream Queens."
But while we're sharing our appreciation for the Fox dramedy, the Radwell family will be unveiling their appreciation for something entirely different in the upcoming episode, titled "Thanksgiving." In episode 10, the Radwell boys will kick off their family holiday dinner by giving a toast to what they are most thankful for -- and of course, seeing as those they're Radwells, you know their speeches will be utterly absurd.
After rudely cutting off his wife, Chad's (Glen Powell) older brother Chad (Chad Michael Murray) unveils what he's most appreciative for:
"Ever since I was a little boy, I knew what God wanted me to do -- and that was to make money off the backs of creative people," he says in the promo video as his father (Alan Thicke) nods in approval of the ridiculousness.
Chad then steps up to the plate next, giving a much more sentimental speech.
"This year I'm thankful for someone who is very special to me. Without this person I wouldn't be the man I am right now. In fact, I wouldn't be here at all," he begins. Chanel (Emma Roberts) is taken back by Chad's sweet admission and is completely flattered -- that is, until Chad reveals who he's truly talking about. "I am of course referring to the serial killer who is stalking the campus of Wallace University. I am so thankful that he, for whatever reason, has not murdered me yet. I am so, so grateful." Us too, Chad. Us too.
Audiences will learn more about Chanel's visit to the Radwell household when "Scream Queens" airs episode 10 Tuesday, Nov. 24, at 9 p.m. EST on Fox.
© Copyright IBTimes 2023. All rights reserved.
FOLLOW MORE IBT NEWS ON THE BELOW CHANNELS