'Scream' TV Series Spoilers: Episode 2 Synopsis Released; Sneak Peek Reveals Another Death [VIDEO]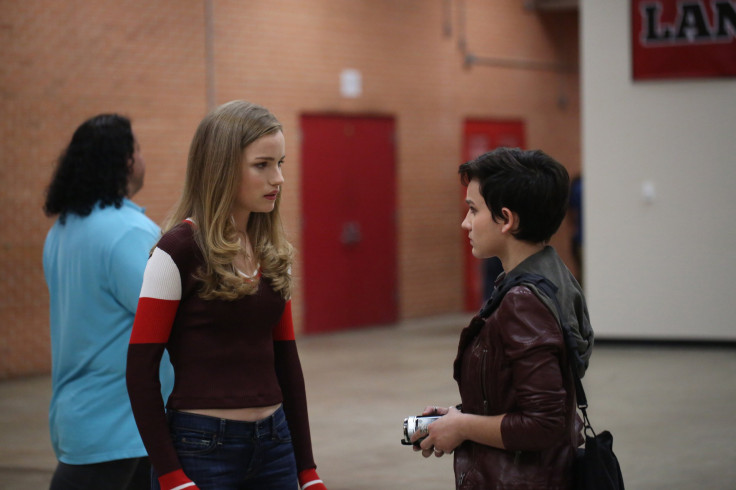 Another one bites the dust on MTV's new TV series, "Scream." The horror reboot of the 1996 cult classic premiered last Tuesday and hooked audiences with its killer mystery. Unfortunately for the residents of Lakewood, it looks like the bodies will pile up in episode 2.
According to the synopsis for the second episode, "the death of another teenager casts doubt on the entire city and leads to a fight between Emma (Willa Fitzgerald) and Audrey (Bex Taylor-Klaus)." But why are the two former friends fighting? It could have something to do with Audrey's love interest, Rachel (Sosie Bacon).
Viewers will remember that Emma was with Nina (Bella Thorne) when she recorded the video of Audrey and Rachel kissing in the car. The video went viral … and Nina ended up dead thanks to a masked killer. The identity of the murderer is currently a mystery, but rumors are floating in Lakewood that serial killer Brandon James has returned from the dead.
However, there is a catch. The Brandon James murderers happened 20 years ago … and he was shot and killed by police.
"Scream" fans have awhile to go before the killer is unmasked – and plenty more people will turn up dead. Based on a sneak peek video of episode 2, it doesn't look like Audrey's love interest is safe from the blade.
In the sneak peek, high school teacher Mr. Branson (Bobby Campo) is trying to get his students to stop focusing on the murder of Nina. But that's the only thing his class wants to talk about. Film geek Noah (John Karna) even goes into a "creepy monologue" about the "killer's design" in the age of social media. However, things shift when Riley (Brianne Tju) gets a text from a friend saying that a student from St. Mary's died. This immediately spikes Audrey's interest – and not in a good way. Rachel is a student at St. Mary's.
Is Rachel the next victim on "Scream"? Episode 1 did show the masked killer watching her and Audrey, but fans will have to wait until episode 2 airs on Tuesday, July 7, to find out.
Watch the sneak peek video below:
Meanwhile, viewers will also be introduced to a new face – Piper (Amelia Rose Blaire). Piper is a reporter who comes to Lakewod to "report on the murders." Fingers crossed that Piper has nine lives like Courteney Cox's reporter character from the "Scream" movies, Gale Weathers.
© Copyright IBTimes 2023. All rights reserved.