'Scream' Facts And Trivia: 6 Things To Know About The Original Slasher Movie Before The MTV Series Premiere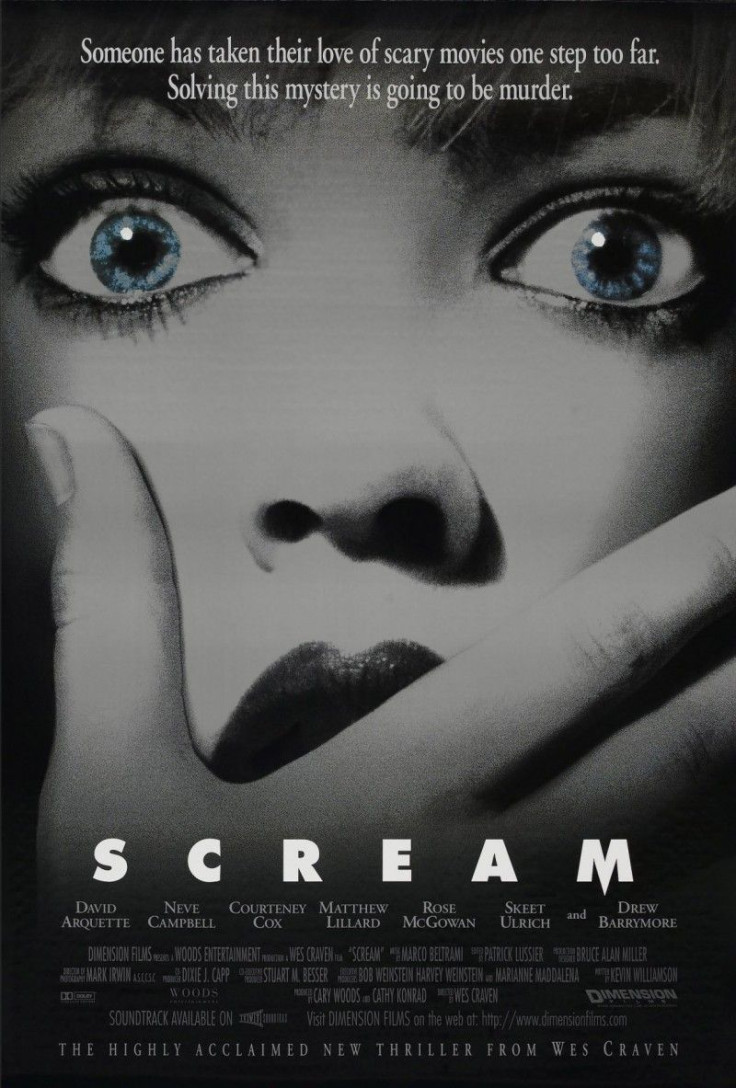 "Scream" was one of the top horror movies to shock audiences in the '90s, and it wasn't even released near Halloween! Instead the popular slasher film series drew first blood in December and went on to gross $100 million at the international box office. Not bad for a little-loved indie several directors passed on.
Revisit the strange and twisted trivia of the "Scream" series before the new MTV show kicks off tonight:
1. The Original Movie Title Was "Scary Movie"
According to Mental Floss, the Weinstein brothers decided to name their new horror film "Scream" after listening to a Michael Jackson song and deciding it would make for a great title. Incidentally, "Scary Movie" became the title of the movie that heavily lampooned movies like "Scream."
2. It Was Actually Based On A True Story
The real-life case of serial killer Danny Harold Rolling in Gainesville, Florida provided the inspiration of an unknown murderer targeting young female co-eds (via Discovery). After five students were killed near the University of Florida, a large manhunt successfully captured Rolling. The movie sequels, however, are still on the loose.
3. Several Directors Passed On "Scream"
At an ATX panel, Julie Plec and Kevin Williamson revealed legendary horror director Wes Craven ("A Nightmare On Elm Street") was not the first name chosen for the project. Robert Rodriguez, Bryan Singer and Quentin Tarantino were other big name contenders in talks for "Scream," but none ever signed for the project. Early in the development, Oliver Stone expressed interest in directing the 1996 film.
4. Wes Craven Learned About "Scream" Thanks To His Assistant
"Vampire Diaries" writer and producer Julie Plec says she was the one that brought the movie to Wes Craven when she worked for the director as his assistant.
5. Drew Barrymore Was Originally Set To Play The Lead
In a good sense of shocking the audience, the actress suggested she play the young teen murdered within the first few minutes of the movie instead of the slated lead role (via IFC). Neve Campbell took the starring role in her stead.
6. The Signature "Scream" Mask Almost Didn't Make It Into The Movie
According to Buzzfeed, the now iconic "Ghostface" mask was found by happenstance during a location scout. Although Craven championed the innocuous disguise, Bob Weinstein dispised it so badly that he threatened to shut down production. He relented after watching Barrymore's opening scene.
Curious to "Scream" some more? Netflix has the first three installations of the franchise available to stream.
The "Scream" TV series premieres tonight on MTV at 10 p.m. EDT.
© Copyright IBTimes 2023. All rights reserved.
FOLLOW MORE IBT NEWS ON THE BELOW CHANNELS