Second Stimulus Check: GOP Plan Makes 26 Million More Americans Eligible For $500 Payments
KEY POINTS
Senate Republicans revealed the details of their HEALS coronavirus stimulus act, which would make more Americans eligible for payments
HEALS and the Democrats' HEROES Act have much in common, including a second round of $1,200 stimulus checks
Congress seeks compromise and passage of a bill before its Aug. 7 recess
A subtle change in the scope of the word "dependent" in the GOP's new $1 trillion HEALS Act (Health, Economic Assistance, Liability Protection and Schools Act) would make some 26 million more individuals eligible to receive stimulus checks worth $500.
Senate Republicans revealed their HEALS Act proposal Monday to praise from fellow conservatives and criticism from Democrats dismayed by its lower spending levels.
House Democrats passed their version of HEALS -- the $3 trillion HEROES Act (Health and Economic Recovery Omnibus Emergency Solutions Act) -- on May 15 and have been awaiting the Republicans' proposal. Negotiations are underway to craft a compromise bill amenable to both parties and pass it before Congress goes into recess Aug. 7.
There are hardly any major differences between HEALS and HEROES in their components of the economic impact payments, or stimulus checks.
In both bills, individuals will receive up to $1,200. Married couples will get up to $2,400. Individuals already receiving federal support (Social Security, Supplemental Security Income, VA benefits) also qualify for the checks.
"It's on the little details that things have changed," noted Janet Holtzblatt, senior fellow at the Urban-Brookings Tax Policy Center.
HEALS calls for $500 checks for all dependents in families that qualify. Children 17 and over, including college students and adults who are disabled or otherwise claimed as dependents on someone else's tax return, will be eligible for the money.
In contrast, Democrats in their HEROES Act propose a larger payment of $1,200 per dependent with a maximum of three per household. The first round of stimulus checks were only for children 17 and under with a limit of three.
Experts from the Tax Foundation say HEALS will make at least 26 million more individuals eligible for the money. On the other hand, Republicans want the change to apply only to the second stimulus payments. The new payments would not be retroactive to the first checks sent out under the Democrats' CARES Act (Coronavirus Aid, Relief, and Economic Security Act) signed into law March 27.
A dependent is a person other than the taxpayer or spouse who entitles the taxpayer to claim a dependency exemption. It can be a taxpayer's son, daughter, stepchild, eligible foster child, brother, sister, half-brother, half-sister, stepbrother, stepsister, adopted child or an offspring of any of them. A child must be under age 19 to be classified a dependent. If the child is a full-time student, he or she must be under age 24.
HEALS also protects stimulus checks from federal or state debt collection and bank garnishment with the only exception being unpaid child support. Republicans are also against making non-citizens eligible for both the first and second stimulus checks.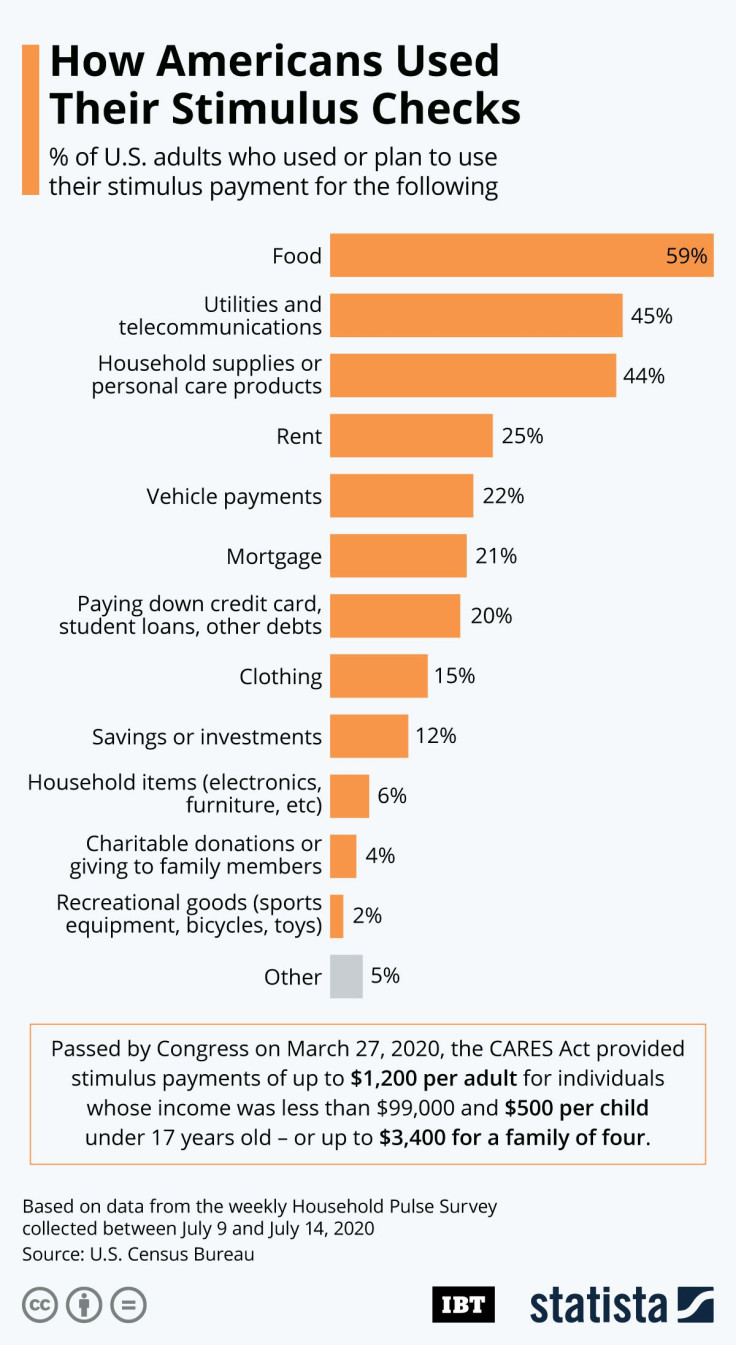 © Copyright IBTimes 2023. All rights reserved.
FOLLOW MORE IBT NEWS ON THE BELOW CHANNELS