Selena Gomez Brings Back Jennifer Aniston's Rachel Green Hairstyle From 'Friends': 'Amazing Hair'
KEY POINTS
Selena Gomez rocked Jennifer Aniston's Rachel Green hairstyle from "Friends"
Selena Gomez and Jennifer Aniston talked about their friendship
Selena Gomez was linked to Jennifer Aniston's ex-husband Justin Theroux
Selena Gomez brought back Jennifer Aniston's hairstyle from her hit comedy sitcom "Friends."
Hairstylist Marissa Marino shared a snap of Gomez's appearance on Kelly Clarkson's show on Instagram. She added that the hairstyle's inspiration was Aniston's character Rachel Green from "Friends."
"Selena on @kellyclarksonshow today! It's a great interview so be sure to watch! hair inspo was "The Rachel" meets Goldie Hawn in First Wives Club," she wrote in the caption.
Aniston has been sporting a similar hairstyle when she played Green on the iconic '90s sitcom. Fans were quick to praise Gomez's locks.
"Amazing hair," one commeted.
"I really really really loved this look! So beautiful," another added.
"She looks amazing love this old school hairstyles on her," a different user opined.
"I am loving the bounciness you're bringing back from the 90's in her hairstyles!" another user complimented Marino's work.
Gomez and Aniston are good friends, so it's not surprising to see the "Lose You To Love Me" singer sporting the "Murder Mystery" star's hairstyle. Earlier this year, Gomez sat for an interview with Aniston when the latter guest-hosted "The Ellen DeGeneres Show." During Gomez's guesting, she recalled how she met Brad Pitt's ex-wife for the first time.
"And I think we were at Vanity Fair something event, and I was there with my mom, and I walked into the bathroom and I saw you, and you were just like so nice. You just walked out of the bathroom and you were going back, and my heart like, stopped. And I freaked out and I ran to my mom and I was like, 'oh my god, I just saw Jennifer Aniston.' I was like, 'oh my god,'" Gomez recalled.
Gomez added that Aniston was very friendly before telling the "Cake" actress, "You were everythin that I wanted." Aniston was so touched and responded with, "Bless your heart."
Aniston also said nothing but praises for Gomez, whom she considers a "genuine fan." Aniston also confessed that she was amazed with their friendship and even gave their fans an overview of how they bond together.
"We've known each other for years. You've been to my house. We've had pizza. Girl after my own heart, do we love a pizza or what? We love a pizza," Aniston said and Gomez agreed.
There were rumors linking Gomez to Aniston's ex-husband Justin Theroux. But sources close to the two denied it and said that the claims were "false" and "nonsense."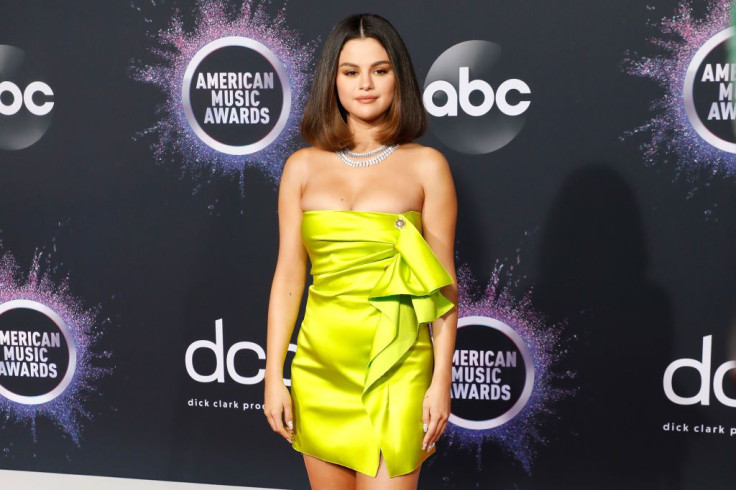 © Copyright IBTimes 2023. All rights reserved.