Sergey Brin, Anne Wojcicki Split: Why The Google And 23andMe Co-Founders Are Now Living Apart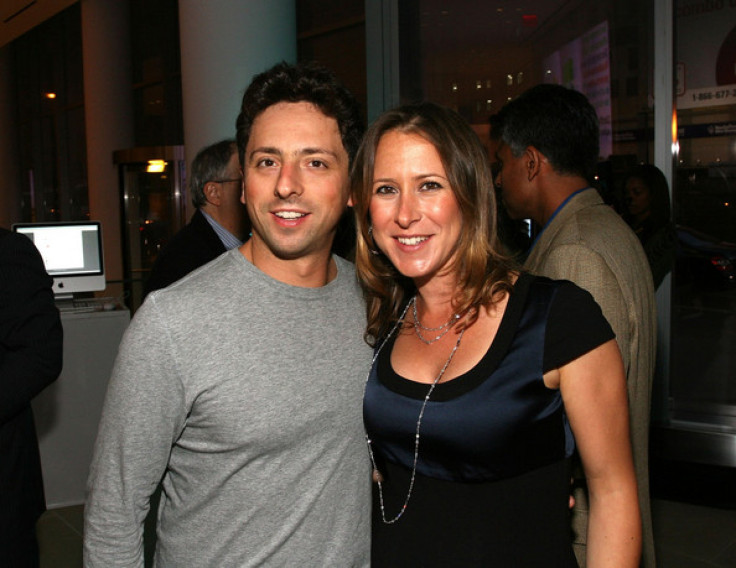 One of the most high-profile Silicon Valley couples has reportedly split. Sergey Brin, co-founder of Google, and Anne Wojcicki, co-counder of 23andMe, are currently living apart. A spokesman for Brin and Wojcicki confirmed the news on Thursday evening, saying "they have been living apart for several months."
"They remain good friends and partners," the couple's spokesman added.
Brin and Wojcicki have two children from their six years of marriage. A divorce has not yet occurred, but a possible reconciliation between the two 40-year-olds is unclear since Brin is now romantically involved with a Google employee, according to AllThingsD. The same sources also say Brin's new romantic interest -- Google Glass marketing manager Amanda Rosenberg -- had also been previously involved with another Google employee, Hugo Barra, who was the VP of Android development until he tendered his resignation earlier this week. Sources say Rosenberg's former relationship fueled a "thorny" incident between Barra and the Google co-founder, but Barra insists his resignation is "unrelated."
Brin and Wojcicki have reportedly remained amicable as this romantic drama at Google has played out, but many speculate that the affair could lead to divorce, which would affect Wojcicki more so than Brin. Since Brin and Wojcicki signed a prenuptial agreement, a divorce would carry no material impact on Google since Brin's majority voting control in the company would not be affected (Brin holds almost $21 billion worth of voting shares in Google, most of which are Class B stock, which gives Brin more voting power). However, a divorce would likely affect the fundraising ability of Wojcicki's personal genomics start-up 23andMe, which has raised more than $100 million from backers including Google, Google Ventures, and even Brin himself.
Besides their two businesses, a divorce could damage a number of joint ventures shared between Brin and Wojcicki, even though the couple's spokesman said they would "continue to work on all these endeavors together." The couple helped start the Breakthrough Prize Foundation with Mark Zuckerberg and Yuri Milner in February, but Brin and Wojcicki most notably donated more than $223 million in 2012 (the fifth-most for U.S. donors), plus $190.1 million each to their Brin Wojcicki Foundation in 2012, which benefits the Wikimedia Foundation, the Ashoka Foundation, the Parkinson's Institute, the Michael J. Fox Foundation, and the Tipping Point Community. The couple also owns Passarelle Investments, a house-flipping operation that's located close to Google HQ and Brin and Wojcicki's home in Mountain View, Calif. Another affected party would be Wojcicki's sister, Susan, who has worked with Brin since the earliest days of Google (Google's first HQ was located in her garage) and who currently works as SVP of advertising and commerce at the company.
Brin continues to spend time working at Google[x], a division of Google dedicated to experimental projects like Project Glass (a.k.a. Google Glasses), Project Loon (a.k.a. Google's Wi-Fi balloon apparatus), and Google's self-driving car technology. But his rocky marriage with Wojcicki may force him to refocus his energies on other vital divisions within Google, including Android, which now lacks Barra's leadership, and possibly even Google's commerce division if Wojcicki's sister decides to remove herself from her post.
© Copyright IBTimes 2023. All rights reserved.