Seth MacFarlane To Host The Oscars: Five Things To Know About The Funnyman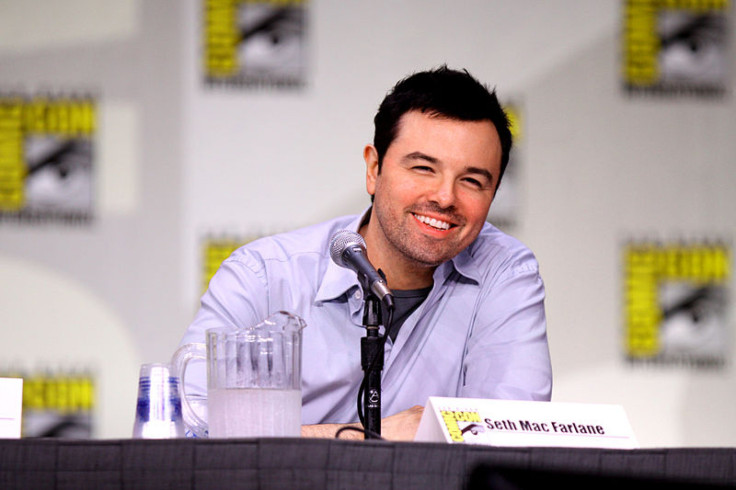 Seth MacFarlane will host the 2013 Academy Awards, it was announced Monday. Several outlets predict that the 38-year-old "Family Guy" creator, who won raves for his appearance on "Saturday Night Live" last month, will give a much-needed boost to the Oscar ceremony, which has been lackluster for the last few years.
This summer, the artistic powerhouse made his directorial debut with the comedy "Ted," starring Mark Wahlberg. According to Indie Wire, it's one of the highest-grossing films of the year so far.
Here are five things to know about MacFarlane.
Despite Being Worth $100 Million, He Still Eats at Burger King
According to Celebrity Net Worth, MacFarlane is worth a reported $100 million. In a 2010 interview with Details, MacFarlane claimed that his life hasn't changed much since he became one of the highest-paid men in entertainment. He also admitted to eating cheap fast food.
"I have the same job. I go to the same place every day and work with the same people," he said. "I bought a new house. I have a car that I like -- an Aston Martin -- for Sunday drives in the country. I bought a piece of a plane so I could avoid the airports. But look, I'll still go through the Burger King drive-thru."
He's an Avid Supporter of Gay Rights
In a 2008 interview with the Advocate, MacFarlane said that it's "infuriating and idiotic" that gay couples are not allowed to legally marry.
"I'm incredibly passionate about my support for the gay community and what they're dealing with at this current point in time," he told the gay magazine. "I have arguments with people where I get red in the face, screaming at the top of my lungs."
In 2010, the multitalented entertainer spoke out against California's controversial Proposition 8.

"The ridiculous thing about something like Prop 8 is that it will be overturned," he told Details. "They put something like $40 million into that campaign, and they might as well have just bet all that money on the Red Sox. It's wasted money because that civil-rights battle will be won eventually. They'll just have to sulk in a corner and accept the fact that gays will be able to marry each other. Every civil-rights conflict -- black people, women -- comes to an end in the right way."
Jon Stewart Once Had a Beef with Him
In a 2008 interview with Time, MacFarlane revealed that Jon Stewart chewed him out for poking fun at his decision to air new episodes of "The Daily Show" before the writers' strike was over.
"There was a very inside joke on 'Family Guy' referring to the fact that he was working before the writers' strike was over," said MacFarlane. "It was admittedly a very direct middle finger of a joke, which I don't discount. But he called and was very angry about it. The call lasted an hour. It was pretty amazing. He's a very good debater, I'll tell you that. It was fascinating to me that it went on for so long."
"Family Guy" fans have attempted to determine which episode it was that set Stewart off but have had little success.

In 2011, Piers Morgan pressed MacFarlane on the matter.
Though the funnyman tried to remain mum on what exactly transpired, he did say that Stewart asked him, "Who the hell made you the moral arbiter of Hollywood?"
MacFarlane admitted that the joke was "coming from the right place but probably so over the line."
It's safe to say that the feud between the two has dwindled. In June 2012 MacFarlane appeared on "The Daily Show" and presented Stewart with a teddy bear that resembled an animated toy from his film "Ted."
Sarah Palin Is Not a Fan
In early 2010, an episode of "Family Guy" aired that featured a girl with Down syndrome who identified her mother as "the former governor of Alaska." The line was undoubtedly a reference to Sarah Palin, whose son Trig was born with the condition.
According to the Los Angeles Times, Palin took to her Facebook page to call the episode a "kick in the gut."
Palin later appeared on the "O'Reilly Factor" and accused the episode of making life more difficult for those with special needs.
"Trig is going to have a pretty tough, challenging life in front of him," Palin said. "He's going to face things special needs children will be facing, much more difficult than we ever will. So why make it tougher on the special needs community? That's what I thought when I first heard about this episode that really isn't funny."
"This guy MacFarlane who did this is a hater," added the show's host, Bill O'Reilly.
MacFarlane later discussed the incident on "Real Time With Bill Maher" and noted that an actress who voiced the character with Down syndrome, Andrea Fay Friedman, actually has the condition. He accused Palin of trying to "inspire phony pity."
On 9/11 He Missed His Flight, Which Later Hit the World Trade Center
In a 2003 interview with TVShowsOnDVD, MacFarlane revealed that on the morning of Sept. 11, 2001, he was booked on United Airlines Flight 11, which was scheduled to fly from Boston to Los Angeles.
On the morning of the flight, he was hung over from the night before and his travel agent mistakenly informed him that the flight was at 8:15 a.m -- when it was actually set to depart at 7:45 a.m. He arrived at the airport late and missed the flight.
MacFarlane has said that narrowly escaping death hasn't had a profound effect on him.
"The only reason it hasn't really affected me as it maybe could have is I didn't really know that I was in any danger until after it was over, so I never had that panic moment," said Macfarlane. "After the fact, it was sobering, but people have a lot of close calls; you're crossing the street and you almost get hit by a car ... this one just happened to be related to something massive. I really can't let it affect me because I'm a comedy writer. I have to put that in the back of my head."
The 2013 Oscars will air on Feb. 2 at the Hollywood & Highland Center in Hollywood, Calif.
FOR FREE to continue reading
✔️ Unlock the full content of International Business Times UK for free
offer available for a limited time only
✔️ Easily manage your Newsletters subscriptions and save your favourite articles
✔️ No payment method required
Already have an account?
Log in
© Copyright IBTimes 2023. All rights reserved.