Seth MacFarlane Won't Return As Oscars Host, Suggests Joaquin Phoenix For 2014 Academy Awards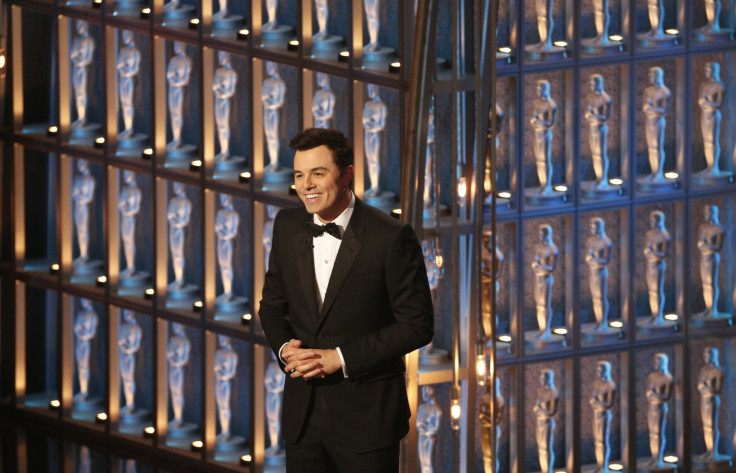 Don't expect to hear another breast-themed musical number at next year's Oscars.
"Family Guy" creator Seth MacFarlane announced in a Monday Twitter post that he will not return to host the 2014 Oscars, The Wrap reports. While MacFarlane cited his busy schedule as the reason behind his decision, he didn't miss a chance to take a shot at those who bashed his polarizing 2013 hosting turn.
"Traumatized critics exhale: I'm unable to do the Oscars again," MacFarlane tweeted. "Tried to make it work schedule-wise, but I need sleep. However, I highly recommend the job, as Zadan and Meron are two of the most talented producers in the business."
However, the man behind "Ted" did provide the Academy a tongue-in-cheek suggestion for the 2014 Oscars' hosting duties. "My suggestion for host is Joaquin Phoenix," MacFarlane wrote.
MacFarlane's performance as host of the 2013 Oscars was polarizing, to say the least. While some critics were impressed with the first-time host's willingness to be edgy and make light of taboo subjects, others were disappointed by what they deemed to be a tactless brand of humor.
MacFarlane's detractors were particularly offended by the host's now-infamous "We Saw Your Boobs" song, which mocked actresses who had disrobed on the silver screen. The musical number was panned so harshly that actress Jamie Lee Curtis likened it to a "public execution."
"Awash in self-indulgence, neither he nor his 3-hour-and-35-minute show ever seemed to hit a comfortable, confident stride," USA Today's Robert Bianco wrote of MacFarlane's performance. "The worst thing I can say about this year's Oscar opening?" added The Wrap. "This was originally supposed to be a list of Seth MacFarlane's best jokes.
Even though he won't return to host the 2014 Oscars, MacFarlane will have plenty to do over the next year. According to The Wrap, he is currently working on the screenplay for "Ted 2," the sequel to the highest-grossing R-rated comedy of all time.
Meanwhile, with MacFarlane out of the picture, the race to host next year's Academy Awards is now wide open. Past hosts Steve Martin, Alec Baldwin, Ellen DeGeneres, James Franco, Anne Hathaway and Whoopi Goldberg are all likely to be considered, Us Weekly reports.
© Copyright IBTimes 2023. All rights reserved.