Sex, Drugs, Politics: Women Describe Parties With Matt Gaetz And Associates
As the Justice Department continues to investigate Rep. Matt Gaetz, R-Fla., on allegations of sex trafficking and sexual misconduct, new details about his behavior at private parties with younger women have emerged.
Two women spoke with CNN on condition of anonymity and described parties attended by Gaetz, including one that took place at a home in a gated community in Orlando. The women claimed they were asked to put away their phones upon arrival so the evening wouldn't be documented.
During the parties, Gaetz would allegedly talk about politics and would allegedly act like a "frat type of party boy." One of the women also believes Gaetz would sometimes take recreational drugs.
The partygoers claimed other notable Republicans attended the gatherings, and the women were sometimes dressed in the same formal wear from political events they just attended.
During the parties, some guests would engage in sex and use drugs, including ecstasy and cocaine.
However, some of those parties were on smaller scales and took place in hotel suites after a night of drinking at a political event. "No one ever wants to stop partying, stop drinking, once you've had a few glasses of champagne in you," one of the women said.
While the women have attended these types of parties over the past few years, both claimed they never saw anyone who appeared to be underage in attendance.
One of the women revealed she has never received money directly from Gaetz but has received payment from his associate Joel Greenberg for sex following some of the parties. However, the female would not identify who she had intercourse with.
Gaetz is the subject of a Justice Department investigation following allegations he allegedly had a sexual relationship with a young woman that started when she was 17 years old and paid for her to travel with him, which is a violation of federal sex trafficking laws.
Investigators are also seeking further information about a trip Gaetz took to the Bahamas in September 2018, which included at least five young women, Politico reported.
The girl, whose age is in question, also attended the getaway. Investigators are trying to determine whether sex was exchanged for drugs or money.
Lawrence Walters, a First Amendment lawyer told the outlet it is difficult to prosecute suspects accused of prostitution that are involved in sugar daddy relationships.
"Every type of dating relationship has an exchange of value. It's largely why law enforcement hasn't wanted to weigh into these sugar daddy-type relationships area because of that tremendous grey area," he explained.
Walters noted that it is difficult to differentiate between "dating and exchange of value in a relationship vs. all-out commercial prostitution. We don't have a lot of court rulings on that."
"Prosecutors tend to focus on very clear cases so they don't get into these issues. But if they wanted to pursue a sugar daddy-type relationship, dating relationship, there are very thorny personal, societal and constitutional issues they have to deal with."
Gaetz has denied the allegations of illegal drug use and sexual misconduct made against him. He has not been charged with a crime.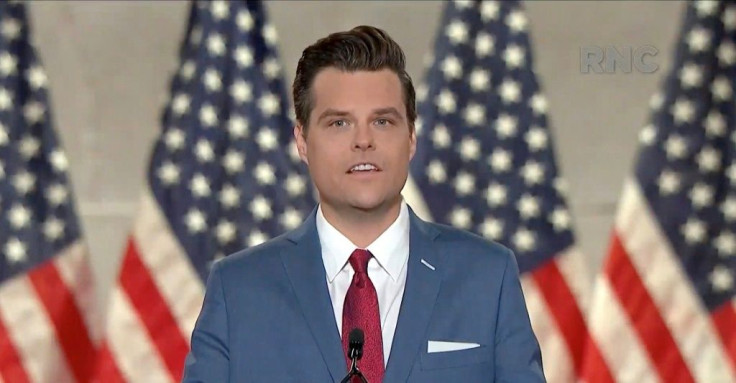 © Copyright IBTimes 2023. All rights reserved.