'Shades Of Blue' Season 2 Spoilers: Did Wozniak's Son Nate Die In Episode 9 'Chaos Is Come Again'?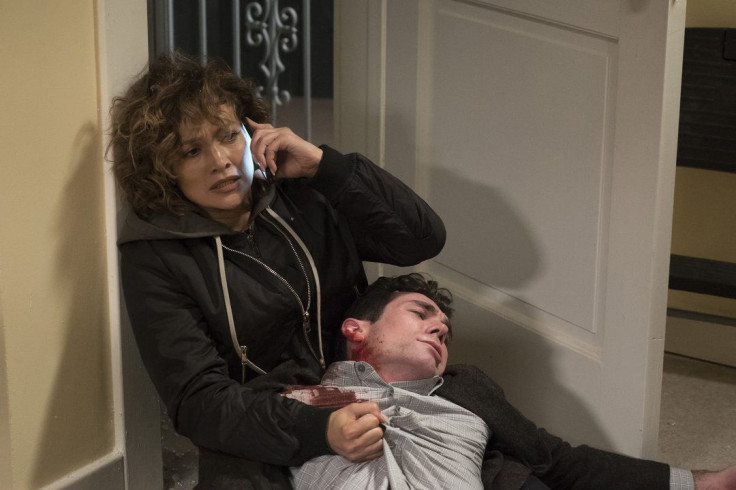 "Shades of Blue" Season 2, episode 9 opened with Harlee Santos (Jennifer Lopez) shouting at someone on the phone and saying that an officer has been shot.
In "Chaos Is Come Again," an unknown person attacked Wozniak's (Ray Liotta) home while Harlee and the rest of their team, including Nate (Cameron Scoggins), was there. Until the end of the episode, the identity of the shooter was not revealed. But everyone proved how solid they still are together despite their recent falling out. Nate's shooting has resulted in Harlee, Wozniak, Loman (Dayo Okeniyi) and Tess (Drea de Matteo) coming together to make sure that he will survive.
Read: Will Wozniak's son Nate be killed off in "Shades of Blue" Season 2?
After the shooting, Nate was rushed to the hospital where he underwent surgery. He ultimately survived. But prior to the incident, he also had a gut-wrenching conversation with his father about his sexuality. Nate is a gay man, and he's been living with his partner for years. He recently learned, through Loman, that his father was linked to a man named Donnie Pomp (Michael Esper).
While in their living room, Nate asked Wozniak if the rumors are true that he is gay and has had a relationship with a man in the past. He replied, "You're my son and I love you, but if you ever bring this up again, it will be the last conversation you and I ever have."
Nate wondered if his dad was saying that as a punishment or a reward for him. But in the end, he decided to let the topic go and just accept the fact that some secrets are not meant to be discussed.
Elsewhere in the episode, Harlee faced some problems of her own in relation to Stahl's (Warren Kole) relationship to her teenage daughter, Cristina (Sarah Jeffery). She also found out that Stahl has been sending Cristina text messages, pretending that he is her dad, Miguel (Antonio Jaramillo). However, Harlee knows Miguel is already dead because she was the one responsible for killing him.
Harlee also confronted her daughter about her connection with Stahl, and she gave her everything she needed to get back at the latter. But Harlee couldn't do anything without the help of Wozniak. Until episode 9, Wozniak didn't have any knowledge that Harlee killed Miguel. When she finally told him the truth, Wozniak showed his support for Harlee. At this point, an emotional Harlee told Wozniak that no one close to her is ever safe because they all eventually end up dying. Wozniak clarified that only the ones she intend to keep safe will be kept safe until the end.
Towards the end of the episode, Harlee came face-to-face with Stahl, and she urged him to stop reaching out to Cristina. Stahl was hesitant at first, but Harlee threatened to kill him if he does anything to her little girl. But by the looks of it, Harlee and Stahl's problems are far from over. The two characters will still face off in the upcoming episodes of "Shades of Blue" Season 2.
"Shades of Blue" Season 2 airs Sundays at 10 p.m. EST on NBC.
© Copyright IBTimes 2023. All rights reserved.