'Shahs Of Sunset' Season 8 Reunion: Reza And Mike Hash Out 'Big Blowup' At Bravocon
Finally, what fans have been waiting for... the "Shahs of Sunset" Season 8 reunion special!
Its been almost three months since Bravo aired the season finale and now viewers will be privy to what their favorite (or not so favorite) cast members have been up to ever since. That means Reza Farahan, Mercedes "MJ" Javid, Golnesa "GG" Gharachedaghi, Mike Shouhed, Destiney Rose, Nema Vand, and newcomer Sara Jeihooni will be back on-screen to hash out their issues.
Like many other Bravo shows, the two-part reunion special was filmed virtually amid the ongoing coronavirus pandemic. However, just because the cast isn't sitting next to each other on stage doesn't mean there will be a lack of emotion.
READ: Are 'Shahs Of Sunset' Star Mike Shouhed And Paulina Still Together? Mike Talks Life In Quarantine
In a sneak peek clip from the "Shahs of Sunset" reunion, Reza and Mike share a heartfelt moment as they set the record straight regarding a headline that claimed the duo had gotten into a "big blowup" in November 2019.
"I read that you guys had a big blow-up at Bravocon. Is that right?" Andy asks as an All About The Tea headline flashes across the screen that reads, "EXCLUSIVE: Shahs of Sunset Reza Farahan & Mike Shouhed's EPIC Fight At BravoCon EXPOSED — Mike Called Reza 'Fat Queen'."
Reza then slams the claims as "categorically false."
"We had no blow out at BravoCon," he clarified. "We had a conversation that got very emotional. Both of us cried."
Mike went on to explain that he initiated a conversation with the real estate agent and they "cried like two babies" as they squashed their feud.
The clip is a change of pace from the huge fights and confrontations that fans watched occur during Season 8. It's also a big difference from the dramatic vibe that GG seemed to be expecting when she spoke to Page Six before the reunion was filmed.
"I get to not be pregnant and I get to bring out the person in me that a lot of people are very familiar with, you know, because there has been a lot of — a lot of — behind the scenes [expletive] going on," she said at the time. "I'm just happy to not be pregnant so if we do have that reunion anytime soon, I can really serve it."
"There's a lot of behind the scenes drama... MJ's friend that came on the show and started accusations. And there's legal stuff now that are continuing to go on and on," GG continued. "And there's certain rumors and lies and videos and surveillance has come up that people have that we've seen. So it's just it's been a lot."
Of course, the clip with Reza and Mike is just a small glimpse into the Season 8 reunion so GG could still potentially "serve it" but fans will have to tune in to find out.
The "Shahs of Sunset" virtual two-part reunion begins on July 19 at 9 p.m on Bravo.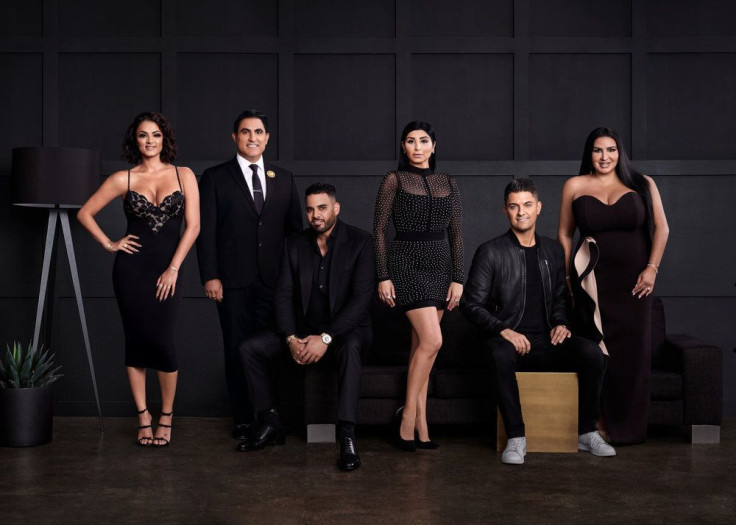 © Copyright IBTimes 2023. All rights reserved.