Shark Attack On North Carolina's Ocracoke Island Is State's Seventh Bite In Two Months [PHOTOS]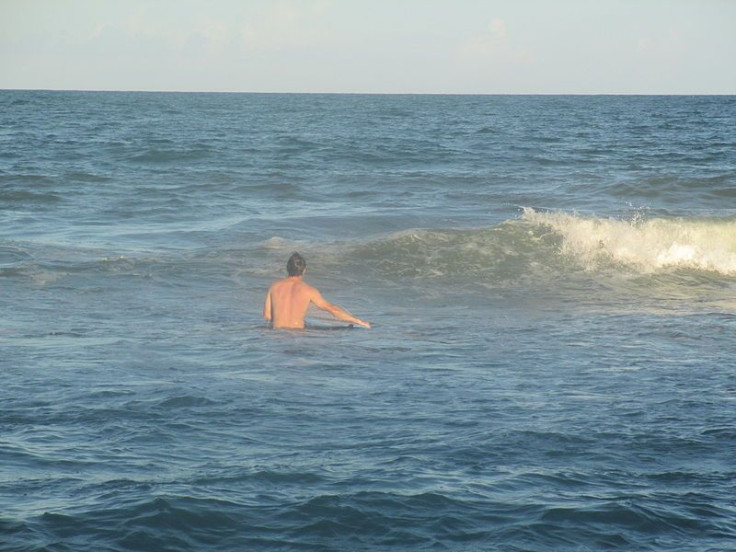 A man was attacked by a shark off North Carolina's Ocracoke Island in the Outer Banks on Wednesday, bringing the number of shark attacks near North Carolina beaches to seven in just two months – three more incidents than were reported last summer. The 68-year-old victim, who was not identified, survived several bites by a 6- to 7-foot-long grey shark, said the National Parks Service.
The man was swimming in waist-deep water when the shark pulled him under. He suffered injuries to his ribs, hip, lower leg and both hands, according to WTVR-TV. Lifeguards managed to help him to shore and call 911. He was airlifted to a nearby hospital, but his condition was unclear.
The attack occurred around 12:10 pm EDT, according to County of Hyde officials, who tweeted that "a person swimming at the [National Park Service] day use area on Ocracoke sustained a bite from marine life" and that the attack was being investigated. Witnesses shared photos of the scene of the attack on Twitter, including images of the man being carried away from the beach on a stretcher.
Wednesday's attack marked the seventh attack in North Carolina in June and July. Two people were bitten near Cape Hatteras last week – a 47-year-old man who was attacked while trying to get two children out of the water and an 18-year-old boy who suffered injuries to his hands, calf and buttocks.
On June 14, a 12-year-old girl and a 16-year-old boy both lost arms in separate shark attacks at Oak Island.
The number of shark attacks in 2015 across the U.S. has been above average for this time of year. There are typically between 30 and 40 shark attacks a year in the country, however the number of encounters this year has already reached beyond the halfway mark, including a fatal attack in Hawaii – something officials have said is unusual this early in the summer season.
Experts say a combination of drought conditions in the Carolinas, which means saltier water near the shore because of decreased freshwater runoff – sharks prefer saltier water – and the increased number of people going to the beach has meant more shark encounters, according to USA Today. Pier fishermen chumming the water to attract fish were thought to have played a role in the two attacks off Oak Island.
"It's not a certain thing that makes this happen," George Burgess, director of the International Shark Attack File at the University of Florida's Florida Museum of Natural History, told NBC News. "It's a perfect storm of factors."
© Copyright IBTimes 2023. All rights reserved.
FOLLOW MORE IBT NEWS ON THE BELOW CHANNELS