Shayanna Jenkins Raises Doubts Over Aaron Hernandez's Suicide Notes After Hinting At Foul Play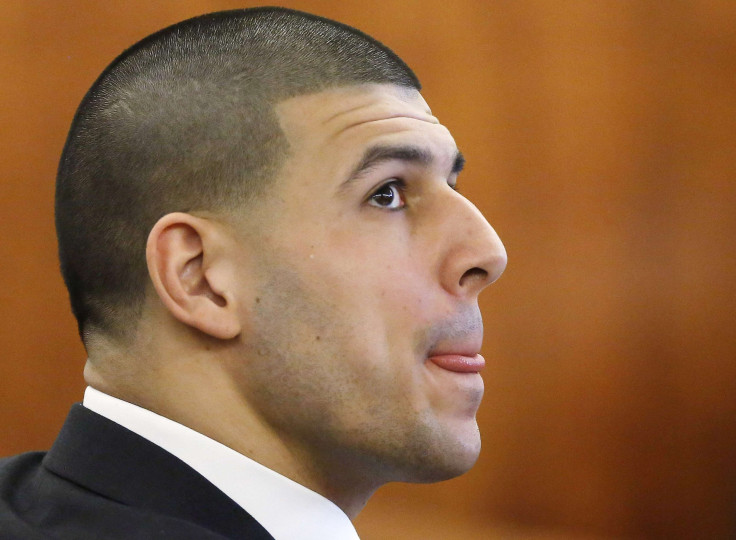 Aaron Hernandez's fiancée Shayanna Jenkins has raised doubts over the circumstances surrounding the ex-NFL player's suicide last month, hinting at foul play despite authorities confirming the cause of death.
In a two-part interview with Dr. Phil McGraw, set to air Monday and Tuesday, Jenkins expressed doubts about what actually happened inside Hernandez's prison cell the day he was found dead.
During her Dr. Phil appearance, Jenkins said she believed the letter left behind by Hernandez "was a note of love," but way he addressed her in his final letter was unusual.
"I did see that it was addressed to Shay instead of you know babe or bae, the way he would refer me as - that was a little odd to me. But as far as the content, he seemed to be his loving self," she said, according to Daily Mail. When asked if the handwriting on the note belonged to Hernandez, Jenkins said: "(It) was similar, but I feel like, again, you have nothing but time in there so I feel like it's easily duplicated or could be."
Read: Aaron Hernandez Suicide Facts And Rumors
In a preview of the interview Friday, McGraw told Today that Jenkins doubted Hernandez committed suicide given he had just been acquitted of two murders and had another one on appeal.
"He was very positive, so excited to come home," she told McGraw, according to Today. "I spoke to him the night before and he was so, you know, 'Daddy's going to be home,' and 'I can't wait to sleep in bed with you guys,' and 'I can't wait to just hold you and love you.' I just know the feedback that I was getting from our last talk had nothing to do with suicidal thoughts."
While talking about her last conversation with Hernandez, Jenkins said: "I felt like we were looking so bright. We were going up a ladder to a positive direction."
The former New England Patriots tight end, who was jailed for life without parole for the murder of Odin Lloyd, was found hanging from his prison cell window April 19 at the Souza-Baranowski Correctional Center in Shirley, Massachusetts.
His suicide came just days after he was acquitted of the 2012 double murder of Daniel Abreu and Safiro Furtado.
Read: Aaron Hernandez's Family May Not Get Paid By The Patriots, Report Says
During a hearing Tuesday in which Hernandez's conviction for the murder of Lloyd was vacated, his appellate attorney, John Thompson, brought up doubts about the nature of his death.
Thompson reportedly said his recent correspondence from Hernandez he expressed his interest in pursuing an appeal in the 2013 Lloyd murder case.
Hernandez's lawyer, Jose Baez, also said investigations into his death, as well as conversations with his loved ones, showed no indication he was considering suicide.
"I have no indication from any conversations with Aaron or any conversations anyone has had with Aaron that we've investigated that makes that true," Baez told TMZ in April, noting that the family wasn't "buying the suicide story."
"I think that it's such a long shot of a theory that I don't give it a shred of credibility at this point," he said.
After Hernandez's death, three handwritten notes were found next to a Bible in his cell. The notes were written to his fiancée Jenkins, his daughter Avielle and the last to his attorney Baez.
© Copyright IBTimes 2023. All rights reserved.