Shia LaBeouf 2014: A Timeline Of His Worst Year Ever, From Bizarre Behavior To Shocking Rape Allegations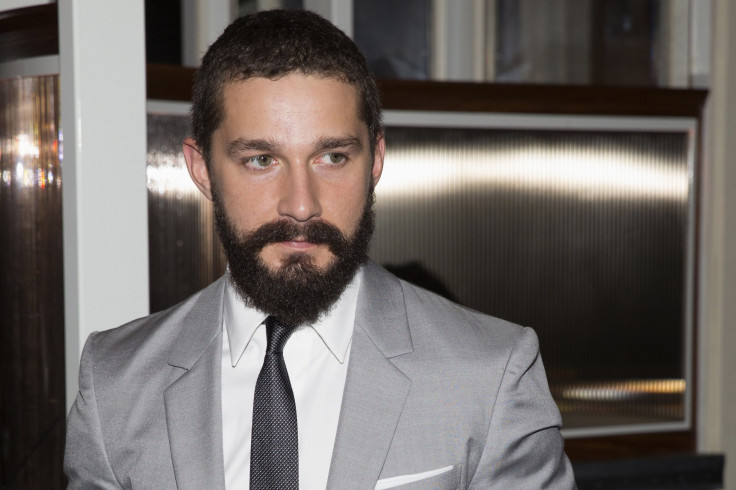 It's been a very strange year for a very strange man. After many incidents of bizarre behavior, Shia LaBeouf is now claiming he was the victim of a rape during his five-day art installation in Los Angeles in February.
The news broke in an interview the actor did with Dazed magazine, where he claims a woman took advantage of him during the performance piece that had him sitting silent with a bag over his head. None of LaBeouf's representatives has been willing to elaborate on the matter, according to USA Today.
It's been a tumultuous year for the former "Transformers" actor, who was caught plagiarizing his directorial debut "Howard Cantour.com" in 2013. Below is a timeline of the actor's public behavior in 2014:
Skywriter
The year kicked off with LaBeouf hiring a skywriter to etch the words, "I am sorry Daniel Clowes" into the sky above L.A., as noted by the Hollywood Reporter. Clowes is the graphic novelist whose work LaBeouf plagiarized in his film, as pointed out by Time magazine.
Press Conference
At a press conference for his latest film "Nymphomaniac," LaBeouf sat with his co-stars, who were answering questions about the movie. He remained silent until a reporter asked him a question about the numerous sex scenes in the production.
"When seagulls follow the trawler, it is because they think sardines will be thrown into the sea. Thank you very much," he said before walking out of the conference. The quotation is associated with soccer player Eric Cantona, BBC News reported.
'I Am Not Famous Anymore'
LaBeouf made headlines again when he attendend the premiere of "Nymphomaniac: Vol. I" at the Berlin Film Festival wearing the now-infamous paper bag over his head that read "I Am Not Famous Anymore," as recounted by Yahoo Movies. The act was jarring and caught the attention of many in the media who wondered why someone who isn't famous anymore would be on a red carpet.
#IAMSORRY
Clearly on a train of thought all his own, LaBeouf opened a new performance art installation called "#IAMSORRY." The actor was to sit silent and motionless in a chair wearing the same paper bag that he wore at the premiere of "Nymphomaniac: Vol. I," according to the Hollywood Reporter. Guests could enter the room and sit one-on-one with the actor, who would occasionally remove the bag to cry silently. It is during this five-day art installation that he has alleged a woman took advantage of the rules of the exhibit, removed his clothing and raped him.
'Cabaret'
After chasing a homeless man down the street while purportedly trying to steal his food from a McDonald's outlet in the middle of New York's Times Square, LaBeouf found his way to a Broadway performance of "Cabaret." According to the New York Post, the actor was a little too rowdy (supposedly drunk on whiskey) during the show, slapping people on the backside and smoking cigarettes. During intermission, he was taken into police custody. However, LaBeouf told a slightly different, yet decidedly more charming, version of this story when he sat down on "Jimmy Kimmel Live." Afterward, LaBeouf announced he was seeking treatment for alcohol addiction.
One Hour Of Silence
LaBeouf reached out to a Dazed writer in September, BuzzFeed. The actor and the writer exchanged emails for weeks that eventually became the interview in which he describes getting raped. However, in an act of "metamodernism," the two agreed on a time and place to meet with GoPro cameras strapped to their heads. The interviewer and LaBeouf sat in total silence for an hour.
"So I'm present in the magazine only in words obtained digitally and online I'm present only through a mute physical presence," he wrote in one of the emails. "And the reality of my self lies somewhere between and beyond the two. It's thoroughly metamodern I think.
© Copyright IBTimes 2023. All rights reserved.