SHINee Celebrates 15th Anniversary With Movie 'My SHINee World,' To Release In September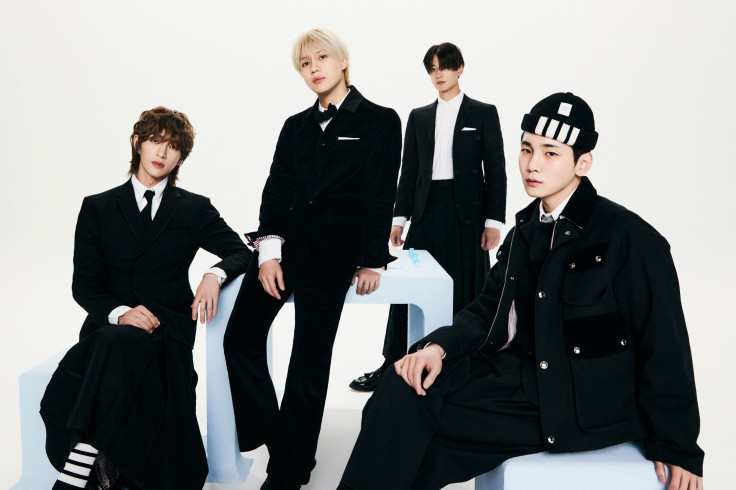 KEY POINTS
SHINee will reportedly release a movie commemorating its 15th anniversary
SHINee recently held its three-day sixth solo concert at KSPO Dome in Seoul
SHINee members performed their new song, "Hard," on Mnet's "M Countdown"
SHINee is reportedly coming to the big screen in September.
SM Entertainment announced that SHINee is releasing a movie for its 15th anniversary. Tentatively titled "My SHINee World," the film by director Lee Hu-bin will reportedly hit the movie screens in September.
With this movie, fans of SHINee – more popularly known as "SHINee World" or Shawols – can have a meaningful chance to reflect on their "15 years of my life" with the South Korean boy group, according to a report by Star News Korea.
SHINee's movie will show the group's journey in the eyes of their fans. It will disclose contents that were never released before.
"My SHINee World" will also feature some footage from their recently held sixth concert, "SHINee World VI (Perfect Illumination)," at KSPO Dome in Seoul from June 23 to 25.
The movie will reportedly include behind-the-scenes preparations and interviews from SHINee's sixth concert, increasing the anticipation of Shawols.
SHINee's "SHINee World VI (Perfect Illumination)" concert marked its first face-to-face performance in almost seven years since its "SHINee World V" concert in September 2016, according to Allkpop. It's also the group's first solo performance in over two years.
In addition to the group's 15th-anniversary celebration, SHINee also opened a pop-up store, held a fan meeting and released its eighth regular album, "Hard."
SHINee released "Hard" on June 26 and set a personal best in album sales. According to Allkpop, "Hard" recorded exactly 105,714 album sales on its first day and accumulated a total of 206,574 copies sold in the first week of its release.
SHINee's latest album became the group's best-selling album in first-day and first-week sales, surpassing the 127,000 units sold by its seventh album, "Don't Call Me," in its first week.
"Hard" features 10 tracks, including its title track of the same name, alongside "Juice," "10X," "Satellite," "Identity," "The Feeling," "Like It," "Sweet Misery," "Insomnia" and "Gravity."
On June 29, SHINee came back and performed "Hard" on Mnet's "M! Countdown."
"The outfits, the stage presence, the charisma and the facial expression. SHINee really went hard this time and proved that they can slay any genre in any generation. 15 years and going stronger than ever, and that's on success," commented one fan on the video performance uploaded on Mnet K-POP's YouTube channel.
"SHINee is the BEST ever! Their comeback is absolutely GREAT! They are so unique and perfect in vocal, choreo[graphy] and style," said another fan.
"I can't believe I'm watching a 15-year-old group. [T]hey looked like a new group. [T]hey don't age and are all handsome," quipped a third fan.
SHINee is a South Korean boy group that debuted with SM Entertainment in May 2008. The group currently comprises four members: Onew, Key, Minho and Taemin. Originally a five-member group, vocalist Jonghyun died in December 2017.
© Copyright IBTimes 2023. All rights reserved.