20 K-Pop Idols Who Cook Really Well + Their Favorite Dishes
KEY POINTS
Leeteuk and Jaejoong published their own cookbooks
Stray Kids' Bang Chan received a shout-out from Uncle Roger for his fried rice cooking skills
K-pop idols often show off their cooking skills on reality shows
Some K-pop idols don't only dazzle fans with their talents on stage but also wow fans off the stage with their many skills.
In addition to singing, dancing and rapping, a number of idols are exceptionally good at cooking too.
Here are 20 male and female K-pop idols known to be excellent cooks, in no particular order.
20.
NCT's Taeyong
In cooking and reality shows NCT participates in, Taeyong is usually the member who cooks for the rest of the group.
In 2018, Taeyong showed off his impressive cooking skills in an episode of tvN's "Food Diary." When asked by BoA if he is good at cooking, the NCT member shyly replied that he can cook most dishes. According to him, he knows how to make the foods he likes, like kalguksu (Korean knife-cut noodle soup) and galbitang (beef short-rib soup).
The "Food Diary" cast members showered Taeyong with compliments for the kalguksu he prepared.
19.
SHINee's Key
Although SHINee's Key prefers healthy meals and low-calorie dishes for his diet, he can cook various Western-style dishes.
On MBC's "I Live Alone," Key shared one item from his New Year's bucket list – to acquire a Western food cooking certification.
Key can make fancy gnocchi and seafood stew, among many other dishes.
18.
BTS' Jungkook
Jungkook often goes live on Weverse these days to share his day-to-day activities at home, including folding clothes, dishwashing, watching TV and cooking.
In one of his most recent live streams, the youngest BTS member shared the recipe of his current go-to snack, which he named "Bulguri." His recipe earned praise from Rolling Stone and Vietnamese chefs.
Prior to that, Jungkook shared his perilla oil makguksu recipe.
During the filming of "In The Soop 2," Jungkook received praise from his hyungs (older brothers) for his suyuk recipe.
Aside from banana milk, the golden maknae of BTS also enjoys samgyeopsal (grilled pork belly). He even made a song about samgyeopsal in the past.
17.
NCT's Haechan
NCT member Mark can attest to his bandmate Haechan's cooking skills. He also shared that Haechan cooked fried rice for him in the past when he saw him eating only rice and stock from braised ribs.
Haechan even has a fun trick for cooking pasta perfectly every time. He suggests throwing the noodles on the wall. If the noodle gets stuck to the wall, it means the noodle is ready.
16.
MAMAMOO's Hwasa
Hwasa, nicknamed the "gopchang goddess" because of her love of cattle intestines, was MAMAMOO's designated cook during the members' pre-debut years.
In 2019, truffle oil became a hot topic on real-time search engines following Hwasa's truffle oil ramyeon recipe on episode 282 of the reality TV series "I Live Alone."
Many South Korean netizens tried to follow Hwasa's recipe, in which she added truffle oil to boiled instant black bean noodles to upgrade it.
15.
Kep1er's Mashiro
In 2021, a fan tweeted photos of dishes prepared by Japanese member Sakamoto Mashiro of the K-pop girl group Kep1er with the caption, "[I] can't wait for the day [M]ashiro can show off her cooking skills," to which the idol replied, "[N]ot yet but soon I will."
True to her promise, Mashiro showed off her cooking skills on the second episode of "Kep1er View."
Mashiro's top three favorite foods are egg rolls, fish cutlets and sandwiches.
14.
Stray Kids' Lee Know
In 2021, a fan account posted a Twitter thread of all the dishes "Chef Lee Know" cooked. The thread showed photos of the Stray Kids member's mouthwatering dishes, from steak, pasta, desserts, soup and bread to stew and many more.
Most of Lee Know's yummy creations were shared through vlogs and updates on Bubble, a social messaging app where idols can message their fans.
On Feb. 13, 2021, Lee Know and Hyunjin showed off their cooking skills on MBC's variety series "Flushed-Cheek Feast of Hermits."
13.
BLACKPINK's Rosé
When it comes to food, Rosé seems to be an expert. She even got the nickname "foodie chaeng" (from her Korean name Park Chae-young) for her food reactions in BLACKPINK's reality show, "BLACKPINK House."
But she isn't only a foodie, she also knows how to cook, and she's great at it. In her first-ever vlog on YouTube, she gave fans behind-the-scenes access to her baking class. In the vlog, Rosé baked a batch of madeleines.
Rosé often cooks for the BLACKPINK members too, which they proudly post online.
12.
BTS' Suga
Like Jin, Suga is one of BTS' hyung chefs. He is even sometimes referred to as "Chef Min." He often cooked with Jin on BTS' reality shows "In The Soop" and "Bon Voyage."
With cooking being one of Suga's love languages toward the BTS members, he once prepared a night snack for Jimin and J-Hope while they were playing games on "In The Soop 2."
Suga prepared canapés with crab meat, mayonnaise and crackers, which the show's editors dubbed "Chef Min's Night Snack."
The second eldest member of BTS, also known as Agust D, is a huge fan of meat.
11.
Seventeen's Mingyu
Like his 97-liner bestie Jungkook, Seventeen's Kim Mingyu is also talented in the kitchen. Although he is known to be good at all kinds of house chores, his specialty is cooking.
Mingyu is known among Seventeen members as the best cook. He even showcased his cooking skills on the group's variety YouTube show "Going Seventeen" and other broadcast shows like SBS's "Baek Jong's Three Great Emperors."
In 2018, Mingyu shared that his favorite food is Shin ramen and matcha-flavored Kit Kat.
10.
ENHYPEN's Jay
In August 2022, Weverse magazine published a feature on ENHYPEN member Jay's cooking philosophy. Jay shared with the magazine how his love for cooking began, his first memories in the kitchen, his cooking method, and his signature dish, among many others.
According to ENHYPEN's designated cook, his love for cooking began when he was a kid. He shared that his father always emphasized the importance of food. Additionally, his mother is a wonderful cook too.
As a kid, he was taught the basics, like cooking rice. As he got older, he started teaching himself more about cooking with YouTube videos.
Jay's signature dish is any meat recipe.
9.
BTS' Jin
BTS' eldest member, Jin, has been a well-known cook among his members since their trainee days. He loves cooking as much as he loves eating. In fact, he was often the designated cook on "In The Soop" and "Bon Voyage."
For his vlog, Jin chose cooking, while the other BTS members chose travel and other workshops. In the vlog, Jin and famous chef Lee Yeon-bok cooked menbosha (Korean shrimp toast). Jin added his personal touch to the dish by making menbosha in the shape of BTS and ARMY's logos.
Jin's food favorites are lobster, meat and naengmyeon (Korean cold noodles).
8.
iKON's Yunhyeong
iKON's Song Yunhyeong is another male K-pop idol with exceptional cooking skills. Yunhyeong, a designated cook for iKON members in the dorm, was consistently praised by his bandmates for his cooking during live streams.
The idol also has a personal YouTube channel called Songchelin Guide, where he shows off his cooking skills in different cuisines. He can even make desserts.
In 2020, Koreaboo published five of Yunhyeong's mouthwatering recipes. The list included egg soufflé, menbosha, ram-don, pizza with Korean stir-fried spicy pork, and rice balls with Korean seaweed chips.
7.
CNBLUE's Kang Min-hyuk
CNBLUE's Kang Min-hyuk isn't only good at cooking, but he also knows how to choose the freshest and best ingredients for the dishes he prepares.
His impressive cooking skills can be seen in his vlogs.
But more than cooking, Min-hyuk also has remarkable skills in bartending. In 2012, he impressed the ladies with his bartending abilities during a shoot for an episode of "CNBLUE's Love On Party," where the band's members transformed into chefs and bartenders.
6.
NCT's Doyoung
NCT's resident chef Doyoung received praise from NCTzens for how he guided Jisung in the first episode of NCT's show, "The Avatar Apprentice."
Aside from his calm way of sharing cooking instructions, fans commended Doyoung for being kind and supportive amid Jisung's mishaps in the kitchen.
Koreaboo even said that as the one who cooks for the group the most, Doyoung is one of the NCT members who can pass as a cooking show judge.
5.
Stray Kids' Bang Chan
In one of the episodes of "All-Night SKZ" in 2021, Stray Kids member Bang Chan made fried rice for his bandmates Felix, Seungmin and Changbin.
Due to his cooking skills, Bang Chan received a Twitter shout-out from online personality Uncle Roger. "Tossing like a 5-star [M]ichelin. [F]uiyoh!" Uncle Roger said in the tweet.
In "Mysterious Kitchen," a new segment Stray Kids started in 2021, Bang Chan showed off his cooking skills as he tried recreating his parents' curry rice and lamb chops because he missed them.
4.
JYJ's Jaejoong
Jaejoong acquired his cooking skills from his restaurateur parents. His skills further improved when he moved to Seoul alone and had to do chores by himself during his trainee days. After his debut, he proceeded to take charge of cooking for his members.
Due to his cooking skills, he became the first K-pop idol to publish a cookbook. In 2018, the multi-talented idol announced the release of his first cooking book, "Romantic Recipes."
His cookbook, written in Japanese, featured French dishes. The 120-page book also included a DVD.
3.
Girls' Generation's YoonA
YoonA is another female idol who's as talented in the kitchen as she is on stage. She loves cooking and often shares her kitchen adventures on her YouTube channel, Yoona's So Wonderful Day.
Taeyeon, YoonA's co-SNSD member, has personally attested to YoonA's cooking skills. In 2018, Taeyeon proudly posted a photo of the mille-feuille nabe YoonA made for her. Mille-feuille nabe, also known as the thousand-leaf hot pot, is YoonA's signature dish.
YoonA also showed her impressive cooking skills in "Hyori's Bed and Breakfast" when she made Korean braised rockfish for Park Bo-gum.
Park complimented her on her delicious food.
2.
EXO's Kyungsoo
EXO's Kyungsoo isn't just known to be excellent in cooking. In the past, he even received a certificate in Korean cuisine after taking some cooking classes.
The EXO vocal line member passed both the written and practical skill tests and obtained a certificate that students in food and nutrition find difficult to get.
With his cooking skills, Kyungsoo, professionally known as D.O., served in the Capital Mechanized Infantry Division as a food handler during his military service.
1.
Super Junior's Leeteuk
Leeteuk isn't only the talented leader of one of the most popular K-pop groups, but he's also a great cook and a cookbook author.

In January 2020, the Super Junior member announced the launch of his cookbook "Lee Teuk Cook Book," where he shares his own simple recipes.
He found the inspiration and drive to cook while spending time with cooking experts on EBS' "The Best Cooking Secrets" show, which he hosted for three years.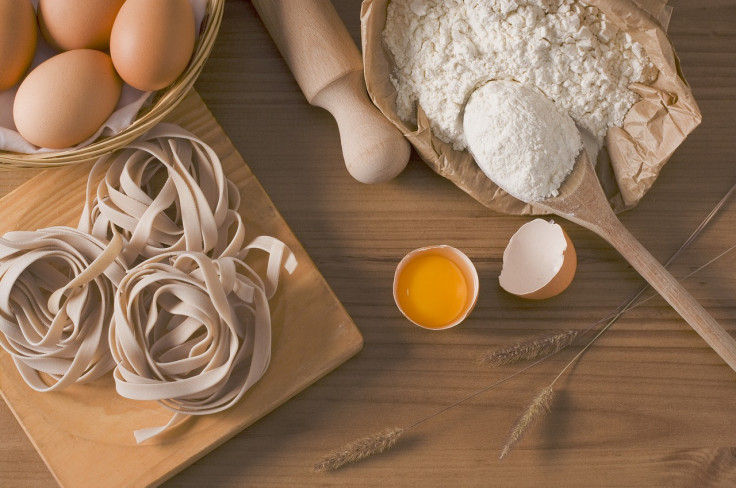 © Copyright IBTimes 2023. All rights reserved.