Shocking Three-State Win Revives Santorum's Presidential Bid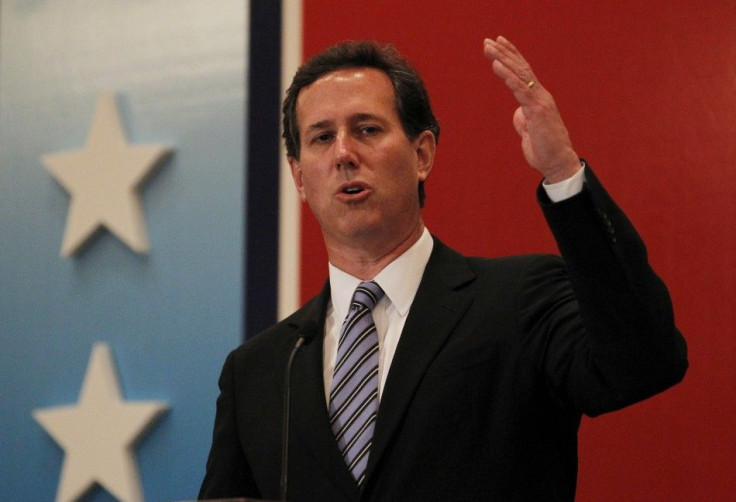 (REUTERS) - Former U.S. senator Rick Santorum rejuvenated his presidential hopes on Tuesday with a shocking sweep of the three nominating contests in Colorado, Minnesota and Missouri, dealing a blow to wounded front-runner Mitt Romney.
Even though Romney still holds strong advantages in financing and organization, his campaign will now have to refocus to fight back the challenge from the surging conservative Santorum.
Backed by a wealthy Super PAC that pays for attack ads against rivals, Romney had excelled in major contests thus far in the race. After big wins in Nevada and Florida in the previous week, he did little campaigning in Minnesota and Missouri and had been expected to win easily in Colorado.
Until Tuesday, Santorum had won only one of the first five Republican contests in the state-by-state battle for the Republican nomination to face President Barack Obama in the November 6 election.
But on the first day of multiple nominating contests in the 2012 primary season, Santorum trounced Romney by 30 percentage points in Missouri. That vote was a non-binding primary, but has symbolic value as a measure of support in a big Midwestern state.
In Minnesota's caucuses, Santorum won with 45 percent of the vote. But in another setback to former Massachusetts governor Romney, U.S. congressman Ron Paul was in second place with 27 percent and Romney was a distant third with 17 percent.
The race was closer in Colorado, but Romney had been expected to win easily. But Santorum won by 5 percentage points over Romney.
With eight contests to date in the Republican race - including the three on Tuesday - Santorum has now won in four states, Romney in three and former House of Representatives speaker Newt Gingrich in one.
SOCIAL CONSERVATIVES
The former Pennsylvania senator is a devout Catholic who had been in a battle with Gingrich to become the conservative alternative to the more moderate Romney. Gingrich was not on the ballot in Missouri and was crushed in the other two states.
Santorum's victories give heart to social conservatives fighting battles of abortion, gay marriage and contraception in recent days.
The Minnesota result marked the first time so far in the 2012 Republican race that Romney did not come in first or second. Romney also lost in two states - Colorado and Minnesota - that he won in his failed 2008 bid for the Republican presidential nomination.
Wow. Conservatism is alive and well in Missouri and Minnesota, Santorum told supporters in St. Charles, Missouri after results were tallied in those states but before the Colorado numbers came in.
I don't stand here to claim to be the conservative alternative to Mitt Romney, I stand here to be the conservative alternative to Barack Obama, he added to cheers from the crowd.
The startling results in Colorado, Minnesota and Missouri raised fresh doubts about whether Romney, long considered the most likely Republican nominee, can win over the broad swathe of Republican voters, particularly the most conservative ones who are the most unenthusiastic toward him.
This was a good night for Rick Santorum. I want to congratulate Senator Santorum and wish him the very best. We'll keep on campaigning down the road, but I expect to become our nominee with your help, Romney told supporters in Denver.
Santorum has rebuilt a political career left in tatters in 2006 when voters in Pennsylvania threw him out of the Senate by an 18-percentage point margin. But he still faces an uphill battle for the presidential nomination, considering Romney's vast organizational and financial advantages.
'BEAUTY CONTEST'
The Missouri primary is considered a beauty contest because the candidates do not win delegates who will take part in the August Republican convention where the party's presidential nominee will officially be chosen. Missouri Republicans will select convention delegates in caucuses on March 17 in the state's two-step process.
In caucuses, voters gather in public places, listen to speeches from representatives of the various candidates and cast ballots for their choice.
Santorum has made his strong positions on social issues a centerpiece of his bid and is hoping his staunch opposition to gay marriage and abortion will help win over conservatives wary of Romney because of moderate positions he took while running for office and serving as governor in liberal Massachusetts.
Romney, who also previously headed the private equity firm Bain Capital, is the best funded and best organized of the Republican candidates vying for a shot at Obama in the general election.
But many Republican voters have failed to embrace him. Some Christian conservatives are wary because of his Mormon religion.
Santorum's campaign is far behind Romney in fund-raising and in support by the Republican establishment, but he has managed to win followers - particularly in conservative Midwest states - with his message on social issues.
Tuesday's strong showing by Santorum came as divisive social issues came to the forefront again in U.S. politics. Earlier in the day, a U.S. appeals court ruled that California's ban on gay marriage violated the U.S. Constitution in a case expected to lead to a showdown in the Supreme Court.
In addition, U.S. Roman Catholic bishops have slammed the Obama administration for a new regulation that would require health insurance to include birth control. The bishops contend the policy infringes on religious liberty because the church does not condone birth control of any kind.
Santorum took some jabs at Obama, focusing in particular on the new contraception rule. He accused the president of trying to impose his secular values on the people of this country.
The next major Republican nominating contests are the Arizona and Michigan primaries on February 28, while Maine wraps up its caucuses this Saturday.
A Reuters/Ipsos poll on Tuesday that has Romney ahead in the race nationally with 29 percent showed Santorum's support has gained by 5 percentage points in the last month, to 18 percent.
(Additional reporting by John Whitesides and Lily Kuo in Washington; Writing by Deborah Charles; Editing by Will Dunham and Alistair Bell)
© Copyright Thomson Reuters 2023. All rights reserved.