Should Schools Provide Free Lunch? DeVos Could End Nutrition Program For Poor Kids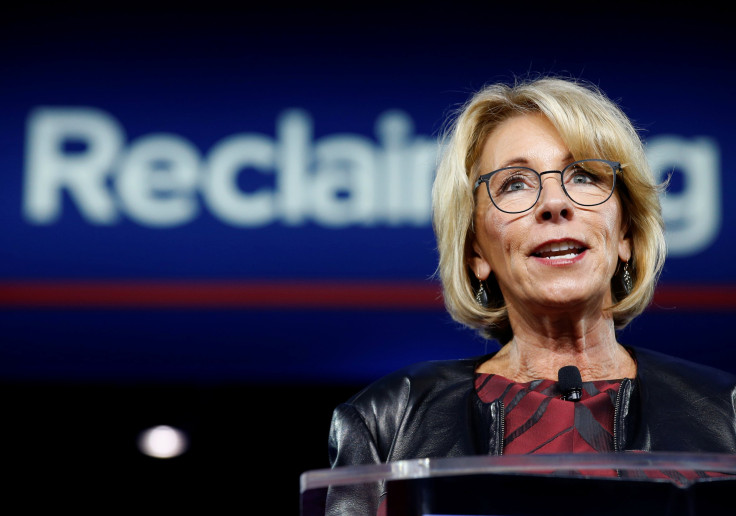 Education Secretary Betsy DeVos made a seemingly innocuous joke Thursday about no one getting a free lunch. But the comment came as DeVos, a staunch opponent of public schools, is taking over the nation's free lunch program that provides nutrition to low-income students and is under attack from Republicans, raising questions about whether the administration of President Donald Trump will protect food aid programs for children, NPR reported.
During her opening remarks at the 2017 Conservative Political Action Conference in the outskirts of Washington, Devos jokingly said she is the "first person to tell Bernie Sanders to his face, there's no such thing as a free lunch." The debate over free lunch, however, is no joke. Last year, Republicans pushed to introduce a bill that could have stopped thousands of schools from offering free lunch to all public school students.
Republicans were unsuccessful in passing the Improving Child Nutrition and Education Act of 2016 (H.R. 5003) bill that aimed to reform an Obama-era program called Community Eligibility Provision (CEP). Republicans who pushed for the bill argued that the CEP is a waste of taxpayers' money as it subsidizes the meals of kids who can afford to pay for them. In particular, the bill aimed to reform the minimum eligibility criteria for receiving free lunch, according to the Washington Post.
Under the program, schools or school districts where 40 percent of the students meet the requirement for a free lunch can also provide meals to all students for free. In turn, schools are reimbursed based on the percentage of low-income students. Republicans argued for hiking the 40 percent eligibility criteria to 60 percent.
But Democrats argue providing free lunch to all student reduces the stigma attached to getting free meals at school. "Students are free to eat without being categorized and stigmatized, and this has created a wonderful climate of equality and cooperation," Pruitt Jill Pruitt, the eighth-grade counselor at Coffee Middle School in south central Georgia, told the Atlantic.
Betti J. Wiggins, executive director of Detroit Public School's office of school nutrition, said students don't like to admit they come from poor backgrounds. "Many students whose household incomes say they are full-pay may in reality be the household where our students are the most food insecure," he said.
In most states, students that come from a family of four earning $44,955 or less qualify for reduced-price meals and student with families earning $31,590 or less get free meals. Roughly 31 million American school children qualify for free lunch.
© Copyright IBTimes 2023. All rights reserved.