Should You Buy A VR Headset: What To Look Forward To In 2016 From Oculus Rift To PlayStation VR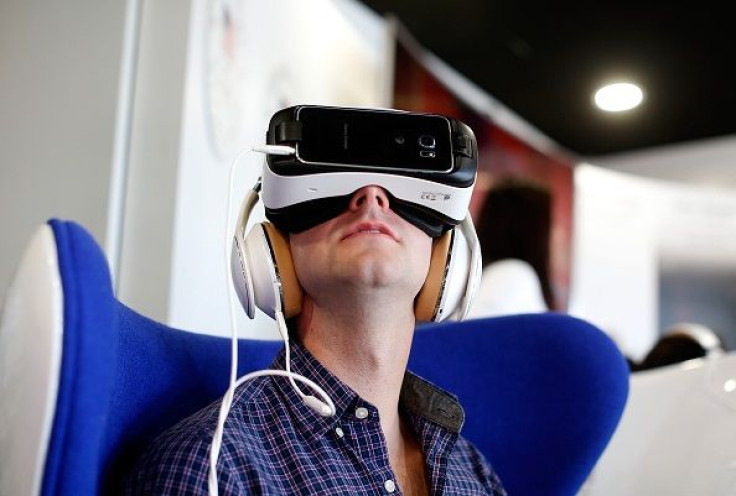 With virtual reality, you can be just about anywhere -- in the middle of a video game firefight or exploring the streets of Rome. And you can do it all from the comfort of your home.
Getting started with VR is just as easy. If you're not looking to spend much, there's Google's Cardboard VR viewer, which was recently bundled for free with the New York Times and just requires a smartphone. But if you're looking for the latest and greatest in technology and graphics, 2016 will be a crowded year with the likes of Facebook's Oculus and Sony's PlayStation VR -- albeit at a price that's anticipated to come in between the price of a video game console and a $1,000 computer.
Those more advanced headsets aren't on the market yet. So if you want to dip your feet in VR, here's what's available now and what headsets to look forward to as the new year rolls around.
Google Cardboard
$4-30, Available: Now
If spending hundreds of dollars on a headset doesn't sound appealing, try dipping your toes in virtual reality with Google Cardboard. It's not so much a device, but a set of a guidelines to manufacture low-cost VR headsets. As the name implies, many of these headsets are made out of cardboard and often can be found for $5-$10, if not entirely free via a promotion. Some manufacturers such as Mattel have also opted for more expensive materials such as plastic.
The good part about Cardboard it is it only needs a smartphone to power the headset display. Its drawback is there just aren't that many app and games that take advantage of cardboard VR. Many of the games and apps also feel more like technology demos rather that full-fledged products, such as Google Street View and YouTube 360 videos.
On the other hand, there's some apps that show the real potential for virtual reality, such as the New York Times VR app which put viewers into the thick of real situations, such as the life of a refugee fleeing Syria or the candlelight vigils held in Paris after the terrorist attacks that occured in November. To help spread the word about its app, the New York Times also included a free Cardboard viewer to 1.2 million home subscribers in November.
Samsung Gear VR
$99.99, Available: Now
Further up the price chain is Samsung's Gear VR headset, powered by Facebook's Oculus VR technology. It's similar to Cardboard in that it uses a smartphone to serve as a display -- as long as it's a Galaxy S6, S6 Edge, S6 Edge Plus or Note 5. If you have one of those devices already, then the headset is all you need. Otherwise that's a few hundred more dollars to get started with the headset.
If that's not an obstacle, you'll have access to various 360 degree VR videos, a Netflix VR app and a growing selection of games from the Oculus store, such as "Land's End." Its primary drawback is it's not nearly as powerful as the full-fledged Oculus which has yet to launch.
Oculus Rift
Price: To Be Announced, Available: Q1 2016
For a VR experience with top of the line games and graphics, the Oculus Rift is one option to consider -- as long as you're willing to hold out until 2016. The headset which has been in development since 2011 has gone through several developer editions and is set to launch early next year. The price of the headset has yet to be announced. But prices are expected to be more than the $350 price tag of the developer model. Also keep in mind that you'll also need a computer that can handle the VR headset, which can tack on another $1000 to the final price tag once it launches and that it isn't expected to support Macs in the near future.
But if you can swallow that price, you'll get access to a headset with titles such as the space dogfighter sim "EVE: Valkyrie" and adventure game "Edge of Nowhere." Each Oculus Rift will come with a Microsoft Xbox One wireless controller. Its Oculus Touch controllers are expected to be available for separate purchase at a later date. While gaming is expected to be a strong part of Oculus, its parent company, Facebook, is also expected to use it in a number of applications, such as the 360 video found in its app and multiplayer games. But in the future it also sees it used in other ways, such as a "virtual teleporter" that can transport you for a time to just about anywhere in the world.
PlayStation VR
Price: To Be Announced, Available: Q1 2016
Sony's swing at virtual reality comes as a headset that will be compatible with its latest video game console -- the PlayStation 4 and its PlayStation Camera. Formerly known as Project Morpheus, the PlayStation VR will bring players into the heat of the action with a 5.7-inch 1080p OLED display that provides a 100 degree field of view. More than ten titles such as "RIGS: Machine Combat League" and "Final Fantasy XIV" are expected to be available for the headset at its launch in 2016. As for its price, no specific numbers have been revealed. But it is anticipated to cost about the price of a new game system, Sony Computer Entertainment CEO Andrew House told Bloomberg in September.
If you have the console already, that could mean a price tag in the $400 range. But if you need to purchase a PlayStation 4 and PlayStation Camera, that could bring its total price into the range of $800.
HTC Vive
Price: To Be Announced, Available: Q2 2016
The virtual reality headset from HTC was promised for a release by the end of December in limited quantities. Instead, it now plans to release the Vive in February 2016 to developers, followed by an April launch to consumers. Improvements to the VR headset are expected to be unveiled in January 2016, during the annual International Consumer Electronics Show in Las Vegas, according to Engadget. Several PC games already on the market are anticipated to support the HTC Vive, such as "Team Fortress 2," " Half-Life 2" and more.
Glyph
Price $699, Available: January 2016
It's not so much VR but more a two-in-one pair of headphones that doubles as a portable video viewer. You can wear the Glyph on your head as a standard headset. But when you want to watch video, all you have to do is rotate the headband down to cover your eyes and it uses two million micro mirrors to project an image directly onto its wearer's eyes from two lenses embedded in the headband. Plug it into just about any device that support HDMI and you'll have access to video on the fly. While that technically means you can plug in into a video game console, it's more like watching television rather than the full-fledged VR experience. Avegant, the maker of Glyph pitches it more as a device that you can use on the go, but it claims battery life of about four hours.
The Glyph will retail for $699 at launch. If you preorder before Jan. 15, it's available for $599.
FOR FREE to continue reading
✔️ Unlock the full content of International Business Times UK for free
offer available for a limited time only
✔️ Easily manage your Newsletters subscriptions and save your favourite articles
✔️ No payment method required
Already have an account? Log in
© Copyright IBTimes 2023. All rights reserved.