'Siri Is Stupid': Cyanogen CEO Says Mods Will Finally Make Smartphones Smart With Supercharged Apps
BARCELONA, Spain – Ask Apple's digital assistant Siri to take a selfie and it may open your iPhone's camera app, but the rear camera will be shown and you'll still have to press the shutter button yourself. Do the same with a smartphone running Cyanogen's latest software and the whole operation will be done automatically. This is a snapshot of how Kirt McMaster and his team are hoping to revolutionize how smartphones work, by making apps and services integrate in a way which isn't possible with software today.
"Siri is stupid," McMaster tells International Business Times in a meeting room off one of the vast halls in Barcelona's Fira Gran Via, which is hosting Mobile World Congress this week. Cyanogen, a Silicon Valley startup that's attracting a lot of interest, has launched its latest innovation, called Mod, which McMaster describes as a way of super-charging smartphone apps.
"iOS and Android are fundamentally the same thing," McMaster says. "The value comes from ecosystems and the new kinds of services and this is what we want to enable with Mod."
The example shown to IBT is how Cortana, Microsoft's answer to Siri, can be integrated into the phone's camera app to allow that selfie to be taken using just your voice. Another trick they showed us was adding Skype directly into the phone's dialer app, allowing you to make Skype calls without opening a different app. "I could be talking to my girlfriend on the phone, we both hit a Wi-Fi hotspot and move seamlessly into a video call," McMaster says.
Cyanogen, which to date has raised $80 million in funding from the likes of Microsoft, Tencent, Andreessen Horowitz and Qualcomm, is an enhanced version of Android, offering all the normal Google services like Maps, search and access to the Play Store but with additional features not available from Google's version of the software.
Worldwide Smartphone OS Market Share (Cumulative Shipments) | SpecOut
It has around 50 million users globally, including those who bought phones with the software pre-installed and those who updated their Android devices with the software. At Mobile World Congress two more smartphone makers announced devices running Cyanogen, John Sculley's Obi Worldphone and Indian manufacturer Intex.
McMaster says there are many more to come in 2016 and has previously indicated it would be launching "big devices that are going to be iPhone and Galax slayers" this year. The new mod program has been met enthusiastically by developers, according to Cyanogen's head of engineering Stephen Lawler, because it will help drive discovery of their apps as well as potential new revenue streams.
"Think of something like Uber or Lyft as an engine, a transportation API, what that could mean to other apps and services, it opens up new worlds of revenue and services for those companies," McMaster said. One of the core partnerships for Cyanogen to date has been with Microsoft and as IBT exclusively revealed last year, it has deeply integrated Cortana into the operating system, making it a powerful tool to attract both developers and customers.
With growth in the smartphone market slowing dramatically and innovation in terms of design and hardware slowing to a crawl, Cyanogen could present a way for manufacturers to differentiate themselves from the competition.
One of the ways manufacturers could do this is by creating region-specific versions of Cyanogen which integrate mods of services popular in those areas. For example, it could include Spotify, Sky and Hailo in the UK; Pandora, HBO Go and Uber in the U.S.; and Hungama, Hooq and Ola in India. "We would optimize for that local eco-system, we would create an eco-system of mods," McMaster said.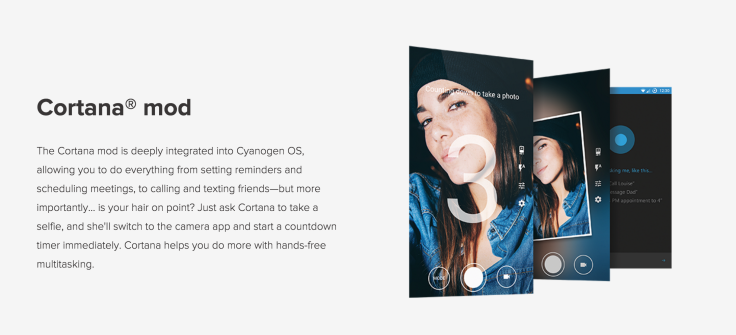 A developer program and a "mod shop" will launch later in the year, with Cyanogen itself curating the mods.
Mod, which is the first phase of Cyanogen's plan to revolutionize the smartphone market, will be used as the mass consumer-facing brand instead of Cyanogen and McMaster hints that in time, Cyanogen could be removed from the equation entirely.
"There may be a point in the future where the mod platform is not dependent on Cyanogen OS, it could be injected into any version of Android so that opens up the opportunity even more significantly." He would not expand on this but it could see manufacturers offer the mods as an extra feature on its smartphones without having to pre-install Cyanogen.
© Copyright IBTimes 2023. All rights reserved.