'Sister Wives' Season 6 Spoilers: Finale Synopsis Released; What Will Happen In 'Meri Catfished'?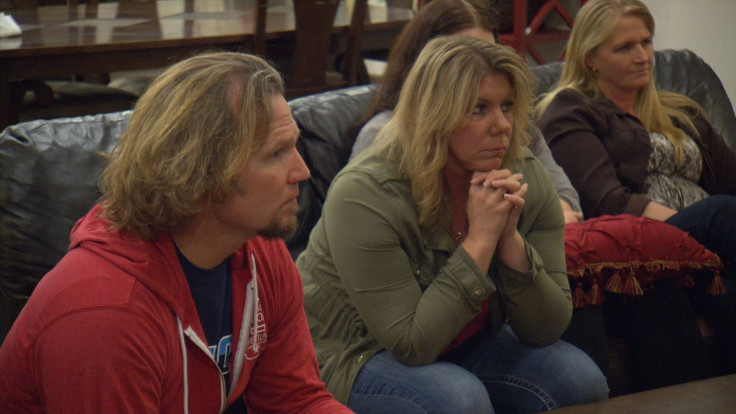 There's only one episode of "Sister Wives" left, and you can bet the hit TLC reality series will conclude its action-packed installment with a bang -- several of them. The Season 6 finale synopsis of "Sister Wives," a show starring Kody Brown, his four wives (Meri, Janelle, Christine and Robyn), and their 17 children, explains that Meri will reveal something so shocking it'll leave both her and her family in tears.
"They don't know what I brought into this family," Meri says through her sobs in a promo video for the installment, titled "Meri Catfished."
In October, the first wife of the polygamist patriarch, confirmed the jaw-dropping news that she had been tricked into having an emotional, online relationship with a woman pretending to be a man.
"During an emotional and vulnerable time earlier this year, I began speaking with someone online who turned out to be not who they said they were," Meri said in a statement to People magazine, adding that she hopes she can use her experience to help others who find themselves in "similar circumstances."
In the promo video for the Season 6 finale of "Sister Wives," which covers the Brown family's Alaskan adventure, it was revealed that Meri will sit down with her husband of more than 24 years and her fellow sister wives to come clean about her online affair.
"I started talking to this person online," Meri says. "He was just saying all the right things."
Kody is taken aback by Meri's confession. "It's weird, some of the words she's saying. It sounds like she's leaving," he says in a confessional.
While Meri's "catfishing" experience will serve as the main focus of the Season 6 finale, the summary reveals that another eye-widening moment will occur. "Logan and his girlfriend (Michelle) go on a double date with Madison and her boyfriend (Caleb), who later asks Kody for a private chat," the synopsis reveals.
"I actually want to talk to you about Maddie," Caleb says to the father of his girlfriend in an episode 10 sneak-peek clip.
Kody notes in his confessional that as soon as Caleb starts this conversation, he can sense that Maddie's beau is getting nervous. Could this be the moment Caleb asks for Kody's permission to marry his daughter?
In September, Maddie confirmed in a Twitter post that she and Caleb were engaged to be married. "Happy to share this with you guys," Kody and Janelle's eldest daughter tweeted along with a link to the exciting announcement. "I showed Caleb the song I have wanted to walk down the [aisle] to since I was 15," she added. "He got a little emotional when hearing it. So sweet!!"
Make sure to tune in to the dramatic Season 6 finale of "Sister Wives" on Sunday, Nov. 15, at 9 p.m. EST on TLC.
© Copyright IBTimes 2023. All rights reserved.