'Skeleton Knight In Another World' Episode 2 Live Stream Details And Spoilers
KEY POINTS
Arc is ready for his new mission
"Skeleton Knight in Another World" Episode 2 will air Thursday
The episode will stream on Crunchyroll
Arc has received his mercenary license and is ready to begin his journey in "Skeleton Knight in Another World" Episode 2. The new episode is titled "A First Job, a Girl's Wish, and an Approaching Shadow."
The official synopsis of Episode 2 is out hinting at Arc embarking on his first assignment as part of a mercenary guild.
Arc is set to face a powerful monster as he executes the mission in the new episode of "Skeleton Knight in Another World" anime. Will he emerge as a victor in his first-ever assignment?
In the previous episode, titled "The Wandering Knight Sets Out to Make the World a Better Place Attachments Area," a video game enthusiast found himself in a medieval fantasy game as a character named Holy Knight Arc.
However, he was disappointed with his skeleton-like appearance and decided to keep a low profile in this other world. He tried not to reveal his identity and even gained his license to practice as a mercenary in the pilot episode of the anime series.
"A video game lover awakes to find himself in a medieval fantasy world as his character, a Holy Knight named Arc. As exciting as the opportunity seems at first, he realizes that his comical selection of the skull face for his avatar has resulted in a ghastly appearance that will make him a target if revealed. Will Arc be able to undertake the daring life of an adventurer without revealing his identity?" read the official synopsis of "Skeleton Knight in Another World" Episode 1, according to Crunchyroll.
The cast of the anime includes Tomoaki Maeno as Arc, Nene Hieda as Ponta, Fairouz Ai as Arianne, Yuko Minaguchi as Glenys, Takuya Eguchi as Danka, Saori Onishi as Yuriarna, Ryota Takeuchi as Goemon, Rumi Okubo as Eevin, Miyu Tomita as Chiyome, Minoru Shiraishi as Cetrion, Kousuke Toriumi as Dillan, Kengo Kawanishi as Sekt, Daiki Hamano as Dakares and Akira Ishida as Domitianus.
"Skeleton Knight in Another World" Episode 2 is scheduled to release Thursday. Fans in the U.S. can watch the episode online on Crunchyroll. The episode will live stream in Japanese with English subtitles.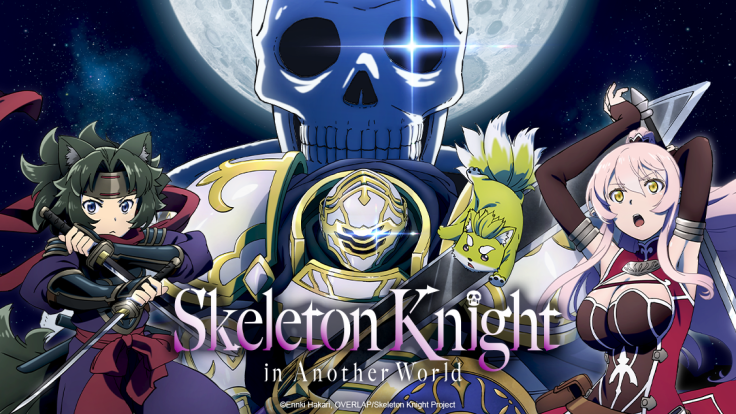 © Copyright IBTimes 2023. All rights reserved.