Slack Server Error, Site Down Amid Friday Outage
UPDATE: Jan. 9, 2017 2:45 p.m. EST: Tuesday afternoon Slack users were experiencing issues with Slack. The Slack Status website said, "A majority of customers are unable to connect to Slack. We're aware of the issue and are working to resolve it as quickly as possible." A tweet on the SlackHQ account also thanked users for their patience while the company worked on getting the messaging platform back to normal.
Original story:
The popular messaging system Slack suffered from an apparent outage on Friday afternoon. The outage seemed to cause problems with the Giphy function, link previews, connection and other aspects of the site.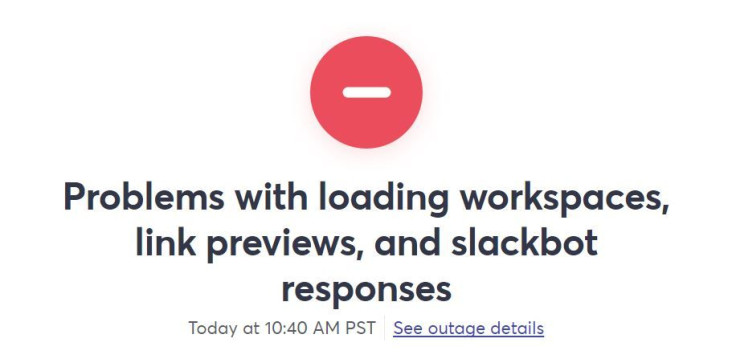 A status update on the Slack website showed that the issues began around 10:40 a.m. PST and were persisting half an hour later. "We are investigating an issue where some users are unable to load workspaces, and folks may be seeing 500 errors. We are also seeing delays with message previews, as well as slackbot responses. We are very sorry for this disruption, and are working to address this as quickly as we can," said a description on Slack's status site.
Users took to Twitter to collectively freak out over the outage.
But Slack responded to a number of users and let them know that the company was working hard to solve the problem.
Some people saw the outage as an opportunity to take a break maybe to grab a coffee or go for a walk.
In addition to the server errors, users were getting "fatal error" messages as well.

An update on the Slack Status web page at 11:08 a.m. PST said, "Thanks for bearing with us! We are getting closer to resolution, as we have all hands on deck working to fix these loading issues. We aren't quite out of the woods just yet, so you may continue to see some slowness. We sincerely apologize for the impact this is having on your day."
Slack also assured people that they were doing alright even though they were working hard to solve the problems.
© Copyright IBTimes 2022. All rights reserved.
FOLLOW MORE IBT NEWS ON THE BELOW CHANNELS