Snapchat Update: How To Get Dancing, Moving Bitmoji On Snapchat
Last week Snapchat added another update to the app that integrated Bitmoji. This time the update allowed users to add their animated, 3-D Bitmoji to their Snaps. A Bitmoji is essentially a personalized emoji that users can link with their Snapchat.
Snapchat bought the company Bitstrips, creator of the Bitmoji app, in 2016 and later that year introduced the feature that allowed users to use their Bitmojis in the app. At first users could add their Bitmojis to their photos and videos, similar to how they could add text or other emojis or stickers.
The new update makes the Bitmoji characters 3-D though and animates them doing regular activities, like skateboarding or dancing. Before this, Snap introduced "actionmojis" to the Snapmap feature, showing Bitmojis on a map.
Users on Twitter liked the update, many compared it to the little animated character that was on the show Lizzie McGuire.
How to get the animated Bitmoji on Snapchat:
First, you need to have the Bitmoji app and a Bitmoji of yourself already made. Once you have this done, connect Bitmoji to Snapchat. To do this, go to the settings section of Snapchat, represented by the gear wheel, tap it and then select Bitmoji and link it with Snapchat.
Once you've done this, the second thing you need to do is make sure that your Snapchat app is up to date and that its running on the latest version of software available. Do this by checking the "updates" part of the App Store or Google Play on your device.
The update rolled out to users last week on iPhone and Android, so you should have it already. Once you've completed these two steps, you should be able to start using the 3-D Bitmoji. Open the rear-facing camera and tap anywhere on the screen to pull up the lenses. You'll see them appear to the right of the capture button.
The Bitmoji options simply have a single icon to represent that Bitmoji activity. Currently, there's one that looks like a skateboard that will put your Bitmoji boarding on whatever surface you choose. One of the first lenses showed the Bitmojis doing yoga.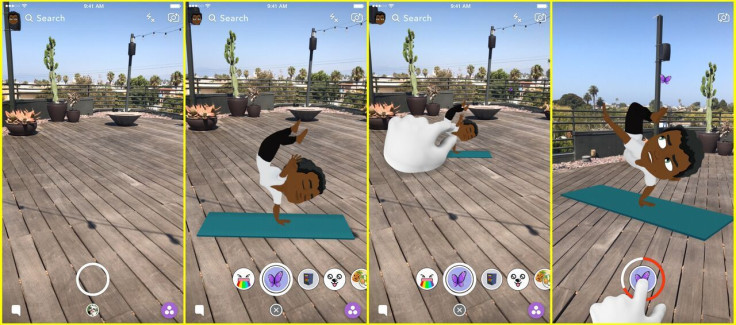 Once you pick a 3-D action for your Bitmoji to do, you can adjust the size so that it fits in its surroundings and you can watch it get moving. To make the Bitmoji smaller pinch the screen the way you would to zoom out, to make it bigger do the opposite. Your Bitmoji will go through a series of moves that are set for each of the surroundings.
Once you capture a photo or video of your Bitmoji in action you can either add it to your story or send it directly to friends.
© Copyright IBTimes 2023. All rights reserved.