Sochi Olympics: Q&A With Amnesty International On Little Things That Can Get You Into Big Trouble In Russia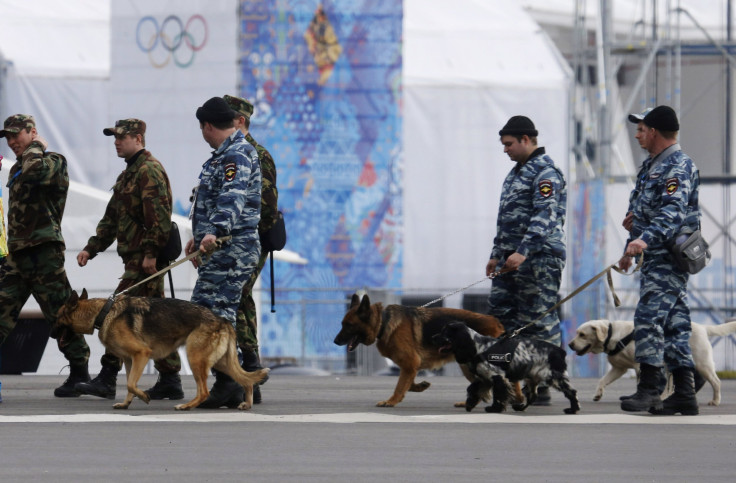 If next week's global gathering was your everyday run-of-the-mill Winter Olympics in, say, Japan or Canada, the papers and TV news would be chockablock with stories of Olympic hopefuls with small town backgrounds, grueling training regimes and doe-eyed hopes of gold medals, talk show appearances and a spot on the Wheaties Box. But the stories out of Sochi thus far have been noticeably light on human interest.
Instead, they're heavy on human rights concerns and anxiety over security risks at the previously obscure Black Sea resort. New laws last year targeting gays, artists and activists cast a cloud over Russia's $50 billion showcase that has only billowed in recent weeks under terrorist threats and travel alerts from countries around the globe.
International Business Times spoke with Moscow-based Amnesty International researcher Damelya Aitkhozhina to help make sense of the situation on the ground in Russia and find out what visitors can expect when they arrive in Sochi for the 2014 Winter Olympics, which runs from Feb. 7 to Feb. 23.
IBT: Amnesty International has sounded the alarm on several human rights concerns lurking "behind the smokescreen of Olympic celebrations." Can you tell us what some of the biggest issues are at the moment?
DA: One of the main issues we are raising concern or alarm about is the situation with freedom of expression generally in Russia ahead of Sochi. Early on, officials decided to close the entire city to protest -- essentially a blanket ban for the Olympics. Sochi is the longest city in Europe at about 145 kilometers (90 miles), so this decision was highly criticized. President Vladimir Putin later decided to open one area of the city for demonstrations (thanks to pressure from the International Olympic Committee), but this is quite far from the city center where most of the population lives. So, essentially you are allowed to protest in a not very densely populated area where you will most likely not reach your target audience. Attempts to protest anywhere else, no matter the issue, would be deemed illegal and could be subject to detention and prosecution. That is the situation all around Russia.
IBT: Let's say a group wanted to organize a demonstration in the specified area of Sochi where it's allowed. What would they have to do?
DA: You would have to first get approval and an authorization from the local authorities. But authorities regularly fail to approve meetings or will relocate them far away from the city center into isolated parks. If you do not obtain approval for one reason or another, your protest would be deemed illegal and you would be subject to prosecution. These new rules were introduced following a wave of public protests that started after the December 2011 elections. Duma (the lower house of Parliament) pushed through amendments that harshly increased fines for various violations of the law and introduced new rules that increased the responsibility of protest organizers. We believe that this was done to stifle civil society and stifle public protest. It was done to make organizers think twice before considering a public assembly.
IBT: Much of the media coverage of Sochi has centered on Lesbian, Gay, Bisexual, Transgender and Intersex (LGBTI) rights. What will these travelers face in Sochi next week?
DA: The federal law that came into affect last June bans "propaganda of non-traditional sexual relations" to minors. The wording of the law and lack of definitions opens it to abuse of interpretation. The law itself should be considered abusive. The broad definitions used in it essentially mean there is no legal certainty, and it will be hard for anyone to assess their actions in advance to predict whether they are in violation of the law or not.
IBT: Are there any existing cases that can provide some clues as to how the law might be interpreted?
DA: Well, there are at least three cases where the law has been applied so far. In Kazan, for example, an LGBTI activist was standing in the city center in June 2013 with a placard saying that beating gay people was wrong and to love them was OK. For that placard he was holding, this person was prosecuted. In Khabarovsk, the editor of a local newspaper quoted an LGBTI activist who said that his entire life and very existence was proof of the normality of homosexuality. That short quote was enough for the editor to be prosecuted for propaganda of non-traditional sexual relationships. Considering this, we cannot be sure how the law will be applied, or if a rainbow T-shirt or the words you say could put you in harm's way.
Another serious issue is a lack of state protection. When LGBTI activists have attempted to organize protests, they have regularly been attacked by anti-gay activists. Even in cases where this was done in the presence of police, people have been violently attacked with almost total impunity. Police often go after the victims, not the attackers.
IBT: The Pussy Riot case brought to light issues of artistic freedom in Russia. What exactly can get an artist into trouble?
DA: Following the Pussy Riot case, Parliament introduced a new law against offending a Russian citizen's religious feelings. Again, this law lacks strong definitions and it's hard to predict how it can be interpreted. We are not aware of any cases where it was directly applied, but we've documented the closure of a museum in St. Petersburg, the Museum of Power, following a visit by a local deputy. Some of the expositions in the museum included rainbows and others satirized President Putin.
IBT: What are some other things visitors to Sochi should keep in mind?
DA: Visitors should take into account that there are very heightened security measures in place at the moment. Sochi is bordering some of the most troubled regions of Russia in the Caucasus, and with direct threats from one of the terrorist cells, a huge number of police officers have been deployed to the region. There will be a very tightened security regime and it is highly recommended that visitors think well of their actions and be aware.
IBT: Do you expect that there will be many public demonstrations in Sochi when the Olympics get under way next week?
DA: A lot of activists are planning to or have already left Sochi to avoid provocation or being detained…. It may also be tricky for journalists to cover the local issues because they will have trouble finding people to talk to. Activists may be avoiding interviews or communication with journalists to avoid troubles. Journalists will be presented with the beautiful story of Sochi, but to see behind the artificial fence could be on one hand a big challenge but on the other an important obligation of independent publications.
IBT: Is it just the activists or are everyday Russians upset about issues of artistic freedom, freedom of assembly and LGBTI rights?
DA: The Russian society is divided, but unfortunately the majority of the population is in favor of the government's anti-gay initiatives and is not highly concerned about the clampdown on civil society organizations. There is a serious concern, however, over how the information is presented to the people. Most if not all of the federal channels on TV and in print are either state-owned or closely affiliated with the government; therefore access to information that is unbiased or information that presents ideas from both sides is a serious issue in Russia. From what I gather reading blogs and listening to people elsewhere, a lot of Russians actually do understand that the information the general public is getting is not always necessarily balanced or is bordering on propaganda.
IBT: Has all of the attention surrounding human rights in Russia this past year surprised Amnesty International?
DA: No, we're not at all surprised by the attention. We, along with other organizations, have been gradually raising the alarm about the fast-deteriorating human rights situation in recent years, and the human rights situation should absolutely be a part of the picture before, during and after the Olympics. The recent "lightening" of the situation with the release of several high-profile prisoners of conscience -- including members of Pussy Riot -- will likely be short-lived and is an attempt to improve Russia's image ahead of the Olympics. Of course, there is a hope that civil society will have a few week's time to catch its breath in the lead-up to the Olympics, but we are concerned it will be a short-lived pause indeed. It's what happens next after Russia comes out of the spotlight that is our biggest concern.
© Copyright IBTimes 2023. All rights reserved.