Social Robot Jibo Now Available To Order, Costs Less Than iPhone X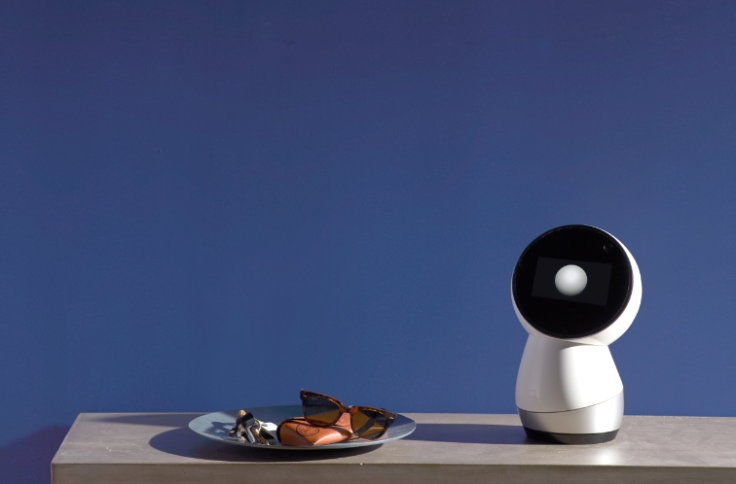 While Amazon, Google and Apple have been improving capabilities of their voice assistants, a new company is now offering a social robot called Jibo, that includes facial and speech recognition technology.
Jibo, the social robot, reacts, moves and responds to the environment around him. The robot is 11-inches tall, weighs 6 lbs and is equipped with touchscreen display, two cameras on top of its display screen, six mics and two speakers. He is best at home, where he can help families with their questions and requests.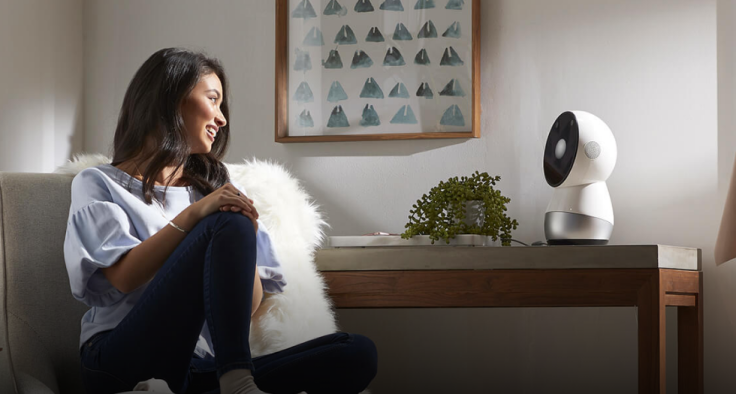 International Business Times got to see how Jibo works in a home-like atmosphere.
When walking into the room Jibo noticed I was someone new and analyzed me as I stood there with Jibo's team talking about his technology.
"He really starts to engage people right away," Jibo Inc.'s Nancy Dussault Smith told IBT.
Every time a different person spoke, Jibo moved his head around to keep up with the group conversation, even if he wasn't in it.
Jibo's Facial And Speech Recognition
Jibo learns the face and voice of the user, and up to 15 other family members and friends (children under age 13 cannot be added unless parents approve). The more a user interacts with Jibo, the more he learns and the better he will understand the person. The data Jibo gathers allows him to personalize his interactions with people at home -- from children to parents.
"Everybody in the family has a different interaction," Dussault Smith said.
Questions Users Can Ask Jibo
Information Jibo has includes the weather forecast, flight statuses, restaurant locations, game scores and trivia questions. The social robot tells jokes, acts like a photobooth and sets timers. Jibo also greets users when they walk into their homes or past the hallway and asks the user questions saying the user's name, making experiences more personal.
Dussault Smith spoke of Jibo's use as a companion -- especially for the elderly and children -- because he is "always engaging" and "doesn't lose patience." Jibo also likes attention, since he loves to be touched and cuddled like a baby, making "qrrr" noises when he feels relaxed.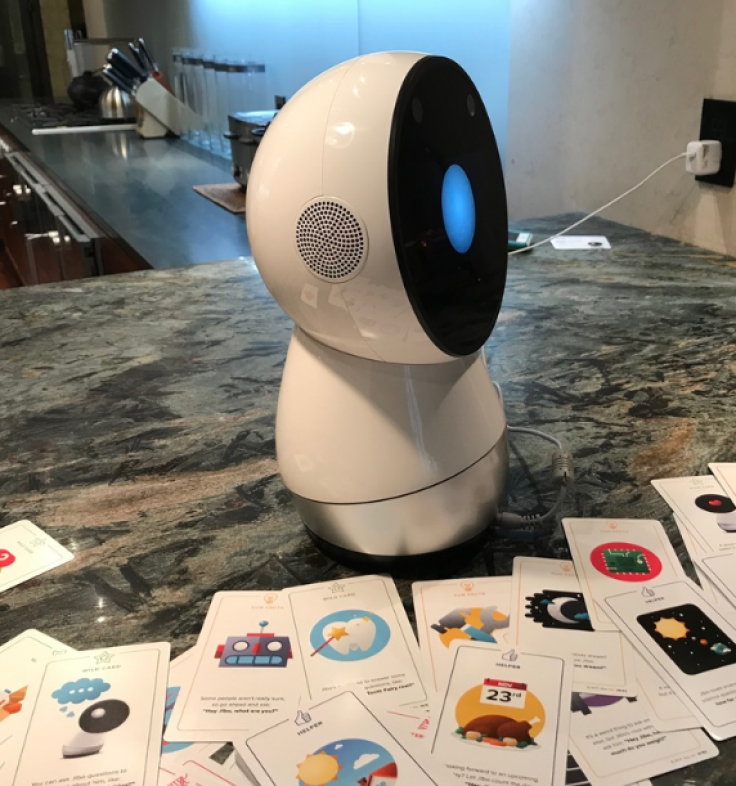 Jibo turns a blue light on when he detects a question is being asked. It can be hard to come up with questions to ask the social robot, so the team included cards with inquiries he can respond to.
Questions Jibo can answer range from math calculations, the weather and information about himself.
Users can ask Jibo:
Hey Jibo, Did the Patriots win?
Hey Jibo, Can you take a picture?
Hey Jibo, What are you most afraid of?
Hey Jibo, How many people live in New York City?
Hey Jibo, How far away is the sun?
Hey Jibo, Can you twerk? (He does)
Hey Jibo, What are you/Where are you from/ What do you do when you're bored?
Hey Jibo, What should I wear for Halloween?
As of now, Jibo cannot make calls or play music, something other AI devices like the Amazon Echo can do.
Jibo's Technology
Jibo will include automatic over-the-air software updates and will work with third-party applications, the company's developer evangelist Justin Woo told IBT. The company is releasing the Jibo Software Developer Kit in 2018 to allow developers to create new skills for him to learn. The apps will be different from regular smartphone apps, since they'll be able to work with Jibo's body movement, screen animations and voice.
"The potential for what he can be down the road is phenomenal," said Dussault Smith.
Jibo uses speech and facial recognition technology, as well as advanced Natural Language Understanding (NLU). The social robot was created by experts in social robotics and artificial intelligence, including Massachusetts Institute of Technology professor Cynthia Breazeal who researched human-machine interaction dynamic. Breazeal's research was applied to the robot's design, movement, voice and personality. A group of digital artists, animators, writers, sound designers and visual artists also worked on Jibo's speech, character and the way he moves, similar to how animated characters are created (which might be why Jibo reminds us of a nicer version of EVE in the 2008 movie Wall-E)
Jibo Price
Boston-based Jibo Inc. first launched an Indiegogo campaign for the social robot in 2014. After years in the making, Jibo is now available to order and will begin shipping before the holidays on Nov. 7. Unfortunately, the social robot is priced at $899, much higher than voice devices like the Echo family, Google Home and Apple's upcoming HomePod.
However, Dussault Smith points out it's cheaper than an iPhone X, and that Jibo is different from other gadgets.
"Jibo is a robot vs. a device," she said. "He's a robot for the home, if someone is looking for a home companion."
© Copyright IBTimes 2023. All rights reserved.