Soul Train creator Don Cornelius commits suicide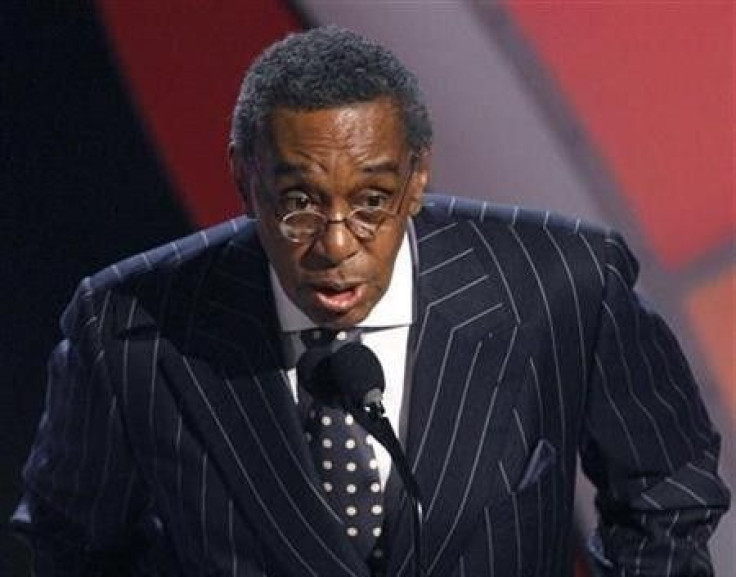 Don Cornelius, creator of the iconic TV music and dance show Soul Train that helped introduce Americans to black pop culture, died on Wednesday after shooting himself in the head, Los Angeles officials said.
Police found the body of Cornelius, 75, at his house in the wealthy, hillside area of Los Angeles called Sherman Oaks at around 4 a.m on Wednesday. He was later pronounced dead at a local hospital.
The death was reported as a suicide, a self-inflicted gunshot wound to the head, Los Angeles coroner's Assistant Chief Ed Winter said. Police said there was no evidence of foul play.
It was not immediately known why Cornelius would have taken his own life, although he was said to have been in failing health in recent years.
Cornelius, who launched Soul Train in Chicago in the early 1970s and hosted it for more than 20 years, told a judge in his 2009 divorce that he was suffering from significant health issues and wanted the case settled quickly.
Soul Train, which ran until 2006, became part of U.S. pop culture history, boosting the careers of newcomers like the Jackson Five and older artists such as James Brown who were trying to tap into a younger audience.
Almost immediately following news that he died, tributes poured in from the music world.
Aretha Franklin, who appeared on the dance and TV show, called his death sad, stunning and downright shocking and a huge and momentous loss to the African-American community and the world at large.
Composer and record producer Quincy Jones said he was deeply saddened at the sudden passing of his friend, colleague and business partner.
The Recording Academy, which gives out the Grammys, called Cornelius a trailblazer who created a cultural phenomenon with 'Soul Train.'
SON OF THE '60s
Cornelius was born in 1936 in Chicago and as an adult, became a journalist who was active in the civil rights movement. For a time, he worked at local radio station WVON, and by the late 1960s he had dreamed up the idea of a TV show dedicated to the soulful sounds of African-American music.
Soul Train was born with the deep-voiced Cornelius as the host who gave hip kids of the '70s what American Bandstand creator Dick Clark offered TV viewers in the early days of rock 'n' roll -- a show mixing youth, music, fashion and pop culture.
As Soul Train gained popularity, it crossed over into mainstream TV and allowed R&B artists the ability to broaden their fan base.
Don played an enormous part in my career by giving me exposure when there was none for African American recording artists on television, Dionne Warwick said in a statement. He called him an icon of the broadcasting world.
Cornelius hosted Soul Train until 1993. The show continued to air. It eventually became the longest running U.S. series in first-run syndication. Cornelius sold his company in 2008.
Once he left the TV show, he kind of dropped out of sight... He stayed within the confines of his family and home, Los Angeles-based black music historian Tom Reed said.
Civil rights activist Rev. Al Sharpton, a longtime friend, expressed shock and grief over Cornelius' death.
He brought soul music and dance to the world in a way that it had never been shown and he was a cultural game changer on a global level, Sharpton said in a statement.
Former basketball star Earvin Magic Johnson, whose Vibe Holdings company currently owns the rights to Soul Train, said on his Twitter account; `Soul Train' taught the world how to dance! I thank (Don) for trusting me with his `Soul Train' brand and I will carry on his legacy through it.
A statement was posted on the Soul Train website calling Cornelius a television visionary.
© Copyright Thomson Reuters 2023. All rights reserved.