Southern Wildfire Pictures 2016: Georgia, North Carolina And More Scorched By Drought, Arson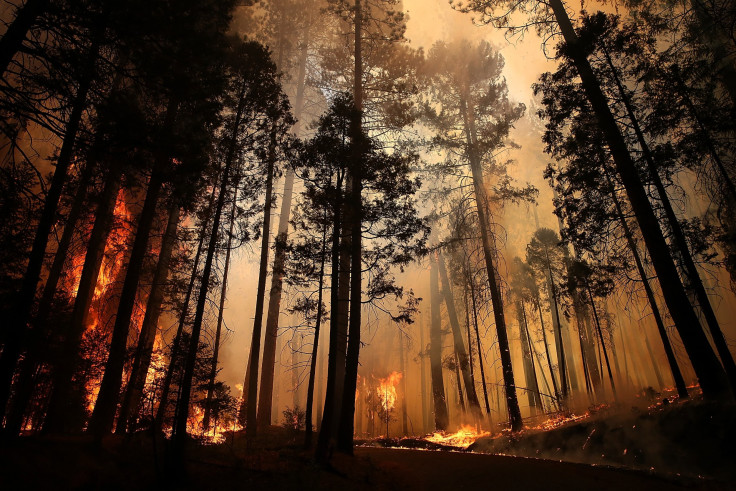 Huge wildfires across several southern states have reportedly landed more than 200 people in the hospital and scorched about 80,000 acres this week. As of Wednesday morning, the United States Department of Agriculture's Forest Service listed 32 uncontained large fires nationwide, most of which were concentrated in states like North Carolina, South Carolina, Georgia, Virginia, Tennessee, Alabama and Kentucky.
Droughts are to blame for many of the blazes, the Associated Press reported. "There are places getting ready to set records for most numbers of days in a row without rain," Alabama climatologist John Cristy told the wire service before the fires began. "It's a once-in-100-year kind of thing for this time of year."
In other cases, people started the fires. In Tennesee, for example, half of all wildfires this year were linked to arson, according to ABC News.
States are doing what they can to fight the blazes. Tennessee recently increased ites reward for information leading to arrest of arsonists, the Chattanoogan reported, and police have charged at least two people with setting fire to personal property or land. Alabama has issued an outdoor burn ban given that, "with these extremely dry conditions, any fire can quickly spread out of control," interim state forester Gary Cole told WSFA.
In North Carolina, Gov. Pat McCrory declared a state of emergency and ordered evaucations in five counties. More than 1,100 firefighters are trying to stop the wildfires in the Tarheel State.
"As eastern North Carolina was underwater due to flooding from Hurricane Matthew, the western part of the state has been suffering from a severe drought and now hundreds of acres are burning," McCrory said in a statement. "This is extremely dangerous work, and I especially want to thank the firefighters, first responders, sheriffs and other emergency personnel that have risked their own lives to protect our citizens and property."
© Copyright IBTimes 2023. All rights reserved.