'Spider-Man: Homecoming' Review Roundup: Is Marvel's Latest Reboot Worth Seeing?
"Spider-Man: Homecoming" will hit theaters in a week, but the reviews are already in. With star Tom Holland leading the third reboot for this character, the pressure is on, but it looks like he managed to please many of the critics.
Unlike DC's "Wonder Woman," the Sony/Marvel movie isn't receiving universally glowing reviews. However, the critics aren't panning it by any means. While a few had their problems, it seems that "Homecoming," while not groundbreaking or above the rest, is enjoyable enough.
Overall, Holland seems to be very well-received in his second outing as Spider-Man (he first appeared in "Captain America: Civil War"). "It's Holland who makes us care, not to mention that he did nearly 90 percent of the stunts. This is a star performance given by a born actor (check him out in "The Impossible" and "The Lost City of Z"). Spider-Man soars because Holland gives him wings," Rolling Stone's Peter Travers wrote. He gave the film three out of four stars.
READ: Zendaya's "Spider-Man" Performance Was Inspired By A Famous Movie
Polygon's Susana Polo was equally thrilled with the film, and she noted that the climax really stood out from other films in the Marvel Cinematic Universe (MCU). "I feel compelled to call out how it paints the entire final act of the film in a deliciously tense, but also hilarious, layer of perspective that would be impossible for any other superhero in the MCU to pull off," she raves. "It's a masterful stroke that culminates in a climactic resolution not quite like any other I've seen in a modern superhero film."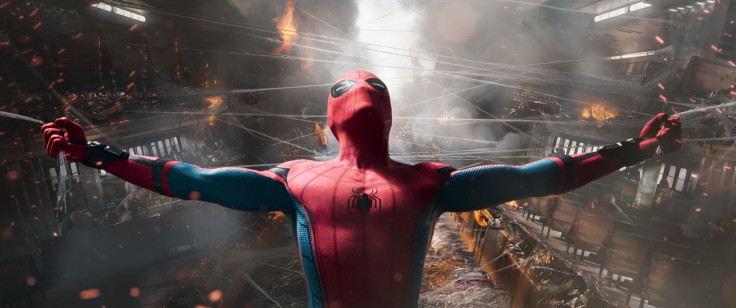 Though director Jon Watts does not have Spider-Man swinging around skyscrapers as previous versions have, the action sequences still work very well. "The action in this movie is phenomenal too. Spidey's acrobatics have never been more impressive, and the way the camera follows him through the city and in face-offs with our villain gives the proceedings plenty of flair," /Film's Ethan Anderton praised.
While some reviewers appreciated how wide-eyed and optimistic Peter was, neither The Hollywood Reporter nor Variety's reviewers appreciated Spider-Man's youth. "The appeal of this particular Spider-Boy is all too basic: In his lunge for valor, he keeps falling, and he keeps getting up," Variety's Owen Gleiberman notes.
READ: Tom Holland Calls "Spider-Man: Homecoming" Premiere "Surreal"
THR's problem with the film went way beyond Spidey's immaturity though. John DeFore called "Homecoming" a "creative misstep" for Marvel Studios, and he had many issues with the film. Though he also acknowledged Holland's charm, he was irritated by the new suit, which felt too similar to Iron Man's. He also had problems with the script. "With no fewer than six writers credited on the screenplay, could we not have had more of the wisecracks for which the teen crimefighter is famous?" he asked.
Others were much happier with the film, however. The Guardian's Benjamin Lee gave "Spider-Man: Homecoming" four out of five stars. "'Spider-Man: Homecoming' is so joyously entertaining that it's enough to temporarily cure any superhero fatigue. There's wit, smarts and a nifty, inventive plot that serves as a reminder of what buoyant fun such films can bring. It might have taken three attempts but Spider-Man has finally spun gold," he wrote.
"Spider-Man: Homecoming" hits theaters July 7.
© Copyright IBTimes 2023. All rights reserved.