Square CFO Sarah Friar Talks About Her Career In Tech – And Why Some High School Kids Are Asking For More Homework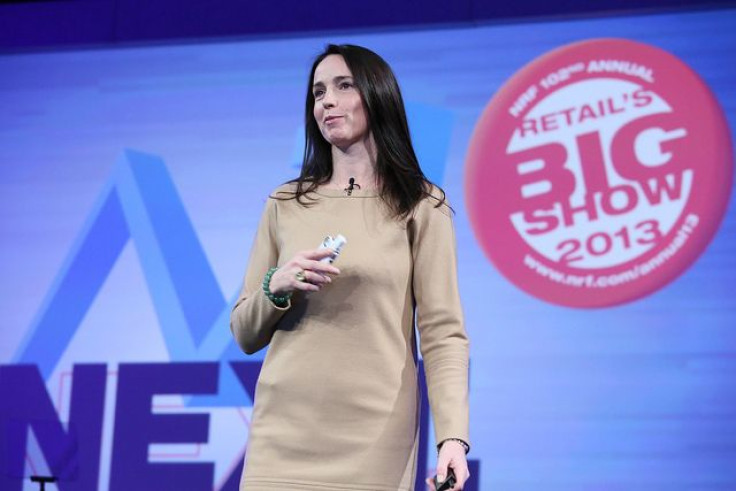 A few weeks ago, Sarah Friar, the chief financial officer of mobile payment company Square, was added to the board of software analytics company New Relic.
It's the latest in a series of career moves that has taken her from South Africa to London to San Francisco through the world of engineering, corporate finance and, finally, tech startups.
"Not many people on the planet have the relevant, high-scale, hands-on experience with finance, engineering and operations that Sarah has," wrote Lew Cirne, founder and CEO of New Relic, in a blog post announcing her appointment.
He said her experiences at Goldman Sachs Group Inc. (NYSE: GS), McKinsey & Company, Salesforce.com and Square have "given her a front-row seat for the evolution of the modern software business model."
But the mother of two is also passionate about another subject: creating more opportunities for women in science, technology, engineering and math (STEM).
In an interview with International Business Times, Friar discussed the challenges for women in technology and the corporate world, and her new initiative, meant to inspire girls in elementary and high school to pursue careers in computing.
IBTimes: You've recently been appointed to New Relic's board of directors, and Robin Schulman was also hired as general counsel and Hilarie Koplow-McAdams as the chief revenue officer. Is it unusual for a tech company to have this many women on the board?
Friar: Clearly there is nothing preventing women from being great leaders, so the lack of women in tech has to be a systemic bias which we should all be fighting to overcome. It starts small and early — talking to our daughters to get them passionate and interested in science and respectful of diverse opinions and thoughts. I have already heard girls in my daughter's 3rd grade class say they are not good at math. That is a terrible outcome at 9 years old.
IBTimes: What are the disadvantages (and advantages) for women working in the corporate world and technology? Can you cite any specific examples from your own experience?
Friar: As a minority, you are memorable. When I was a tech analyst, I was often the only woman in the room asking a question. I knew if my question was insightful, everyone would remember "Sarah Friar probed on that." I also knew that if it was weak or irrelevant, everyone would remember that, too. It is good to have a high bar in life, as it gives that extra adrenalin rush that we should all be craving in our professional lives.
IBTimes: Before joining Square in 2012, you had worked at Salesforce.com, Goldman Sachs and McKinsey. Is there a difference in the working atmosphere at a relatively smaller company like Square?
Friar: Broadly speaking, regardless of the overall size of an organization, small teams will always move faster and be more nimble in the face of blockers. McKinsey was all about small teams oriented around a single piece of work with clearly defined deliverables. It was a great training ground for me. At Goldman, equity research is also formed around small teams hyperfocused on deliverables.
At Square, our open and transparent culture makes us truly unique. For example, notes from every meeting are emailed to the entire company — whether the meeting covers new product features, potential partnerships or acquisition, etc. This even includes our Board meetings. We are transparent because everyone is an owner of this company and we also believe that great ideas can come from anywhere. Those ideas are often sparked by being knowledgeable about everything happening at Square.
Being transparent also helps people think outside of their current role. (For example, those in finance have opinions on our products and engineers have ideas about how to launch to market.) Hack Week, which happens once per quarter at Square, is a great example of teams coming together around an idea they are passionate about and working outside of their day-to-day job description. Many ideas born during Hack Week become the next set of disruptive products we launch to the world.
IBTmes: Women are generally considered a minority in the STEM field. What has made you different? What drew you to technology?
Friar: My math teacher at school would reference the subject as a language, which really resonated with me. I have always been intrigued by numbers and love how seemingly very complex problems can be distilled down into logical pieces.
I studied metallurgy in college, graduating with a master's of engineering. My first internship was on a gold mine in Africa. The environment was not very diverse, but it did set a bar of "If I can survive and thrive here, then I can do anything."
In 1998, I came to Silicon Valley and was so excited to be part of such a vibrant community. The U.S. really does feel like a melting pot where anyone can be anything they want to be. We are very lucky to have this sentiment, but there is no doubt we can push to do more.
When companies look like their customers and have empathy, not just sympathy, they respond better in their products and services. It is fun to watch our Square executive team in action because we all come from different backgrounds, countries and perspectives.
IBTimes: What's the biggest challenge for a woman working in tech today?
Friar: There is a lot of pressure on women (and men) to do it all — be successful in their career, while equally supporting their partner and being a great mum/dad. At Square, we do everything we can to support parents. We offer four months of paid parental leave for new mothers and fathers. We also lead by example. I have set a goal to attend as many major school events as possible, and I also always take my kids to doctor appointments. This requires planning and being very clear on priorities.
Beyond that, at Square, empowering women also means empowering women entrepreneurs and small business owners with products that make it easy for them to start, run and grow their businesses. In America, 30 percent of small businesses are led or founded by women; 50 percent of small businesses using Square are led or founded by women. We are proud of our female seller community and want to do more to support them.
In celebration of International Women's Day, we are hosting an event on March 10 for women entrepreneurs and sellers as an opportunity for them to strengthen their livelihoods and learn from experts on topics that are pertinent to their businesses: utilizing social media for marketing, finance 101, recruiting smartly and well, even when you are small, and running your business by the numbers. We are committed to supporting women in business, inside and outside of our own teams.
IBTimes: What gave you the idea to start Code Camp? Did you have an "aha" moment?
Friar: The idea for High School Code Camp stemmed from a Square engineer who wished a similar opportunity had been available to her — an opportunity that would have exposed her to computer science before college. I'm excited that four months into High School Code Camp, we are hearing from several young women that they are now considering computer science as a major.
IBTimes: How has the project progressed?
Friar: We are four months into High School Code Camp and the girls are meeting twice a week, two hours at a time at Square's headquarters. Class begins with a short lecture and then they dive into hands-on coding work. Our curriculum, which was created by Square engineers, mixes theory and practice, and prepares the young women for the AP computer science exam in May.
IBTimes: Has anything surprised you yet?
Friar: The high schoolers are asking for homework.
IBTimes: What advice can you give to young women looking to enter the STEM fields?
Friar: A diversity of thought, perspective and culture is important in any field, not just engineering. Surround yourself with people who support you and get involved in programs like High School Code Camp and College Code Camp, Black Girls Code and Girls Who Code.
© Copyright IBTimes 2022. All rights reserved.
FOLLOW MORE IBT NEWS ON THE BELOW CHANNELS