SS United States, Largest American-Built Ship, Could Be Scrap Metal In 2 Months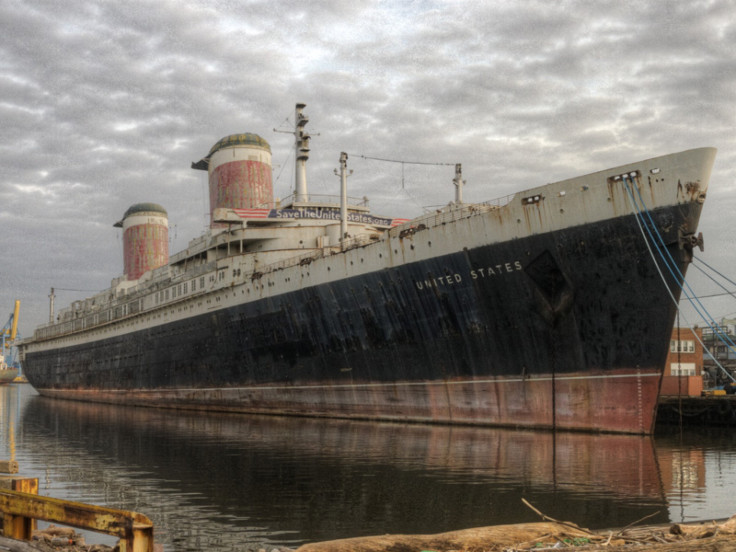 It was the fastest ship of its time and the crowning American maritime achievement of the 20th century, but the S.S. United States may be headed for the junkyard in just two months.
The 1,000-foot-long vessel is one of the nation's largest and most famous ocean liners, but it's in grave danger of being sold to scrappers if the preservation group S.S. United States Conservancy can't secure $500,000 from new donors, corporate sponsors and other supporters.
The ship -- awaiting its knight in shining armor at a berth on the Philadelphia waterfront -- received a temporary stay of execution two years ago when the historic preservation group made its purchase, but the organization is running out of time and money due to the high costs of maintaining the vessel and slow progress on inking a deal to convert the S.S. United States into a mixed-use destination and museum complex.
"This is a four-alarm historic preservation crisis," said Susan Gibbs, granddaughter of the ship's designer, William Francis Gibbs, and the Conservancy's executive director. "If this great American achievement is destroyed, we will lose an unparalleled opportunity to create jobs, honor our heritage and celebrate technological innovation."
Noting the attention received by the Titanic II replica, planned by Australian billionaire Clive Palmer, Gibbs said she hoped the American people and their political leaders would not overlook the plight of the S.S. United States.
"Rather than build a reproduction of the Titanic in China, let's repurpose the most famous ship that didn't sink here at home before it's too late."
The Newport News Shipbuilding and Drydock Co. built the luxury passenger liner in 1952 at a cost of $78 million, and its claims to fame are many: It's the largest ocean liner ever constructed in its entirety in the U.S.; it captured several transatlantic speed records on its maiden voyage; and it carried four U.S. presidents and countless world leaders, celebrities and everyday Americans across the Atlantic before it ceased passenger service in 1969.
The vessel was stripped of its interior fittings after its retirement and sold repeatedly before ending up with the Conservancy in 2011.
Though the U.S. government sponsored the ship's construction (it was designed to be converted in times of war to a troopship with a capacity of 15,000), it has made no efforts to save the S.S. United States.
According to Gibbs, who said the organization had reached an "all-hands-on-deck moment," the ship's monthly maintenance, security and operational costs are upwards of $80,000, far exceeding the grassroots organization's budget. To date, it has funded its preservation exclusively on tax-deductible contributions from private citizens, following an initial $6.8 million investment to purchase and maintain the ship for 20 months.
Individual donors have purchased more than 50,000 "virtual pieces of the ship" through a crowdfunding campaign at SavetheUnitedStates.org, but time is running out.
"We have made major headway toward our goal of saving this national icon and giving her a sustainable future," said Gibbs. "But without added support from the public -- and their political leaders -- our nation's flagship will be lost."
The Conservancy established a redevelopment project to aggressively pursue development partners and investors last year. It estimates that the ship, which has more than 500,000 square feet of usable interior space, could provide 1,000 permanent jobs and thousands of other direct and indirect jobs in New York, Philadelphia or another East Coast city as a hotel, event, conference, retail and restaurant mixed-use venue.
"The prospects for success and projected profit margins are significant," asserted Dan McSweeney, managing director of the S.S. United States Redevelopment Project. "We know that this model can work and we need someone who can join the effort and take it to the next level.
"Our efforts have identified credible financing options that could cover the repurposing of the vessel. We have been in talks with officials in New York and Pennsylvania that lead us to conclude we can make the ship a centerpiece of ongoing waterfront and economic development efforts."
However, "serious negotiations" with four firms in New York and Pennsylvania last year failed to find the S.S. United States a home. Now, the organization seeks bridge funding while it identifies new opportunities.
If it doesn't, the ship that once carried the likes of President John F. Kennedy, artist Salvador Dali and actress Elizabeth Taylor may end up in a Pennsylvania scrap yard.
© Copyright IBTimes 2023. All rights reserved.