Stan Musial: The Vanishing 'Greatest Generation'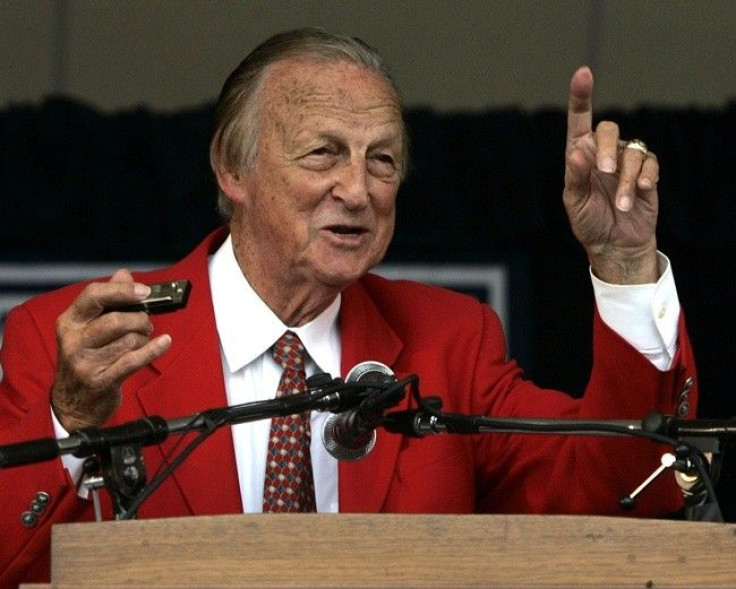 The recent death of baseball legend Stan Musial hammered another nail in the coffin of a period of American history when baseball was truly the national pastime and its stars were beloved icons across the country.
Long before mediocre players received multi-million-dollar contracts, steroids were found in virtually every locker room and 24-hour cable sports saturated the airwaves with inanity, baseball occupied a grand place in the American pop culture psyche.
Musial was clearly an important part of the nostalgic world of green grass, radio broadcasts, train travel and the existence of no major league teams farther west than St. Louis.
But "Stan The Man" (and the society he and baseball flourished in) have almost completely vanished.
In fact, Musial was one of the last living Baseball Hall of Famers whose careers ended before 1969 -- I chose that year because that was the first season of divisional playoffs. Up until 1968, the National and American Leagues had "pure" pennant races in the sense that whoever was in first place on the last day of the season automatically went to the World Series.
With Musial's departure, the only such players left are former Red Sox second baseman Bobby Doerr (now 94, two years older than Musial); former Negro League and New York Giant star outfielder Monte Irvin (93); former Pirates' slugger Ralph Kiner (90); Musial's former teammate Red Schoendienst (89); Yankee catching legend and supreme malapropist Yogi Berra (87); Yankee pitcher Whitey Ford (84); and the Dodgers' immortal southpaw Sandy Koufax (77).
There were two other Hall of Famers whose playing careers ended before 1969 -- Whitey Herzog and Tommy Lasorda -- but they joined Cooperstown solely due to their successes as managers, not players.
With respect to the aforementioned list of pre-1969 Hall of Famers, with the exception of Koufax and Berra, none could be compared to Musial as an all-time great.
If we were to go a few years beyond the 1969 retirement threshold, of course, we could add to the list some genuine all-time greats, most notably Willie Mays, Hank Aaron and Ernie Banks -- however, for argument's sake, I prefer to adhere to the 1969 cut-off.
This leads to the observation that "classic baseball players" -- i.e., the great ones who played the bulk of their careers during the "Golden Age" of the 1940s and 1950s (and preferably for the same team throughout their careers) are becoming extinct. Within five, certainly ten, years, they will all be gone from this earth -- and I think at that point whatever remained of baseball that was pure, joyful and warm will have vanished forever.
Consider that over the past dozen years or so, we have lost such baseball luminaries as Joe DiMaggio, Ted Williams, Bob Feller, Duke Snider, Robin Roberts and now Stan Musial.
That is a huge legacy to lose.
No current ballplayer -- not even the cream of the crop superstars like Albert Pujols or Joe Mauer -- will ever enjoy the unrestrained love and admiration (and yes, mythology) that the players of Musial and Berra's era enjoyed.
That is not necessarily modern players' fault, of course, for many other factors are at play -- including intrusive media, the decline of baseball's popularity and the general coarseness of today's society. (And I am not even including such steroid-linked cheats like Barry Bonds, Roger Clemens, Sammy Sosa and Mark McGwire, whose reputations are permanently soiled).
Musial's generation -- which grew up in the Depression, fought and won the Second World War and created the post-war prosperity (i.e., the 'greatest generation') -- is rapidly disappearing as its survivors reach their eighties and nineties.
According to the National WWII Museum, only about 1 million veterans from WWII war are still alive, down from nearly 6 million in 2000.
As they (and their ball-playing peers) leave this earthly plane, we will likely never have the type of majestic heroes that our fathers and grandfathers had.
© Copyright IBTimes 2023. All rights reserved.