'Star Wars Anthology: Rogue One': Actor Leaks Picture Of Helmets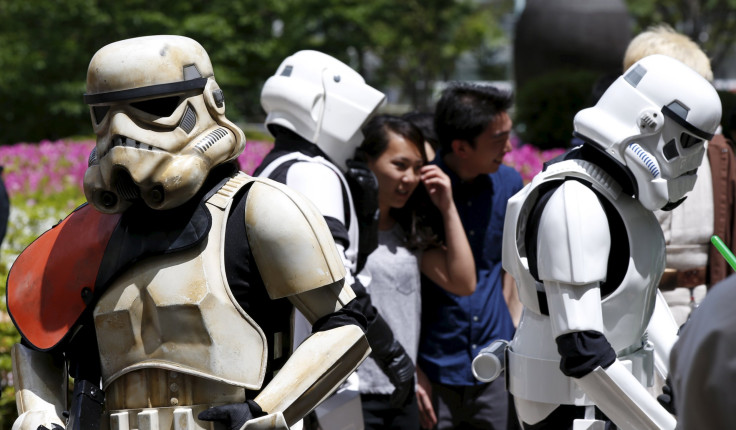 The first look at some of the helmets being used in "Star Wars Anthology: Rogue One" have leaked online. Cast member Donnie yen is said to have shared the images online and later deleted them. The photos, however, have been reposted by other websites.
[Spoiler alert]
The pictures posted on JediNews show three helmets that are supposedly being used as part of the costumes in the forthcoming movie. The helmets are of the Rebel Alliance soldiers, a white Stormtrooper helmet and a black helmet that may belong to a TIE fighter pilot in the movie.
The main plot of the movie revolves around the Rebels stealing the plans of the first Death Star super weapon from the Empire. Some of the costumes are expected to be closer to what were seen in "Star Wars: Episode IV - A New Hope" that was released in 1977.
Previously leaked photos from the set posted on Mirror, showed some of the extras working as Stormtroopers relaxing on the set. The soldiers appear to be standing next to an Imperial Lander and the set is filled with sand and palm trees.
Some of the weapons props and other set pieces of "Star Wars Anthology: Rogue One" can also be seen in the leaked images. None of the major cast members of the movie appear to be in the pictures.
The special effects in the movie will once again be handled by Industrial Light and Magic, a company that has worked on all the movies by the franchise that have been released so far. A recent report by The Verge highlights some of the work done by the company over the years, and how it will be working on their next project.
The major focus for many tech companies now seems to be virtual reality for both creating content that can be viewed on devices like the Oculus Rift and using it as a tool streamline the production of a movie. The company will be working with the filmmakers and the art department to run experiments to see what will work in the movie.
The company has apparently created a tool for "Star Wars Anthology: Rogue One" director Gareth Edwards, which can help him pre-visualize the production set before the actual filming begins. The director is said to have felt that the virtual reality was comparable to the real set after trying the tool.
© Copyright IBTimes 2022. All rights reserved.
FOLLOW MORE IBT NEWS ON THE BELOW CHANNELS