'Star Wars Battlefront' Issues Known By DICE, Working On Fixes As Game Exceeds EA's Expectations With 13M Sales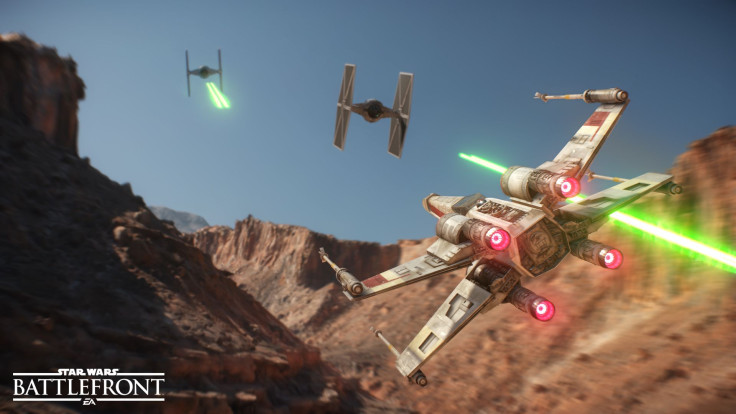 "Star Wars Battlefront" may be among the highest rated games in the U.K. charts currently since its release last November 2015. However, this does not save it from having its own slew of issues that developer DICE still has to resolve.
One of these is the supposed tweaks that the developer is making to allow players to access online modes of "Star Wars Battlefront" offline. According to Gamingbolt, DICE has already confirmed that the team is looking for a way to bring online modes for offline play. This is not without its repercussions and challenges, however, as DICE also stated that the team is currently faced with technical limitations that make the process more complicated.
Fans have been requesting the offline playability mostly because the lack of a single-player campaign and the limited local modes make it a hard-to-enjoy title. The issue of a mostly online multiplayer approach has been previously questioned for "Star Wars Battlefront." And even though previous betas and playthroughs did show a relatively enjoyable game, the hurdles for other players to enjoy it with Internet connectivity issues and the like can be limiting.
DICE has yet to announce any progress on the matter, as well as specific details for its plans on bringing offline modes. Still, the multiplayer of "Star Wars Battlefront" does offer a couple of features, a noticeable one being the customization and leveling up.
Electronic Arts has recently released a guide to help players progress through the game more smoothly, as well as get more unlockables along the way. In the "Star Wars Battlefront" blog, the developer has detailed some features that can currently be found online via the multiplayer.
These include ranking up by participating in matches, earning Credits to unlock more items and even clearing Challenges and Accomplishments. On the whole, there are a lot of things and activities that can be done in "Star Wars Battlefront." But for a game that relies heavily on its online component, there may be a lot riding on DICE's updates for offline modes.
Proof of this is the fact that "Star Wars Battlefront" has already exceeded EA's expectations in terms of the game's retail movement. According to GameSpot, known analyst Michael Pachter of Wedbush Securities has stated that the game has already sold a total of around 12 to 13 million since its release.
So far, this is right on track with EA's expected 13 million sold copies of the game. Given its current ranking in the U.K. charts, and the possibility of more offline modes if DICE becomes successful in its current endeavor, sales may easily go beyond the expected numbers.
"Star Wars Battlefront" progression (Credit: YouTube/BattlefrontUpdates)
© Copyright IBTimes 2023. All rights reserved.
FOLLOW MORE IBT NEWS ON THE BELOW CHANNELS