'Star Wars' China Box Office: Lukewarm Presales Could Signal Trouble For Disney Juggernaut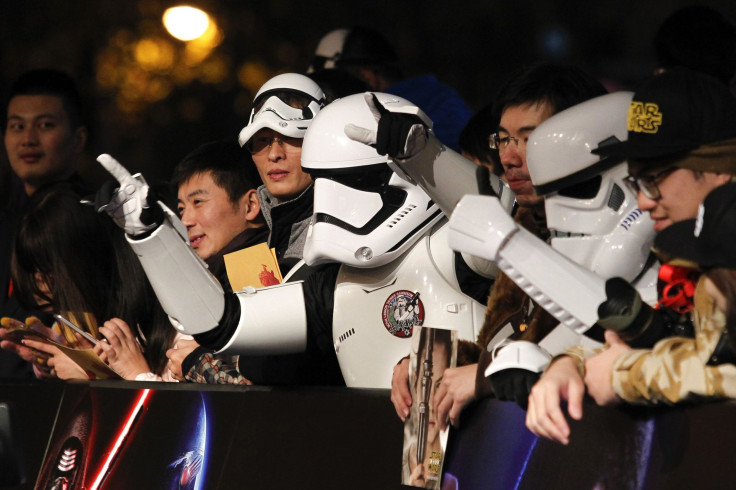 LOS ANGELES — "Star Wars: The Force Awakens" shattered box office records at home and around the world when it opened late last month. But tepid presale numbers from China, the one major market the movie has yet to debut in, may mean its expectation-smashing run is about to come to an end.
According to data shared by Jonathan Papish, an industry analyst for China Film Insider, "Star Wars" sold about 2.2 million yuan — about $330,000 — in tickets for the midnight premieres at the end of Friday, and 8.7 million yuan — $1.3 million — for the Saturday opening.
To compare, the 2014 movie "Gone With the Bullets" reeled in 4 million yuan in tickets to its midnight premiere — more than $650,000 at the exchange rate at that time. The historical drama had 120 million yuan — $19.6 million — in total internet presales one month before it hit theaters.
And that lukewarm reception comes despite Disney making a Disney-sized effort to introduce the "Star Wars" universe to a country full of millions of moviegoers who didn't grow up with Luke Skywalker and Han Solo — such as putting 500 storm troopers on the Great Wall.
In the United States and Europe, where "Star Wars" smashed a constellation of box office records, presale numbers were commensurate with the eventual haul. The movie broke $50 million in presales in the U.S. alone. And the movie's extremely strong performance at premium-format Imax theaters in the U.S. — which are popping up faster in China than anywhere else — had hopes high that those super-sized screenings would carry "Star Wars" to another soaring success at the gate.
But for whatever reasons — and almost certainly affected by a crowded slate of January films in China, including what's likely to be one of the year's biggest, "Kung Fu Panda 3" — the Chinese moviegoing public isn't chomping at the bit to secure good seats for "Star Wars." There is clearly no need for 3 a.m. showings in Shanghai, like there was in New York.
That may change when the movie opens, but early returns from what's soon to be the world's biggest box office show that there may yet be some parts of the world immune to "Star Wars" mania. To competing studios — American and Chinese — that could be welcome news.

© Copyright IBTimes 2022. All rights reserved.
FOLLOW MORE IBT NEWS ON THE BELOW CHANNELS