'Star Wars: Episode 9' Leak: Kylo Ren, Stormtroopers Action Scene Description Revealed
A new "Star Wars: Episode 9" leak has revealed details about an action sequence involving Kylo Ren (Adam Driver) and his Stormtroopers onboard a Star Destroyer. The scene description is in response to a new still from the movie that has been released online.
The following article contains spoilers of "Star Wars: Episode 9."
In its recent coverage of the upcoming movie, Empire released a new still that shows Stormtroopers being blown away in a hanger inside a Star Destroyer while Kylo Ren barely manages to stay upright. The co-writer of the script, Chris Terrio shared some insights about the plot and said that it will explore the "complicated" relationship between Driver's character and Rey (Daisy Ridley).
The movie still has confirmed a previously leak about the action sequence. According to Making Star Wars, the scene involves Rey and the others taking off in the Millennium Falcon, which will be captured by the First Order shortly before this scene, and the still from "Star Wars: Episode 9" that has been released online shows Kylo Ren and the Stormtroopers feeling the afterburners of the escaping ship.
The leak regarding the First Order capturing the Millennium Flacon and taking it to a Star Destroyer has also been confirmed by JediPaxis. Just before Rey and the others escape from the Star Destroyer, there is the big action sequence that has been dubbed Force Fight between Kylo Ren and Rey.
The action sequence involves Rey and Kylo Ren fighting each other through the Force, even though the Jedi is onboard the Star Destroyer and the Supreme Leader in on the planet below. After this fight, when Kylo Ren goes to his ship to capture the Resistance fighters, they escape in the nick of time.
This scene is also significant because it will reveal General Hux (Domhnall Gleeson) to be a mole of the Resistance, and he will help the heroes escape. Kylo Ren will kill the general, and this is one of the big deaths in "Star Wars: Episode 9."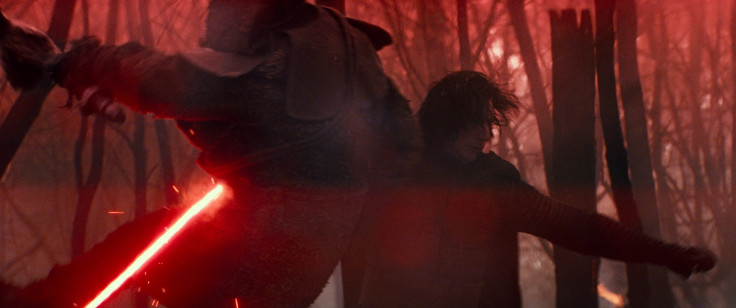 © Copyright IBTimes 2023. All rights reserved.
FOLLOW MORE IBT NEWS ON THE BELOW CHANNELS