'Star Wars: The Force Awakens': Andy Serkis To Play 'Supreme Leader Snoke'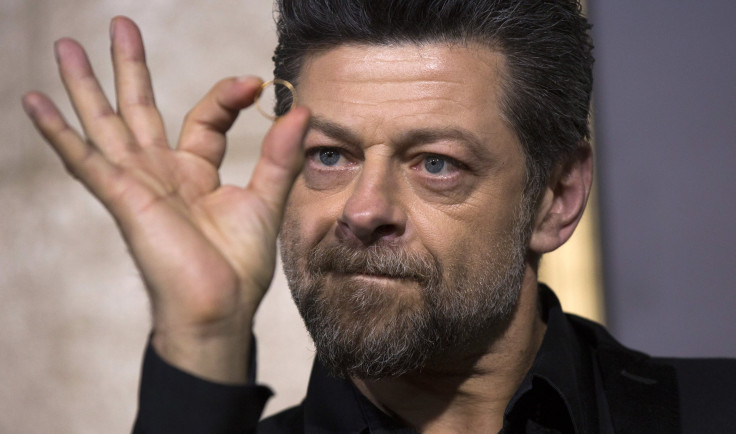 "Supreme Leader Snoke" will be the name of the main villain in "Star Wars: The Force Awakens," as revealed by photographer Annie Leibovitz in a recent interview. The role of the villain will be played by Andy Serkis and the character will be created using motion capture technology.
Some of the recently released official photos of the J.J. Abrams' movie were taken by Leibovitz. The photographer spoke to Lynne Hale and Dan Brooks of Lucasfilm and a transcript of the interview has been posted on the official Star Wars website.
Leibovitz said that Serkis plays Supreme Leader Snoke, and a photograph of the actor preparing to film a scene using motion capture technology can be seen in the report. The actor is a known expert on the technology and has used it to create characters in movies like "Planet of the Apes" and "Lord of the Rings."
Details about how his new character connects to the story line in "Star Wars: The Force Awakens" have not been revealed. According to Joblo, the character could be the new head of the First Order, a name of the new Empire following the death of the Emperor.
The trailers of the movie showed that the remnant forces of the Empire have not disintegrated, but may have rallied behind a new leader. One of the villains in the movie has been revealed by Kylo Ren, played by Adam Driver. Leibovitz said in the report that the director of the movie has paid huge compliments to the actor for his performance.
Meanwhile, a new report states that the official synopsis of the movie may have leaked online. According to Star Wars UnderWorld, the main plot of the movie revolves around the rise of a "ruthless prince" who "threatens galactic peace." Also a "runaway soldier, an uncongenial scavenger and a hot-shot pilot" will begin their journey together to find "the most powerful warrior in the galaxy."
The report suggests that the ruthless prince is Kylo Ren, the runaway soldier is the character Finn, played by John Boyega, the scavenger is Rey, played by Daisy Ridley, the pilot is Oscar Issac's character Poe Dameron and the warrior they are looking for in "Star Wars: The Force Awakens" is Luke Skywalker.
© Copyright IBTimes 2023. All rights reserved.