'Star Wars: The Force Awakens' Character Descriptions Reveal What Kylo Ren And Knights Of Ren Are Really After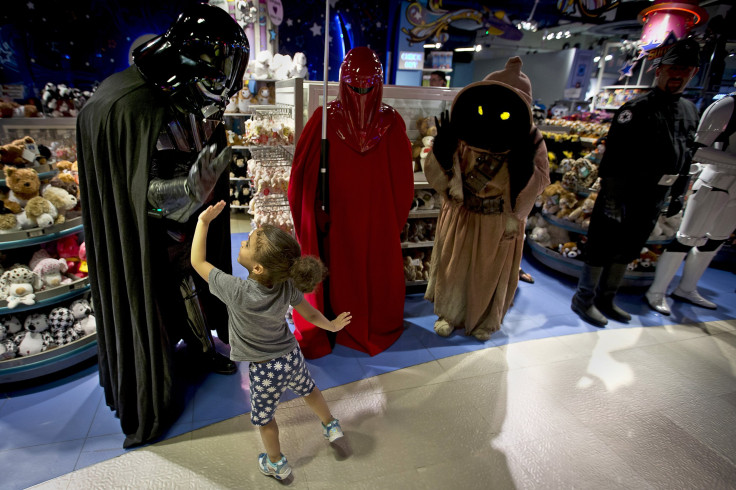 The background details of Kylo Ren and other characters in "Star Wars: The Force Awakens" explain some of the motivating factors of the characters. The character descriptions also reveal some plot elements of the movie.
[Spoiler Alert!]
According to a report by StarWars7News, the Halloween costume descriptions of the movie confirm some of the previously leaked spoilers. Details about popular characters like Rey (Daisy Ridley), Finn (John Boyega) and Kylo Ren (Adam Driver) have been shared in the report.
The main objective of Kylo Ren and the knights of Ren in the movie is to take over the galaxy "using the same power of the Force once used by the Galactic Empire." Kylo has been described as an "associate" of the First Order, and the Knights of Ren have been called as a group that is trying to reclaim its lost power and are said to be "allied" to the First Order.
Kylo Ren and his group are said to be seeking "galaxies-conquering powers" that were once held by Emperor Palpatine and his Empire. It is, however, unclear what these "powers" are. The report also mentions that the Force has "reawakened" in the movie and the main focus of "Star Wars: The Force Awakens" will be the heroes and the villains attempting to use the Force for either good or evil.
The report pointed out that the blue lightsaber that was used by both Anakin (Hayden Christensen) and Luke Skywalker (Mark Hamill) is being highlighted even in the costumes. Finn was seen using the lightsaber in one of the trailers of the upcoming movie.
One of the scenes from the movie also appears to have been revealed in the Halloween costume descriptions. Rey is said to be a part of Resistance forces invasion team to First Order's Starkiller base. She will apparently be surrounded by Stormtroopers with blasters and Knights of Ren members with lightsabers in one of the scenes.
Both Rey and Finn are new characters being introduced in "Star Wars: The Force Awakens." The movie is slated to be released on Dec. 18, 2015 in the U.S. A new set of posters of the movie have been posted on LesToilesHeroiques.
© Copyright IBTimes 2022. All rights reserved.
FOLLOW MORE IBT NEWS ON THE BELOW CHANNELS