'Star Wars The Force Awakens' Leaked Video Shows Movie Scene; Photo Of Toy Confirms New Character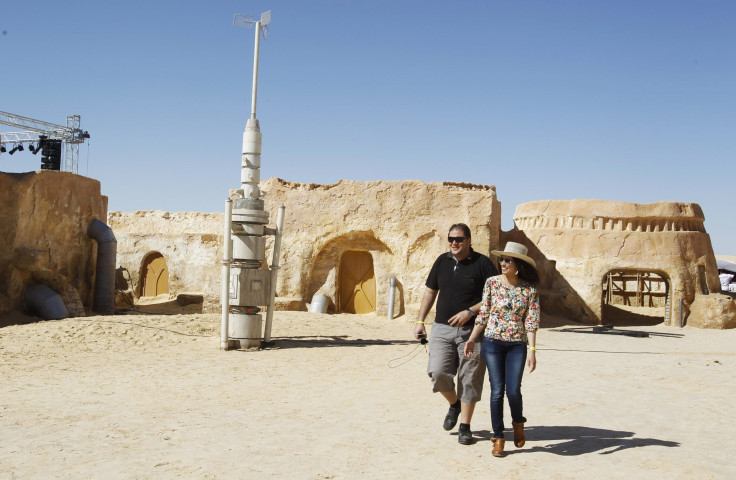 A leaked video of "Star Wars: The Force Awakens" from the production set shows one of the scenes in the movie. Meanwhile, new details about a character, previously called "Bullhead," have been revealed in a new report.
[Spoiler alert]
A video that was filmed at the production set of the J.J. Abrams movie in Abu Dhabi reportedly leaked on YouTube. The video has since been deleted, but images from the video have been saved by MakingStarWars. The video appears to be about Rey (Daisy Ridley) and Finn (John Boyega) being chased by Stormtroopers.
Trailers and the promo pictures of the movie have revealed that Finn is a former Stormtrooper, who crash lands on the desert planet of Jakku. He meets another character, called Rey, on this planet, and together they go on a journey while escaping the Stormtroopers of the First Order.
The leaked video reportedly shows Rey saying "let go of me!" and Finn saying "We gotta move!" The two actors are said to be using their native accents in "Star Wars: The Force Awakens." The pictures show the two actors running, and Stormtroopers appear to be shooting at them.
More details about the movie are being revealed by leaked images of toys of the movie. A leaked image of an X-Wing pilot toy posted on JediTempleArchives shows a character that was described as "Bullhead" in previous leaks, due to the face of the alien character looking like the Brown bullhead fish.
The name of the character has now been revealed to be Asty. The report also includes a leaked image of a toy of another character, called Sarco Plank. The report said that the animation TV series characters Kanan Jarrus and Ezra Bridger appear on the cards of the movie. The crossover of these two characters from the animation series to the movie has not been confirmed by the producers yet, although the TV show is officially a part of the canon.
A recently released trailer video of "Star Wars: The Force Awakens" Lego set has revealed the ship used by the villain Kylo Ren (Adam Driver) in the movie. The ship appears to be the same one that was seen docking in a Star Destroyer in one of the trailers of the movie.
© Copyright IBTimes 2023. All rights reserved.