Starbucks Predicts $120M Benefit from Falling Coffee Prices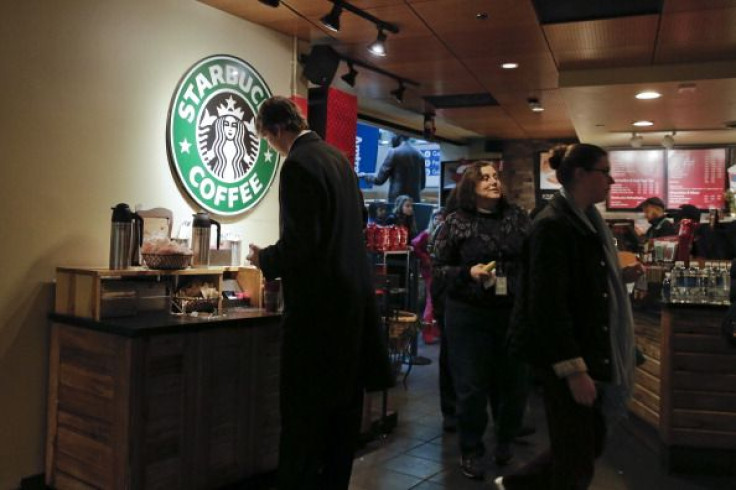 Global coffee prices have plunged this year, and Starbucks Corp. (NASDAQ:SBUX) expects to see a positive impact of $110 - $120 million in 2014, according to a presentation made at the Morgan Stanley Consumer Conference on Tuesday. Last year, they saw a $97 million benefit, after a loss of $206 million in fiscal 2012 thanks to a global draught and jump in prices that year.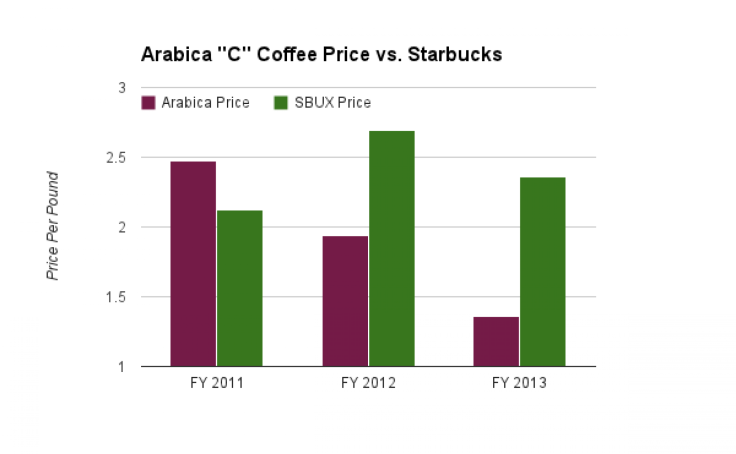 Since Starbucks contracts its coffee purchases in advance, the benefits from the most recent price drops won't be noticed until after next year.
"They're not buying on market, they're buying throughout the year," said Sara Senatore, an analyst at Sanford Bernstein.
"The fact that coffee prices are low now have implications for 2015," she said.
Prices for Arabica coffee beans have fallen nearly 30 percent this year, according to the International Coffee Organization, thanks to a surplus from Brazil and recent high yields from harvests in South and Central America.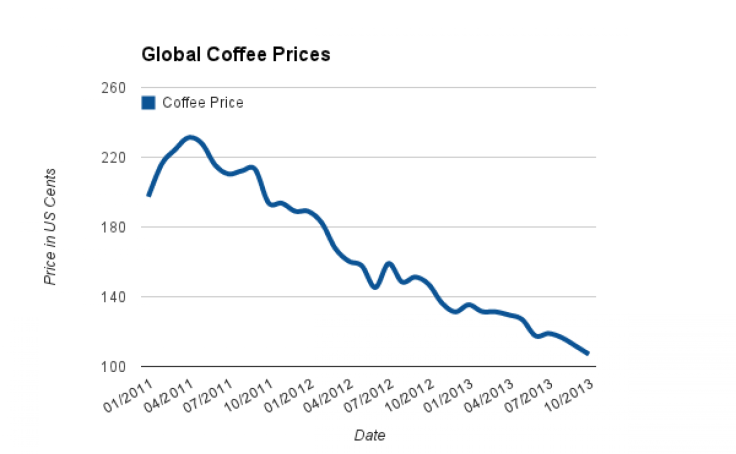 In Colombia for example, production from January to October this year rose 43 percent, according to Colombia's Federation of Coffee Growers. A Bloomberg survey of traders showed that global coffee output should exceed consumption in 2014. The price of Arabica will drop 10 percent, to 95 cents a pound, the traders estimate.
Global production will expand 3.1 percent to 151.9 million bags in the year beginning Oct. 1, with a surplus of 8.7 million bags, according to projections.
Arabica beans account for the majority of world production. They are generally thought of as higher quality and used by premium brands and sell for more than Robusta beans, which are grown at lower altitudes at higher yields and are typically used for instant coffee.
Starbucks only uses Arabica beans.
Last quarter, the company saw a 30 percent increase in operating revenue to $128.4 million in their channel development – which includes bagged coffee sales. "The margin expansion was primarily due to lower coffee costs and sales leverage," the company said in its latest earnings report.
While Starbucks did lower the list price of bags of Seattle's Best packaged coffee by 10 percent, customers shouldn't expect the same break in the café. Grocery stores hedge on commodity prices, but the price of a cappucino is more than just milk and espresso.
"Starbucks takes a holistic approach to value which includes the quality of our coffee, food and products we sell," a company representative told IBTimes.
"We approach pricing on a long-term, product-by-product, market-by-market basis."
© Copyright IBTimes 2023. All rights reserved.
FOLLOW MORE IBT NEWS ON THE BELOW CHANNELS