The State Of The Paywall: The Soft, The Hard, And The Broken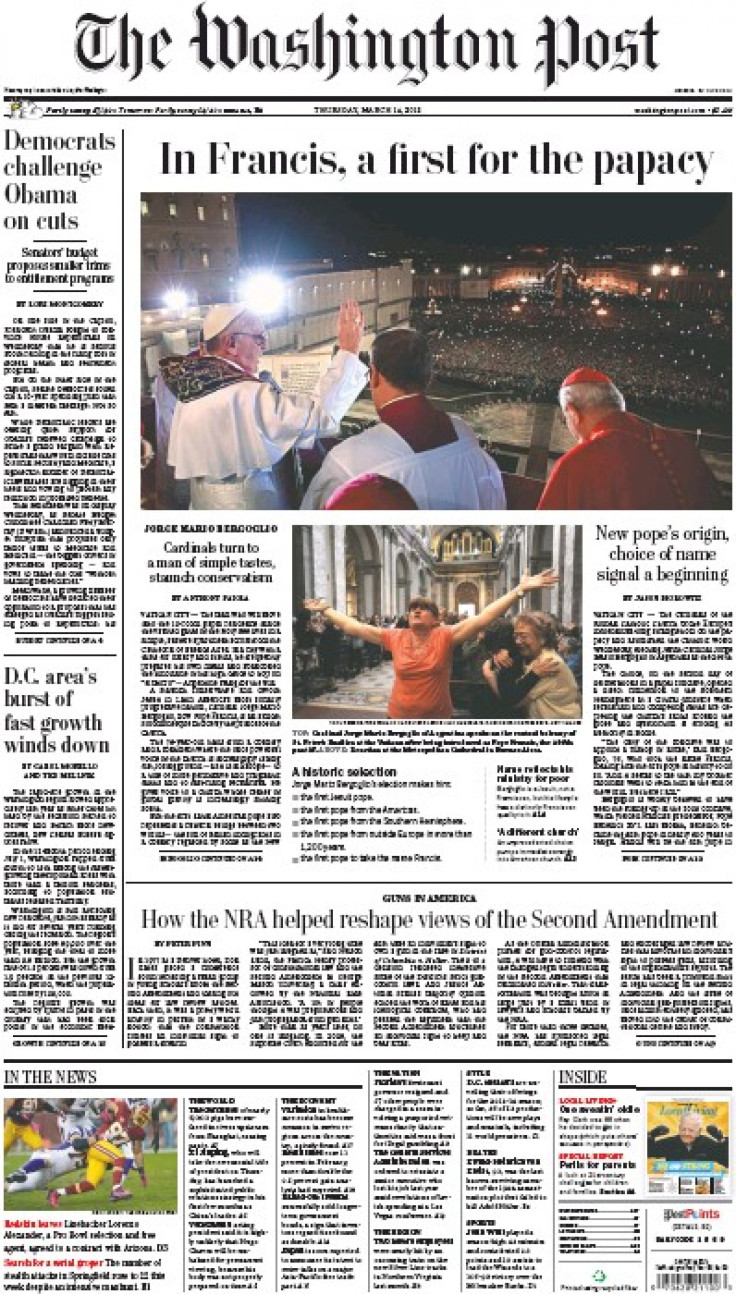 Earlier this week, the Washington Post announced that it would join the New York Times in implementing a metered paywall, one that will allow readers to access 20 free stories a month without a digital subscription.
The parameters given for the Post's subscription barrier, which will be implemented this summer, qualify it as a "soft" paywall: Articles accessed via social media and external search engines will not count toward the 20 free articles a month limit, the front page and section fronts will still be freely accessible, and full access will remain free for teachers, students and government employees. Until the paywall is in place, though, we won't know if it will be "porous" by way of workarounds, which include manipulating an article's Web address.
Until very recently, the New York Times paywall was known to be easily circumvented, but the Times has cracked down on the practice: It has eliminated some of the well-known workarounds, notably the oft-cited strategy of deleting the tail end of the URL when faced with the dreaded "You've reached the limit of 10 free articles a month" pop-up message. Articles accessed via a social media link are still unmetered. In a statement last month, Times spokesperson Eileen Murphy addressed the decision to plug some of the leaks.
"When we launched our digital subscription plan we knew there were loopholes to access our content beyond the allotted number of articles each month," Murphy said. "We have made some adjustments and will continue to make adjustments to optimize the gateway by implementing technical security solutions to prohibit abuse and protect the value of our content."
The update is not the result of the paywall's failure -- on the contrary, the New York Times paywall has defied expectations. This week, the Times presented evidence of the paywall's success at the Digital Innovators Summit. While print circulation has dipped, the loss in circulation was mitigated by a sharp rise in digital subscribership. And there is reason to believe that readers without a paywall shortcut will cough up the subscription fee rather than stop reading the New York Times altogether.
David Carr spoke about the Times' paywall at a SXSW event earlier this month, explaining that the loopholes were a strategy, not a mistake.
"If you like it so much that you're willing to do a hack around a URL just to get a peek under our dress … eventually you're going to give us some money," he said.
The Washington Post is among the last major newspapers in the U.S. to implement a paywall -- the New York Times, the Wall Street Journal, and the Los Angeles Times have all had a paywall in place since at least 2012 (or 1997 in the Journal's case), and more specialized publications like the New Republic and Andrew Sullivan's "The Dish" blog keep some content closed to non-subscribers. According to a 2012 Alliance for Audited Media survey, nearly half of newspapers in North America have at least some subscriber-only digital content, and that percentage is almost certain to rise this year.
USA Today is the highest-profile paywall holdout in the U.S., but its parent company, Gannett, gets subscription revenue from its 80 local newspapers. Further, USA Today is in a unique position because of its national distribution in myriad hotels and airports across the country; the newspaper also enjoyed high circulation in swing states during the last election season, according to publisher Larry Kramer, who made the comments at Business Insider's IGNITION conference this past December. And while Kramer said he has not ruled out a future paywall, he said that USA Today was "nowhere near where we want to be in terms of creating a unique enough product" that could justify charging readers for content.
Laura Hazard Owen, who covers monetization issues for PaidContent.org, believes that the "future for publishing in general is in direct customer relationships, not advertising."
She expects that an increasing number of newspapers will continue to adopt paywalls in the future, and that consumers will learn to embrace that model with minimal backlash. "That doesn't mean [paywalled] newspapers are going to prosper in every case, " she said, "but in my opinion failure is likely to happen in spite of the paywall than because of it."
In the UK, a restrictive paywall is being blamed for a fall in circulation for News International's The Times, which ranked dead last behind competing general news publications in The National Readership Survey's PADD report. The Murdoch-run newspaper's paywall, unlike the New York Times, is not social-media friendly: Articles behind its paywall cannot be shared with non-subscribers on Twitter and Facebook. The Times' circulation drop suggests this audience may be one that newspapers can't afford to lose.
In other bad news for News International, the Sun was outranked by the Daily Mail -- which does not have a paywall -- as the UK's most-read newspaper for the first time. Still, numerous attendees of the Changing Media Summit in the UK this week have tweeted reports that its digital editor, Derek Brown, announced the Sun would be introducing a paywall. According to some attendees who were tweeting from the summit, Brown referred to a paywall as a return to the "traditional news model" of generating revenue.
If enough newspapers shift away from advertising revenue and instead choose to sell their content directly to the reader, it could mean a dramatic shakeup in the current news distribution model used by mass media organizations, which relies heavily on search-engine traffic.
What will it mean for Google if readers are going directly to their news provider(s) of choice, rather than typing in keywords and clicking on whatever article happens to be on top of the search results? If paywalls become the norm, readers will have to make decisions about which publications get their money, and their loyalty.
"I definitely think that newspapers need to develop better relationships with their audience," Owen said.
© Copyright IBTimes 2023. All rights reserved.
FOLLOW MORE IBT NEWS ON THE BELOW CHANNELS