Stephen Colbert Hits Early High Note With Joe Biden Interview; Watch 'Late Show' Host Break Character With Emotional VP [VIDEO]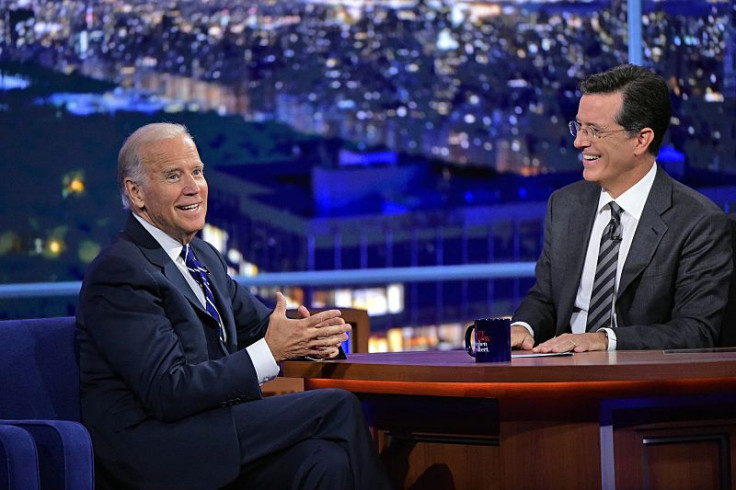 The Internet exploded after Stephen Colbert's emotional interview with Vice President Joe Biden on the third episode of "The Late Show with Stephen Colbert" on CBS Thursday. The vice president was teary-eyed and candid as he discussed the loss of his son Beau Biden to brain cancer in May and his readiness, in light of the emotional trauma, to potentially run for president in 2016. Biden's raw honesty caught many off guard and had many on Twitter convinced he might be the man for the job. However, lost in the hoopla over the peek at the real Joe Biden was the fact that viewers also saw the real Stephen Colbert.
Biden's transparent moment Thursday was made possible by an equally transparent Colbert. Approaching the interview with an evident respect for Biden, his office and the recent tragedy the vice president had to endure, Colbert the comic was replaced by Colbert the compassionate interviewer.
"I was hoping you would tell us a story about Beau," Colbert asked Biden in earnest.
In his first three episodes as host of the "Late Show," Colbert has alluded multiple times to the fact that he has left behind his outrageous conservative pundit persona from Comedy Central's "The Colbert Report," which he hosted for nine years, and will host the "Late Show" as himself. While that may be true, in his debut week Colbert being himself has included declaring new rules of law from beneath a giant floating hat, likening the need for brand sponsors on the show to the whims of a vengeful pagan god, and posing "deep" questions to Scarlett Johansson lying under the stars. Evidently, Colbert, persona aside, is a bit of an oddball.
However, Colbert was genuine and serious when interviewing Biden, continually engaging the veep on the emotional ground they covered and almost never deflecting from the heavy topics they discussed. Colbert chose to stay in the weighty moment and let it develop organically, even empathisizing with Biden and recalling his own family's grief when Colbert's father died. It was a choice that felt radical amid the current late night landscape and many on Twitter commented on how they believed that only Colbert would have been willing or able to conduct the Biden interview in the manner in which he did.
The interview was a stark contrast from Colbert's interview with Republican Presidential candidate Jeb Bush on the "Late Show" premiere Tuesday. In that interview, Colbert lightly prodded Bush with jokes and jeers as they discussed the candidate's proposed policy. That contrast displays a host with a willingness to shift gears to fit the occasion - Colbert is proving to be an undeniably funny host who is willing to get serious if the moment calls for it.
This was not a "Colbert Report" interview and was better for it. In fact, the Biden interview was an early high for Colbert, one that will be hard to top, even if his new show lasts nine years as well. The "real" Stephen Colbert is off to a great start.
Watch both parts of Stephen Colbert's interview with Vice President Joe Biden below:
© Copyright IBTimes 2023. All rights reserved.