Steve Bannon Berates Breitbart Reporter For Reince Priebus Article, Source Claims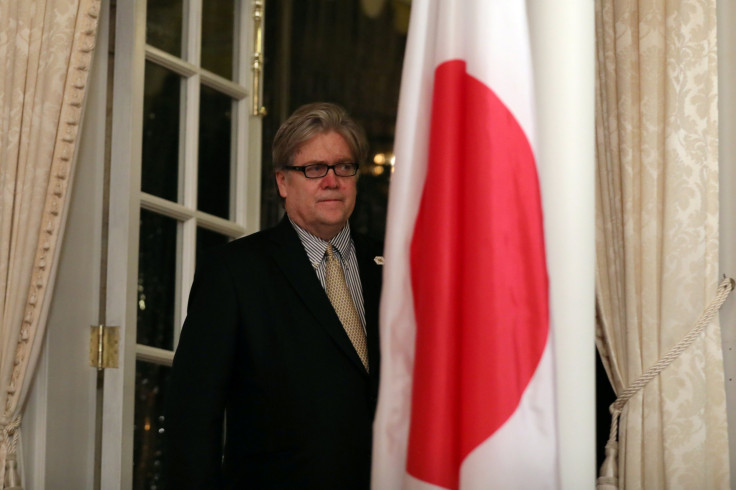 Chief White House political strategist Steve Bannon reportedly lashed out at a Breitbart reporter for an article on the job security of White House Chief of Staff Reince Priebus, Axios reported Wednesday, citing an unnamed source.
The source said Bannon, who started the conservative website that many have called anti-Semitic and a source of white nationalist views, was "furious" over a story published Tuesday that stated Priebus was solely responsible for the handling of President DonaldTrump's immigration ban. The source called it a "botched rollout," and Bannon allegedly called the reporter and gave the site's Washington editor "both barrels," Axios said.
The report stresses Priebus, who like Trump has only held his position for little more than a month in an administration that is seemingly been on the defensive on several fronts, could be facing backlash from white nationalists, Breitbart's core readership.
It's also speculated Bannon understands the site is viewed as his "proxy," and that Trump is getting advice to fire Priebus.
The Washington Post on Sunday quoted a longtime friend of Trump's, Christopher Ruddy, who said he "argued" Trump should replace Priebus.
"A lot of people have been saying, 'Look, Donald has some problems,' and I think he realizes that he's got to make some changes going forward," Ruddy said.
He added: "It's my view that Reince is the problem. I think on paper Reince looked good as the chief of staff — and Donald trusted him — but it's pretty clear the guy is in way over his head. He's not knowledgeable of how federal agencies work, how the communications operations work. He botched this whole immigration rollout. This should've been a win for Donald, not two or three weeks of negative publicity."
A former film producer and Goldman Sachs executive, Bannon has long been labeled the architect of Trump's successful campaign and a number of the president's executive orders, with many even speculating he's pulling Trump's strings — not the other way around. Trump has also reportedly taken issue with the perception that Bannon is in charge.
NBC's "Saturday Night Live" has routinely portrayed Bannon as the "Grim Reaper" in sketches, with which the Post reported Trump has also taken umbrage.
© Copyright IBTimes 2023. All rights reserved.